Vacation in Paris Blog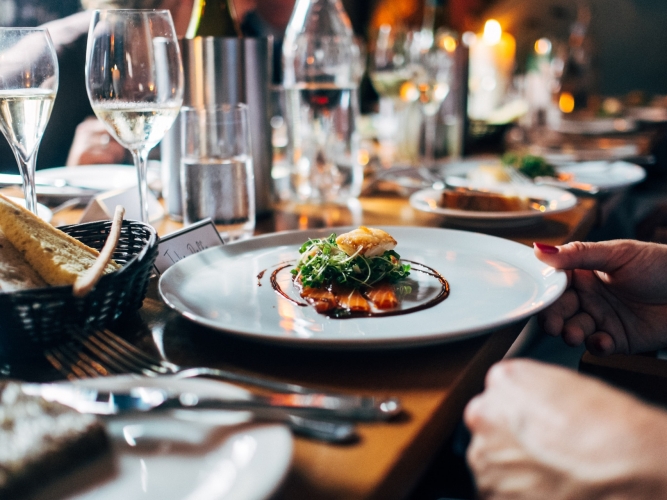 Places To Visit - Posted on Jun 29,2023 by Hampton*Jan
You're coming to Paris? And planning a meal or two at one of its outstanding restaurants? Well then, as a long-time resident, let me give you a tip: order from what's on the carte, as the menu is known in France.
That may sound obvious, but I don't know how many times we've gone to restaurants with visiting friends to have them say, "Oh, I just want a green salad" when there is no such thing listed on the carte they're holding.
These restaurants are NOT short-order lunch counters! They are places where chefs design and prepare dishes based on what's currently available and on recipes they have created or tweaked to be unique. Most are also businesses that struggled to survive the Covid pandemic and, as a result, have had to reduce selections.
Sure, they'll try to accommodate you if they can, but think of your dining experience in Paris as you would a movie theater: if you go to a theatre showing the new Indiana Jones movie, you don't ask them to show you a Seinfeld episode instead, do you? When guests come to your home for a dinner party, you don't expect them to ask you to prepare something other than what's being served, do you?
So, pay attention to what's being offered when you're in a restaurant. Respect what the chef and the team have done to make a fine dining experience for you, and then order appropriately. You can check menus online before you go to make sure there is something you want. If it's not there, choose another place.
Or you can skip the fine restaurant scene and try a brasserie which traditionally has more selections, usually including those green salads.
But if you do go to one of the city's restaurants and order a meal that includes a cheese platter at the end, you may find your green salad show up then. A great way to "clean the palate," the French would say, and get you ready for a luscious dessert.
And a tummy-rubbing memory.
Photo ©Jay Wennington
******************************************************************
Our latest guest bloggers - Don and Petie Kladstrup
Don and Petie Kladstrup are authors of two best-selling books, the first being Wine and War: the French, the Nazis and the Battle for France's Greatest Treasure, a best-seller that has been optioned for a motion picture. Their second book dealt with World War I: Champagne: How the World's Most Glamorous Wine Triumphed Over War and Hard Times. Both books have been translated into more than a dozen languages.
Check out their latest book - Champagne Charlie: the Frenchman Who Taught America to Love Champagne
Don and Petie are former journalists. Don was a award-winning foreign correspondent for CBS and ABC Television News. Petie worked for several mid-western newspapers before serving as an assistant to the American ambassador to UNESCO in Paris. They are the parents of two daughters and have lived in Paris since 1978, splitting their time between the city and their country home in the south of France.