Vacation in Paris Blog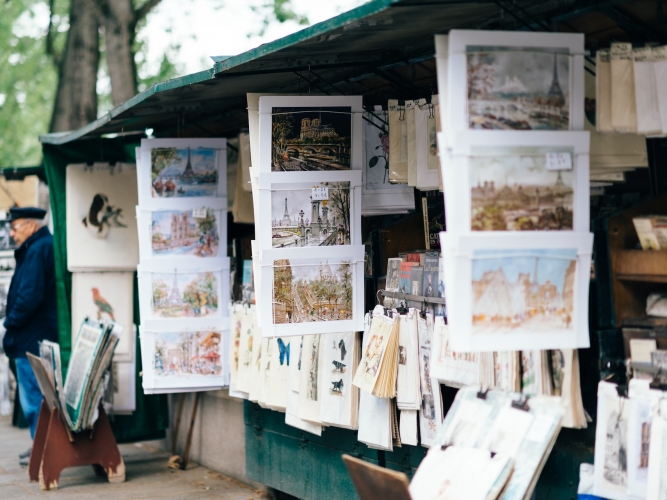 Places To Visit - Posted on Aug 07,2023 by Hampton*Jan
It is a fact of French life: "Aux barricades" if you're against something. That is, get out your megaphone and head to the streets. Let the world know your grievances.
All those yellow vests, unhappy garbage collectors, immigrants who oppose governments in their home countries, you name it. They have good reason to be upset, I know and I'm sympathetic, truly I am. But I am fed up with protests. They get in my way, make my daily life unnecessarily complicated and noisy. They turn a normally short ride into a trip through a maze as I run into metro stations closed "for security" and bus stops moved to streets blocks away.
"Enough!" I want to shout. "Just go home and let me go about my business."
That was until I learned the police want to close down the bouquinistes for the Olympic Games next July. It's a matter of security, the police say. I am now ready to march, to carry a sign in protest and shout.
Those iconic green book stalls along the Seine are as much Paris as the Eiffel Tower. In fact they got here long before Gustave Eiffel was even a twinkle in Eiffel père's eye. Somewhere around the middle of the seventeenth century they began setting up on the Pont Neuf, the oldest bridge across the river.
They got their name from a Flemish word, boekin, which means "a worthless book," but their merchandise can be anything but worthless. Wonderful prizes have been found in some of the two-meter long stands (size is set and controlled by city regulations), even though now many of the stand-holders have had to add trinkets and tacky souvenirs to stay in business, especially after Covid decimated the ranks of shoppers.
Most of the boxes have been clamped to the edges of the river for more than a century. Stand holders fear the proposal to move them out for the Olympic Games will damage the fragile structures or destroy them. Many might be gone forever.
And the idea of setting up a temporary "bouquinistes village" at the Place de la Bastille for the Olympic Games is just silly, many feel. The whole idea, they point out, is strolling along the river and browsing – an old poster here, a forgotten but loved children's book there, a surprise first edition tucked in the back row, and did you see the page from an old manuscript hanging there?
It's part of what makes Paris, Paris, and part of the reason people are coming to the Olympic Games in Paris is because the Games are in Paris.
So, even though, the Opening Ceremony will be by and on the Seine, surely all the creativity going into creating the ceremony can stretch a bit further to find a way to protect the bouquinistes, provide security and let Paris be Paris.
If not, let's take to the streets. Aux barricades, mes enfants!
Photo ©Roman Craft
******************************************************************
Our latest guest bloggers - Don and Petie Kladstrup
Don and Petie Kladstrup are authors of two best-selling books, the first being Wine and War: the French, the Nazis and the Battle for France's Greatest Treasure, a best-seller that has been optioned for a motion picture. Their second book dealt with World War I: Champagne: How the World's Most Glamorous Wine Triumphed Over War and Hard Times. Both books have been translated into more than a dozen languages.
Check out their latest book - Champagne Charlie: the Frenchman Who Taught America to Love Champagne
Don and Petie are former journalists. Don was a award-winning foreign correspondent for CBS and ABC Television News. Petie worked for several mid-western newspapers before serving as an assistant to the American ambassador to UNESCO in Paris. They are the parents of two daughters and have lived in Paris since 1978, splitting their time between the city and their country home in the south of France.