Vacation in Paris Blog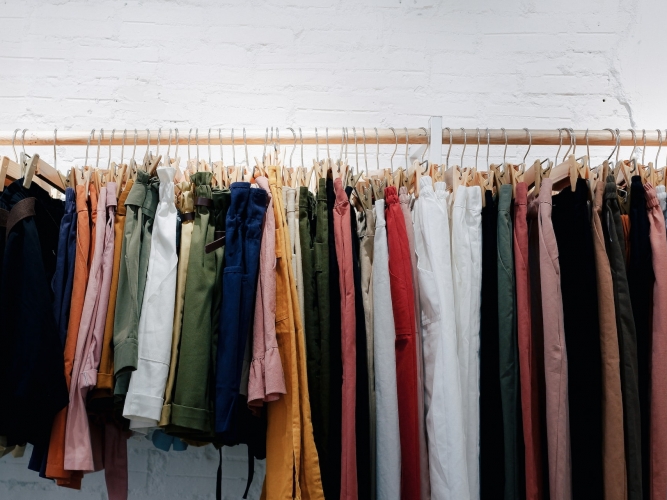 Places To Visit - Posted on Aug 25,2022 by Hampton*Jan
For 35 years I was a criminal. I was never arrested, never charged, and, thank heavens, never imprisoned. I was never even fined, yet, nearly every day I committed a crime. Not only that, I allowed my daughters to join in the criminal activity.
My crime?
I wore pants. Yes, slacks, trousers, jeans – they were all illegal garments for a female in France. It had been that way ever since the 1789 Revolution when Louis XVI's government, whose male denizens wore silk knee breeches or culottes, got scared of the lower classes in their long pants. Those were the sans culottes and some of the most determined of the sans culottes were female. They worked and revolted right along with the men.
Napoléon I, misogynist that he was, must have also been a bit of a scaredy-cat because he validated the ban on women in pants, writing it into his famous Code Napoléon which continues as the base of the French legal system to this day. Oh, there were exceptions. A female could wear trousers if she could prove they were necessary for health or work reasons.
Let's say you were Joan of Arc, leading an army for instance, you might get a permit. Or an artist, a painter like Rosa Bonheur. You could say, as she did, that dresses, especially those long, voluminous ones of the 1800s, got in the way as you worked around your easel. The writer Amantine Aurore Lucile Dupin, a.k.a. George Sand, came up with a similar reason – dresses were just too cumbersome for a hard-working author. They both agreed that men's attire in general was far more comfortable and practical than a corset, a crinoline and yards and yards of fabric.
They and about 50 other women in the 1860s and 70s presented their cases to the police and won. They were given permission slips much like a driver's license which they had to carry with them and present on request. And they had to renew it every six months. However, no punishment seems to have been outlined for violating the law. (Ms. Bonheur's original permit today is displayed in the eponymous restaurant in Paris.)
The popularity of the bicycle gradually led to issuing hundreds more permits for women to wear pants, and horsewomen, too, gained their share of permission slips, although there was an ever-growing number of law-breakers among the equestrians and cyclists. The police apparently found themselves too busy with burglaries, murders and a few other crimes to chase down every female on two wheels or horseback and ask for her papers.
In 1944, French women belatedly got the right to vote – but NOT the right to wear trousers. Still, the number of women behaving criminally increased, especially after Marlene Dietrich, a man on each arm, stepped off the train in Paris looking glamorous and sexy in trousers.
Two years later, equal rights for women were enshrined in the French constitution, still with that caveat – equal as long as they stayed in skirts.
It was probably the world's law most flouted law. The female form encased in slacks and then jeans appeared everywhere in France, especially on the runways of haute couture shows.
So, get rid of the law, said women.
No need, said the male law-makers. Nobody pays any attention to it anymore, and if someone tried to prosecute a woman for wearing pants he (of course, it would be a HE) would be laughed out of court.
But it's still a law, responded the women of France. Erase it!
Finally, in 2013, I - and every other woman in France - was exonerated. The new Minister of Women's Rights, Najat Vallaud-Belkacem, stepped forward in her trousers and led the charge. The law was wiped off the books.
The Mona Lisa can smile; women and wardrobes were liberated.
Vive la France sans culottes!
Photo ©Lucan Hoang
*****************************************************************
Our latest guest bloggers - Don and Petie Kladstrup
Don and Petie Kladstrup are authors of two best-selling books, the first being Wine and War: the French, the Nazis and the Battle for France's Greatest Treasure, a best-seller that has been optioned for a motion picture. Their second book dealt with World War I: Champagne: How the World's Most Glamorous Wine Triumphed Over War and Hard Times. Both books have been translated into more than a dozen languages.
Check out their latest book - Champagne Charlie: the Frenchman Who Taught America to Love Champagne
Don and Petie are former journalists. Don was a award-winning foreign correspondent for CBS and ABC Television News. Petie worked for several mid-western newspapers before serving as an assistant to the American ambassador to UNESCO in Paris. They are the parents of two daughters and have lived in Paris since 1978, splitting their time between the city and their country home in the south of France.