Vacation in Paris Blog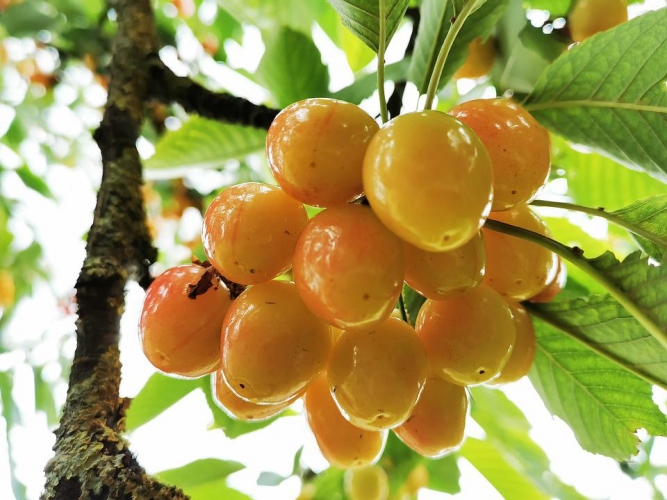 Places To Visit - Posted on Jun 14,2022 by Hampton*Jan
"Two avocados, four tomatoes and a history lesson, please," I said to the vendor at our local fruit and vegetable market. I didn't actually order the history lesson, but I got one anyway when I asked about the different cherries she had in stock. "These are not real sweet," she said pointing to some small dark cherries, "but these are." Those were huge and dark red and almost twice the price.
"Now these are Napoléon cherries," she said indicating a much smaller pile of cherries that ranged in color from nearly white to blush to a bright crimson red.
"Napoléon?" I asked.
"Yes," my vendor replied. "They were Napoléon's favorite cherries. Very rare then, a luxe product." She went on to explain that Napoléon had several of that variety planted. With royal support, the cherries gained in popularity even though they were slow-growing.
Napoléon cherries were also the favorite of another royal, she said. Prince Rainier of Monaco loved them and had them in his gardens, as well.
This bigarreau, that is, a firm-fleshed cherry, is definitely a royal fruit. It is sometimes known as the Royal Anne cherry, but it can get confused with the Rainier cherry, which looks a bit like the one that the Prince of the same name favored. The Rainier, however, is a parvenu compared to the Napoléon cherry. The Rainier was developed in 1952 and was named for the mountain in Washington State – nothing to do with Grace Kelly's husband.
Napoléon cherries got their name in 1820, more than a century earlier, when Antoine-Augustin Parmentier named the variety of rare cherries for Napoléon. Parmentier was a pharmacist who ardently supported Napoléon's campaign for smallpox vaccination, and the Emperor appointed him the official pharmacist for the Grande Armée.
Parmentier, however, became famous as the man who taught the French to eat potatoes, doing so in a way that would have made P.T. Barnum proud. He presented the king and queen with bouquets of potato flowers. He invited celebrities of the day, including Benjamin Franklin, to dinner parties that featured potato dishes. He put armed guards around his potato patches by day and then withdrew them at night to encourage people to steal – and hopefully eat – the potatoes.
Even though the cherries got the royal titles, Parmentier's name lives on in dishes like Hachis Parmentier.
And echoes in the sweet taste of Napoléon cherries.
No extra charge for the history.
Photo ©Makri27
*****************************************************************
Our latest guest bloggers - Don and Petie Kladstrup
Don and Petie Kladstrup are authors of two best-selling books, the first being Wine and War: the French, the Nazis and the Battle for France's Greatest Treasure, a best-seller that has been optioned for a motion picture. Their second book dealt with World War I: Champagne: How the World's Most Glamorous Wine Triumphed Over War and Hard Times. Both books have been translated into more than a dozen languages.
Check out their latest book - Champagne Charlie: the Frenchman Who Taught America to Love Champagne
Don and Petie are former journalists. Don was a award-winning foreign correspondent for CBS and ABC Television News. Petie worked for several mid-western newspapers before serving as an assistant to the American ambassador to UNESCO in Paris. They are the parents of two daughters and have lived in Paris since 1978, splitting their time between the city and their country home in the south of France.