Vacation in Paris Blog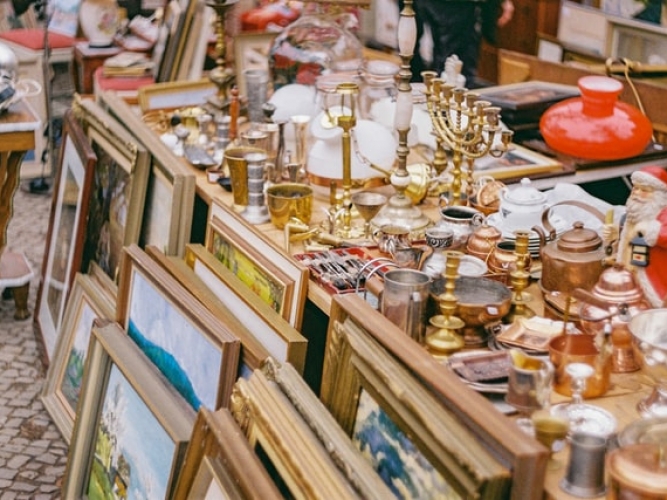 Places To Visit - Posted on May 24,2021 by Hampton*Jan
Oh joy! The brocantes and flea markets of Paris are open again! With more than 40 percent of the population here vaccinated with at least one shot, the government has allowed those vendors of junk and jewels to set up their stands once more.
We were on the metro almost immediately with our masks hiding big smiles of anticipation. Somewhere a treasure was waiting for us, calling to us after months of confinement.
Our favorite flea market, the Puces de Porte de Vanves, is on Paris's happiest metro line, line number 13, which may sound unlucky but has stops like Welcome (Montparnasse-Bienvenue), Gaité and Plaisance. Maybe it's just coincidence that put those joyful-sounding stations on a line whose number many are superstitious about, but no matter, because today everything and everybody was in a happy go-lucky mood. Even the weather – sunshine and a hint of warmth to come.
The flea market itself was in rare form. Every stand was packed to overflowing with goodies of all kinds. Buttons, teddy bears, silver, crystal, circus posters, and even some old mustard pots to grow my collection of them. There were vintage clothes and piles of books. Bins filled with who-knows-what were jammed into stalls. There were ribbons and pull-toys, musical instruments, African statuettes, wobbly chairs and stuff we couldn't begin to identify. Paintings, lithographs, etchings, prints and drawings. Photos, including some that merited an age restriction.
A general air of "it's great to be back" radiated from the market, as shoppers thronged center aisle. There was even an accordion player serenading with the old French songs that say "Paris" without words.
But it wasn't perfect. A painting I really, really wanted had already been sold, just not yet picked up. It took two mustard pots and an old hand-carved nutcracker of a grumpy man to console me.
That and a very nice vendor who asked if we were American. When we answered yes, she said, "You must live here." We gave her another affirmative.
"Well," she said, "we're all waiting eagerly for your compatriots to come back."
Photo ©Nikola Đuza
*****************************************************************
Our latest guest bloggers - Don and Petie Kladstrup
Don and Petie Kladstrup are authors of two best-selling books, the first being Wine and War: the French, the Nazis and the Battle for France's Greatest Treasure, a best-seller that has been optioned for a motion picture. Their second book dealt with World War I: Champagne: How the World's Most Glamorous Wine Triumphed Over War and Hard Times. Both books have been translated into more than a dozen languages.
Coming November 1st! Champagne Charlie: the Frenchman Who Taught America to Love Champagne
Don and Petie are former journalists. Don was a award-winning foreign correspondent for CBS and ABC Television News. Petie worked for several mid-western newspapers before serving as an assistant to the American ambassador to UNESCO in Paris. They are the parents of two daughters and have lived in Paris since 1978, splitting their time between the city and their country home in the south of France.