Vacation in Paris Blog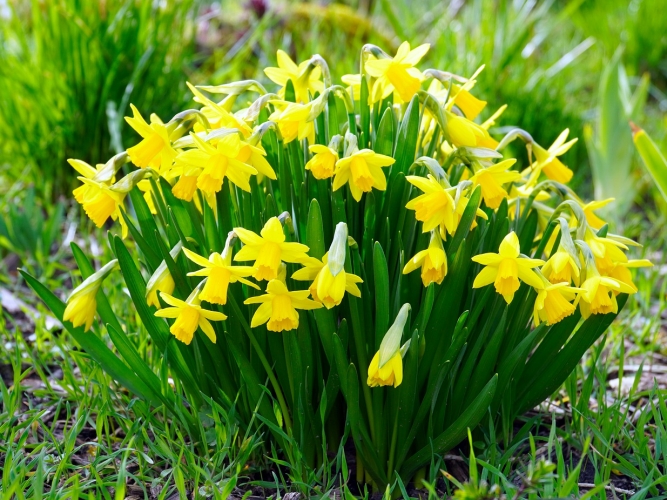 Places To Visit - Posted on Mar 08,2021 by Hampton*Jan
Paris, as March arrives, looks as though a magic hand has touched it with a yellow hi-lighter to gild it for spring. In every corner, on every bit of park land, something yellow has popped up – crocuses, forsythia, jonquils. Even the weeping willows seem to be dripping fluorescent yellow.
On the swaths of grass, naturalized daffodils have spread like scattered golden coins.
And, in fact, they frequently end up providing coins for the pockets of the gypsy women who covertly harvest them to turn them into bouquets that resemble pineapples – the trumpet-shaped flowers gathered into a ball with the leaves and stems tied together and pushed up through the middle of the globe of blossoms.
Some of the most agile of the women – or the most determined - crawl over the barriers along the peripherique, Paris's ring road, to go after the flood of daffodils that have colonized the verges. As the traffic never seems to stop or even slow up on this heavily-traveled route, the noise and pollution are ubiquitous. It has to be the least romantic and most difficult way of picking flowers ever created.
The women hawk their bouquets along the streets, at the entrance to markets, or from baskets on corners. Three or four euros and the "pineapple" is yours.

These bouquets undoubtedly were not the "host of daffodils" that inspired William Wordsworth's poem "I Wandered Lonely as a Cloud." Seeing a "host" of yellow narcissus, he wrote -

I gazed—and gazed—but little thought
What wealth the show to me had brought:
For oft, when on my couch I lie
In vacant or in pensive mood,
They flash upon that inward eye
Which is the bliss of solitude;
And then my heart with pleasure fills,
And dances with the daffodils.
Yet, even in their unnatural pineapple form, daffodils brighten our days of curfew and confinement. They promise "hope" and "renewal" and "new beginnings" are on the way. They make our hearts "dance with the daffodils."
Photo ©matthiasboeckel
*****************************************************************
Our latest guest bloggers - Don and Petie Kladstrup
Don and Petie Kladstrup are authors of two best-selling books, the first being Wine and War: the French, the Nazis and the Battle for France's Greatest Treasure, a best-seller that has been optioned for a motion picture. Their second book dealt with World War I: Champagne: How the World's Most Glamorous Wine Triumphed Over War and Hard Times. Both books have been translated into more than a dozen languages.
Don and Petie are former journalists. Don was a award-winning foreign correspondent for CBS and ABC Television News. Petie worked for several mid-western newspapers before serving as an assistant to the American ambassador to UNESCO in Paris. They are the parents of two daughters and have lived in Paris since 1978, splitting their time between the city and their country home in the south of France.