Vacation in Paris Blog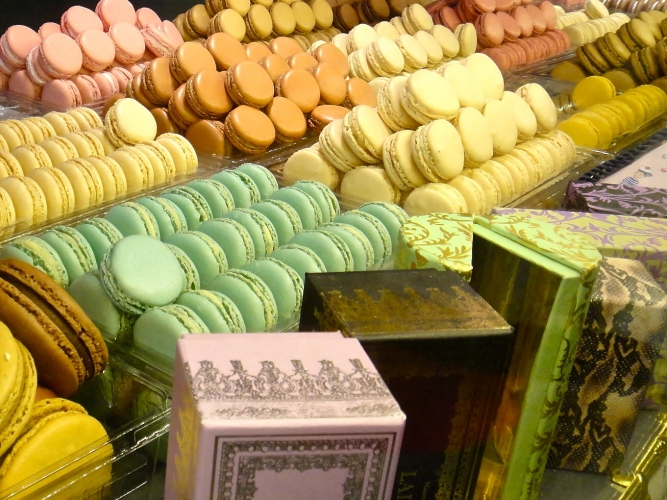 Places To Visit - Posted on Mar 04,2021 by Hampton*Jan
My husband Bob and I have for many years now, enjoyed Cook'n With Class. He especially likes the Morning Market class where he is met by the chef at the local market and taken to each vendor where the students learn how to choose the best cuts of meat, what to look for in fresh veggies, daily picks of fish and of course fruits of the day for desserts. I've always been fortunate enough to join the class for the meal afterward – something you can do if there is enough room and arranged ahead of time. By far the best 5-course meal in Paris and worth every penny!
I've taken the Bread Class but after being away from France for two years now, I'm a candidate for a refresher course.
I recently discovered that Cook'n With Class offers Zoom classes and finally decided it was time to get some guidance in what I call 'Mastering the Art of the Macaron.' Two of my nieces from Canada joined me and since we've taken classes in Paris before, it was great to see them again. Before class, I had to make a couple of shopping trips to update some of my old utensils and get essentials like Almond Flour – something not usually found in my pantry! We had to prep a few days in advance – sieving flour and sugar, weighing and straining egg whites. Here's a little something I learned...separating egg whites a few days before using, breaks down the Albumin and makes much better meringue! Who knew? I made a few mistakes along the way but Sarah, our teacher was wonderfully patient and most helpful. I used zip lock baggies instead of the proper Piping Bags only to discover that if you put enough pressure on the baggie...your ingredients will indeed burst out the top – all over the kitchen! The next morning, I found a beautifully draped dollop of light pink almond dough hanging from one of the drawer knobs. Very artistic, it was though. One of the bakers mistakenly used Waxed Paper instead of Parchment Paper...so I wasn't alone. At the end of the day, I got out our small vacuum to clean up the kitchen. My husband's comment was, "You know you've had a bad day in the kitchen when the vacuum is your most important utensil!"
Sarah asked if we would show our macarons at the end of class, but I declined. I had several little animals, Mickey Mouse and a whale but this coming November, when we return to Paris, I am going to master the art of the macaron!
***********************************
Our guest blogger is Wendy Peck who is one of our guests and a"repeat offender."