Vacation in Paris Blog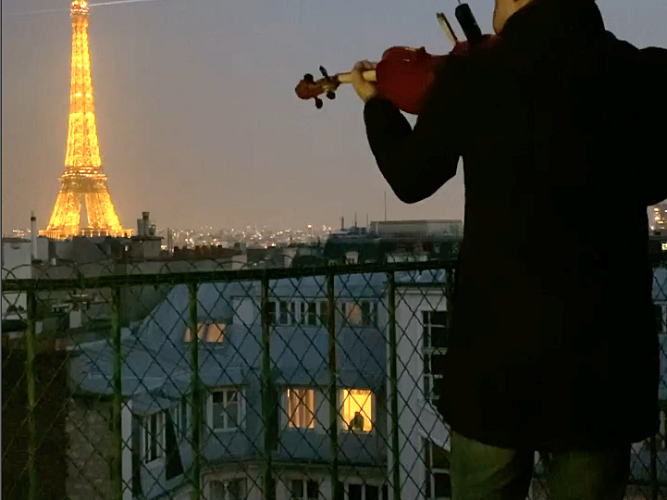 Places To Visit - Posted on Aug 03,2020 by Hampton*Jan
Quiet, oh so quiet. Paris, without its honking horns, without its clinking glasses, without its boisterous conversations. Paris without its audience.
It has never been so beautiful, the skies so clear, so blue. Spring has touched the city with its own special light. Hawthorns and cherry trees are clouds of white and pink; brilliantly-colored primroses pack the beds of parks.
And only I am there to see it. My early morning walk takes me down the paths of the Trocadero gardens to the Seine. The buvettes, the kiosks are shuttered. No ice cream, no crepes today. All the couples who wait to have their wedding pictures taken in front of the Eiffel Tower must wait elsewhere.
We are all "elsewhere" now, confined except for our one hour of outdoor exercise which we must be taken alone.
We are all somewhere new. And yet, more than ever, we are all here. We're all here together, even two meters apart. Our concierge comes by. "My painter friend gave me some masks. Here are two for you."
Our upstairs neighbour, a violinist, waits for sunset and then steps onto the balcony to play a short concert. The applause comes from everywhere.
Our neighbour across the hall raps on our door with his gloved hand and stands back. "I'm going out. Do you need anything?"
No, we're okay. And besides we have our attestation sur l'honneur. We write in the date and check off our reason to go out: groceries or pharmacy or medical visit or that magic hour of exercise. We're legal; we won't be fined.
The flic who asks to see our "pass" is masked but his voice is smiling. "Bonne journée," and a little salute.
Our bakery has limited hours now, but the croissants still melt in our mouths and the baguette is still perfect.
So, Paris, our beautiful City of Lights still shimmers, still twinkles in this Twilight Zone. And she waits . . . and waits . . . . . . until the world can turn on its lights once more.
***********************************************
Our latest guest bloggers - Don and Petie Kladstrup
Don and Petie Kladstrup are authors of two best-selling books, the first being Wine and War: the French, the Nazis and the Battle for France's Greatest Treasure, a best-seller that has been optioned for a motion picture. Their second book dealt with World War I: Champagne: How the World's Most Glamorous Wine Triumphed Over War and Hard Times. Both books have been translated into more than a dozen languages.
Don and Petie are former journalists. Don was a award-winning foreign correspondent for CBS and ABC Television News. Petie worked for several mid-western newspapers before serving as an assistant to the American ambassador to UNESCO in Paris. They are the parents of two daughters and have lived in Paris since 1978, splitting their time between the city and their country home in the south of France.
PHOTO CREDIT ©Oscar Rivera