Vacation in Paris Blog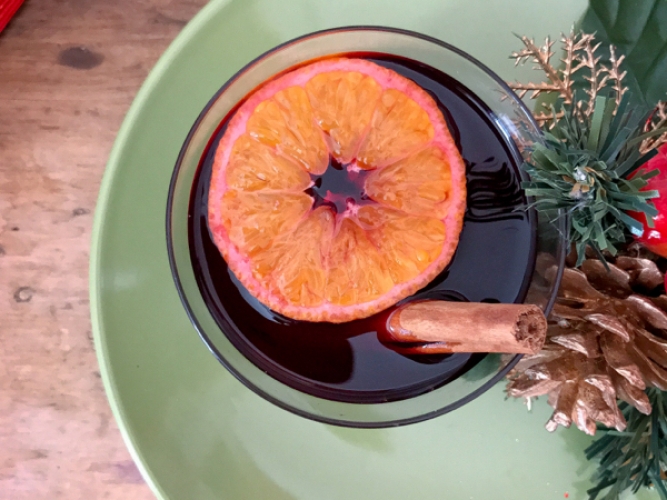 Places To Visit - Posted on Nov 29,2019 by JanSmi
Mulled wine is something we serve at our own annual holiday party in Toronto (and now, in Nérac, France, where we host neighbours and friends too) and over the years, we've perfected our recipe. Here, we're using Jamie Oliver's method of making a syrup with a little of the wine, the sugar and some of the fruits, juices and spices before adding the rest of the wine and other alcohols. This is the best mulled wine - not too sweet, not too alcoholic. And even the leftovers are amazing the next day gently reheated!
Prep Time 15 minutes
Cook Time 20 minutes
Total Time 35 minutes

Ingredients
100g (1/2 cup) sugar
1 cinnamon stick
8 cloves
2 clementines
peel and juice of 1 lemon
peel and juice of 2 clementines
1 1/2 litres (2 x 750mls) red wine
125mls (1/2 cup) port
125mls (1/2 cup) Mandarine Napoleon or Cointreau
125mls (1/2 cup) brandy 
Instructions
1. Place the sugar and cinnamon stick in a large (2 litre) pot.
2. Stick 4 cloves into each whole clementine and place them in the pot with the sugar.
3. Add the lemon and clementine peel and juice (you should have around 190mls or 3/4 cup juice in total) to the pot.
4. Pour in just enough wine to cover the clementines and heat over medium heat until it boils.
5. Simmer for around 5 minutes.
6. Add the rest of the wine, the port, the Mandarine Napoleon (or Cointreau) and brandy and stir well. Heat for around 15 minutes on low-medium heat (you don't want to boil this mix).
7. Serve hot with a slice of orange or clementine and perhaps a dash of cinnamon or nutmeg.

*** A version of this appeared on Mardi's site here - https://www.eatlivetravelwrite.com/2016/12/vin-chaud-mulled-wine-recipe/ 
Used with permission. 

Need to know more about ordering coffee in France? If you subscribe to our newsletter, Mardi's sharing tips! Sign up here to sign up for VIP newsletter here.
Want more French recipes? Mardi's book, In the French kitchen with kids includes many classic French dishes made accessible for everyone! 
MARDI MICHELS is a full-time Francophile, French teacher to elementary school-aged boys and the author of www.eatlivetravelwrite.com - a blog focusing on culinary adventures near and far. As part of her job, she runs cooking classes for boys aged 7 to 14. Mardi grew up in Australia, lived and taught in Paris for over five years and now calls Toronto home. In 2014, Mardi and her husband purchased an historic home in southwest France, which they operate as a vacation rental property (www.neracvacationrental.com). In her spare time, Mardi teaches French cooking and baking classes in Toronto. Her debut cookbook, In the French kitchen with kids, published July 31, 2018 (Appetite by Random House). Read more at: www.eatlivetravelwrite.com/books