Vacation in Paris Blog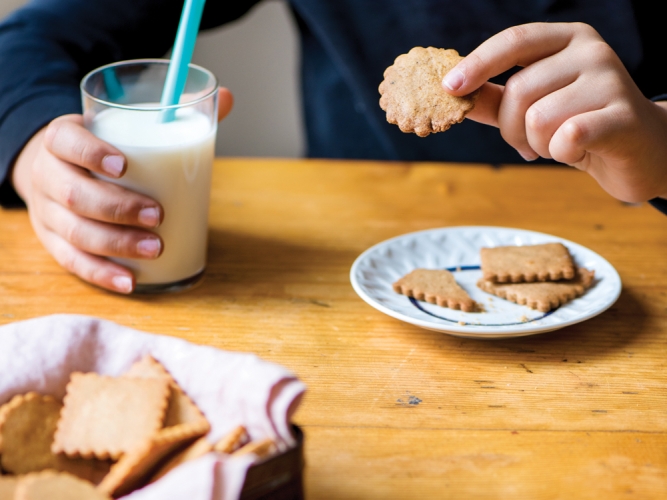 Places To Visit - Posted on Aug 26,2019 by Hampton*Jan
If you've ever had coffee in France, you'll be familiar with these cookies. Spéculoos are a Dutch and Belgian specialty, but you'll find them nestled on your saucer with your coffee in most restaurants and cafés. The great thing is that they are easy to make at home – especially around Christmas - your house will smell like the holidays when you are baking these! – but really you can bake them year-round to serve with your morning or afternoon coffee or tuck them into lunchboxes, because even though it's kinda sorta gingerbread-y, it's actually a cookie to enjoy any time of the year. 
Ingredients
2 cups (300 g) all-purpose flour
1 1/2 teaspoons cinnamon powder
1/2 teaspoon powdered ginger
1/2 teaspoon ground nutmeg
1/4 teaspoon ground cloves
1/4 teaspoon baking soda
1/2 cup (113 g/ 8 tablespoons/ 1 stick) unsalted butter, at room temperature
1/2 cup (100 g) brown sugar
1/2 cup (100 g) granulated sugar
1 large egg
1 teaspoon pure vanilla extract
Method
1. In a large bowl, place the flour, spices and baking soda and use a wire whisk to combine.
2. Beat the butter and sugars with electric beaters until smooth and creamy (2-3 minutes).
3. Add the egg and the vanilla and beat until smooth.
4. Using a rubber spatula, add the flour mix and mix gently until the dough is just starting to come together.
5. Tip the dough out onto a surface lined with parchment paper and use your hands to gather it into a disk or ball. Gently knead the dough until it comes together easily (the warmth of your hands will help with this).
6. Divide the dough into three pieces.
7. Working with one piece of dough at a time, roll between two sheets of parchment paper to a thickness of 1/4 inch (6 mm). Place the rolled-out dough (still in the parchment paper) in the fridge and roll out the other two pieces of dough in the same way. Refrigerate the rolled-out dough for a minimum of 30 minutes or up to 3 days. At this stage, you can also freeze the dough, tightly-wrapped in plastic wrap for up to 2 months. Simply thaw in the refrigerator before using.
8. Pre-heat the oven to 375˚F.
9. Line two large baking trays with parchment paper.
10. Remove the dough sheets from the fridge and use a 1 1/2-inch cutter (4 cm) to cut out around 15 – 20 cookies from each sheet. You may need to re-roll the scraps after you've cut the first 15 or so.
11. Place the cut-out cookies on the parchment-lined baking trays and bake for 9-11 minutes or until the cookies are lightly browning on top and around the edges. They may be a little puffy on top.
12. Take the cookies out of the oven and allow them to cool on the baking trays for 10 minutes.
13. Use an offset spatula to remove the cookies from the trays and place them on a wire cooling rack and allow to come to room temperature.
14. Store in an airtight container for up to 2 weeks (any humidity or moisture will make these lose their crispness).

*** A version of this appeared on Mardi's site here. Used with permission. 

Need to know more about ordering coffee in France? If you subscribe to our newsletter, Mardi's sharing tips! Sign up here to sign up for VIP newsletter here.
Want more French recipes? Mardi's book, In the French kitchen with kids includes many classic French dishes made accessible for everyone! 
Photo Credit ©Kyla Zanardi
MARDI MICHELS is a full-time Francophile, French teacher to elementary school-aged boys and the author of www.eatlivetravelwrite.com - a blog focusing on culinary adventures near and far. As part of her job, she runs cooking classes for boys aged 7 to 14. Mardi grew up in Australia, lived and taught in Paris for over five years and now calls Toronto home. In 2014, Mardi and her husband purchased an historic home in southwest France, which they operate as a vacation rental property (www.neracvacationrental.com). In her spare time, Mardi teaches French cooking and baking classes in Toronto. Her debut cookbook, In the French kitchen with kids, published July 31, 2018 (Appetite by Random House). Read more at: www.eatlivetravelwrite.com/books