Vacation in Paris Blog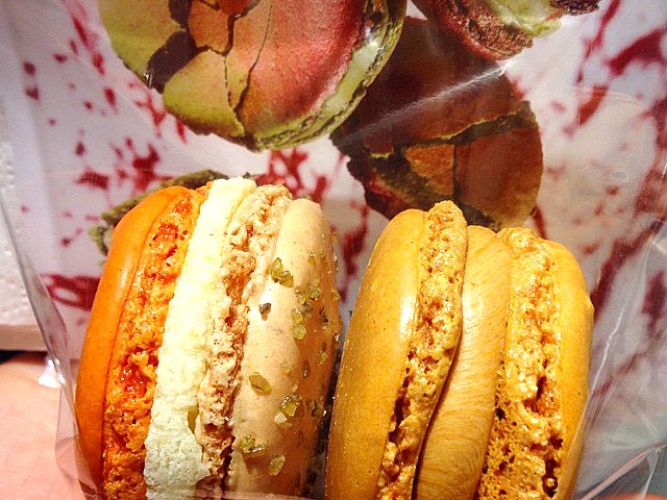 Places To Visit - Posted on Apr 21,2016 by admin
A Gourmand's Tour of Ligne 8 (Balard-Créteil)
I had the recent pleasure to spend a few days in Paris in the Eiffel Hideaway (#56) where I discovered that pretty much all I needed in terms of great eats and drinks exists along Line 8. Having lived in the 2nd for many years in the early 1990's, I know the right bank really well and it's where many of my friends live today. So when I realized that the apartment was on Line 8, I immediately knew that it was a efficient way to get across the city over to the République-Bastille area. What I discovered was actually that if I got off the metro at nearly any stop along the way, there was something on my "to eat/drink/discover" list, making it my "go to" line, not only for getting around but also for crossing things off this (never-ending) list!
With 38 stops along the way, Line 8 is one of the longest in Paris. If you went from one end to the other, it would take approximately 60 minutes.
I'm starting today's journey at Ecole Militaire/La Tour Maubourg situated close to Apartment ID #56 and very close to the rue Cler. A gorgeous market street with specialty food stores, including pâtisseries, fruit and vegetable stores, butchers, delis, chocolate shops, cheese and fishmongers and cafés, the rue Cler is a wonderful place to do your daily shopping. It's mostly pedestrian meaning you can meander at a slower pace and really take in all the street has to offer. Two of my favourite shops on the street are Pralus, home to the fabulous praluline (brioche studded with pink pralines) and a branch of A la Mère de Famille, Paris' oldest sweet store (it's been around for over 250 years!) which still offers treats of old like berlingots and guimauve.
Pralus: 44 rue Cler, 75007
A la Mère de Famille: 47 rue Cler, 75007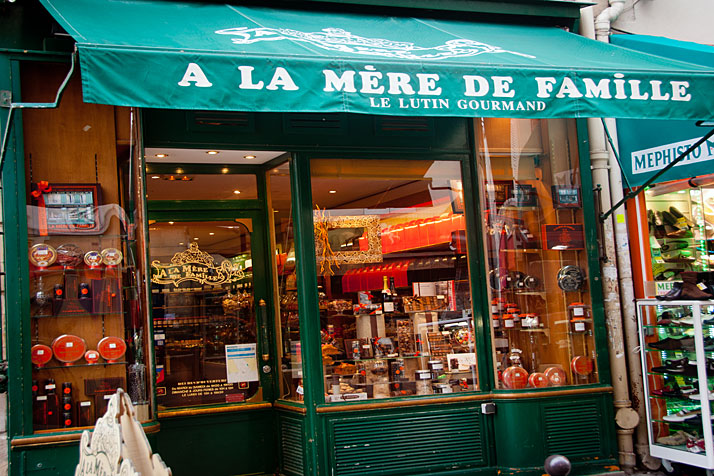 At Invalides, you'll find Lemoine where you can taste canelés de Bordeaux. These are made from the original Bordelais recipe and if you can't get to Bordeaux but are a fan of these crispy custardy treats, you'll want to make your way here.
Lemoine: 74 rue Saint Dominique, 75007
Next along the line at Concorde you'll find Angelina. Founded in 1903, home to possibly the best hot chocolate in Paris and a signature Mont Blanc pastry, this tearoom is a perfect place to recharge your batteries after a long day. Go for the treats, stay for the elegant Belle Epoque décor.
Angelina: 226 rue de Rivoli, 75001
Hop off at Madeleine for your mustard fix at the Boutique Maille. Home to dozens of mustards (many of which you can't buy outside the Boutiques), vinaigrettes and vinegars, this is a great place to do a little souvenir or gift shopping.
Boutique Maille: 6 Place de la Madeleine, 75008
A little further down the line at Opéra will place you in foodie heaven in the new home of Lafayette Gourmet. Located since last fall in the same building as "Lafayette Maison" (moved from across the Boulevard), this gourmand's paradise features names such as Sadaharu Aoki, L'éclair de genie, Pierre Hermé, Le Chocolat Alain Ducasse and many more as well as the features one recognizes from the old food halls – La Cave and the Bordeauxthèque, restaurants and regular grocery items. It's a veritable one-stop shop – especially if you don't have much time and want to cover a lot of foodie ground in a short time frame!
Lafayette Gourmet: 35 Boulevard Haussmann, 75009
If you're craving a decent coffee, head east along the line, hop off at République and head up the Boulevard de Magenta to Holybelly, a self-described "Melbourne-style café" serving food but also, damned good coffee (contrary to what many people believe, this is not a given in Paris, though thanks to places like this, the coffee scene is thriving these days). Grab your flat white to go and head over to Du Pain et des Idées to get an Escargot Pistache Chocolat to go with that coffee. Don't worry, it's nothing to do with snails, rather these delectable viennoiseries are named for their spiral shape and layers of pastry.
Holybelly: 19 rue Lucien Sampaix, 75010
Du Pain et des Idées: 34 rue Yves Toudic, 75010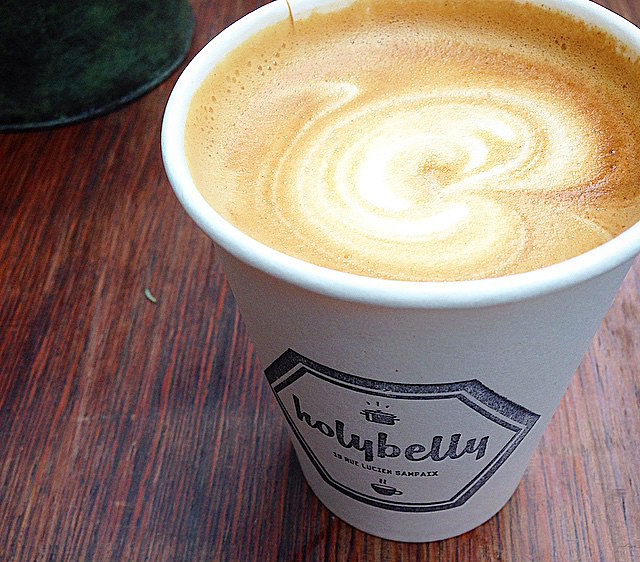 A little further down the line at Filles du Calvaire, head over to Profiterole Cherie. The brainchild of Philippe Urruca (the president of the Meilleurs Ouvriers de France pour la Pâtisserie), this tiny gem of a boutique sells one thing – profiteroles. But not just any profiteroles – these are assembled to order as you watch in a tempting array of flavours (try the Paris-Brest or the Citron Meringuée). There's a tiny space to enjoy your pastries in-house but order them to go for a glance at the most efficient (and beautiful!) "to go" packaging ever!
Profiterole Chérie: 17 rue Debelleyme, 75003
A couple of blocks away at St Sébastien Froissart you'll find Merci. An eclectic mix of fashion, beauty, household items, a used book store that doubles as a café and two other dining options (the Cantine and the Cinema Café) this is a place where you can easily while away a few hours and where you can find unique items that make great souvenirs (for yourself!).
Merci: 111 Boulevard Beaumarchais, 75003
If you find yourself on Line 8 on a Thursday or a Sunday, hop off at Chemin Vert and wander over the to the Marché Bastille. With everything from the ultimate in French fast food — le poulet rôti (roast chicken) — to funky shopping trolleys and early morning wine tastings this market offers something for everyone. Go early to beat the crowds (this will definitely be a place where you'll see a lot of tourists), but take some time to just sit and observe.
Marché Bastille: Boulevard Richard Lenoir, 75011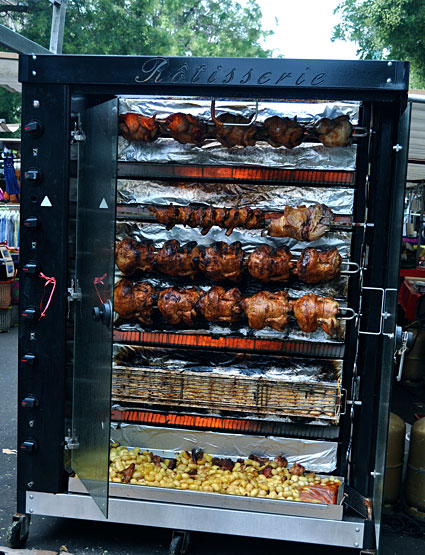 If you appreciate fine chocolate, you'll want to pop out of the Métro at Bastille and head up the rue de la Roquette to Alain Ducasse's Manufacture du Chocolat, the first bean to bar chocolate maker in Paris. You won't be able to take any photos inside the boutique but this is a feast for the eyes and taste buds and will please even the most serious of chocoholics Featuring single-origin chocolate bars, pralinés and chocolate bonbons, you'll be sure to discover something new. Try the 45% Lait Non Conché, which retains a grainy texture thanks to skipping the final "conching" stage (and the addition of cane sugar). It's something else.
La Manufacture du Chocolat: 40 rue de la Roquette, 75011
A little further down the line at Ledru Rollin, you have to check out Blé Sucré. Fabrice Le Bourdat's glazed madeleines are worth the trip alone but you'll also find a wide selection of viennoiseries, cakes and pastries to tempt you. You can't just buy one of the madeleines so bring a friend (or take them back to your apartment for later!).
Blé Sucré: 7 rue Antoine Vollon, 75012
My last stop in the line (and this is certainly not a comprehensive listing of all the great eats along Line 8!) has to be le Marché d'Aligre at Faidherbe Chaligny (unless it's Monday, when the market is closed). Gorgeous produce, cheeses, meat and seafood rub shoulders with a large brocante (bric-a-brac) market in the Place d'Aligre. This is a market where you'll find Parisians doing their weekly shopping and catching up over coffee in one of the surrounding cafés. Another fine place to people watch!
Marché d'Aligre: rue d'Aligre, Between rue du Faubourg St Antoine and Boulevard Diderot, 75012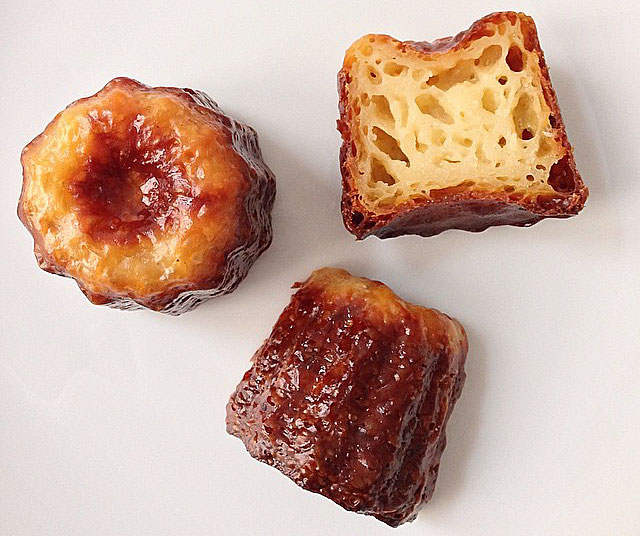 What's your favourite Paris Métro line?
About the author:
Mardi Michels is a full-time French teacher to elementary school-aged boys and the author of eat. live. travel. write - a blog focusing on culinary adventures near and far. She has lived and worked as a teacher in Australia, Hong Kong, England, France and now calls Toronto home. She spends nearly every summer in France, honing her cooking and baking skills and touring different wine producing regions. As part of her job, she runs cooking classes twice a week for 7-13 year-old boys, Les Petits Chefs and Cooking Basics. She was one of the founding members of Food Bloggers of Canada, and is a cook, baker, traveller, photographer, writer, Food Revolution Day Ambassador for Toronto, contributor to JamieOliver.Com and in her spare time teaches cooking and baking classes around Toronto.
Follow Mardi on Twitter
Follow Mardi on Instagram
Follow Mardi on Google+