Vacation in Paris Blog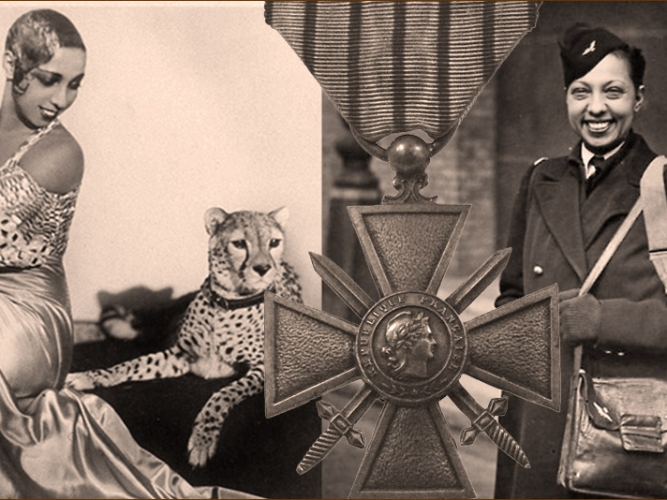 Places To Visit - Posted on Sep 09,2021 by Hampton*Jan
Shortly after we moved to France, a marionette caught my eye at one of Paris's big brocantes, the semi-annual two-week-long antique and junk fairs then held on the city's edge. The strings were missing as was the cross that controls them, but the body was something special. It was beautiful, truly a work of art.
It was Josephine Baker. She was wearing a tiny fringed skirt that recalled her famous one made of artificial bananas. The artisan who made her had also given her a discrete bra. One of the straps slid provocatively off a shoulder. Josephine probably would have laughed if she'd seen it, and maybe, with her wonderful gleeful grin and a dramatic flourish, she would even have ripped it off the wooden doll.
I picked up the replica and moved her articulated joints. She was supple and flexible, just as one might expect of one of the world's most famous performers. "How much?" I asked the dealer.
He quoted an amount that staggered me. I swallowed. "Can you do any better?"
He went into a long explanation about the quality of the work to justify his asking price. I couldn't argue with his point, and just gave a sad nod of agreement.
"Well . . . " he paused. "You're American, right?"
"Yes," I said, "but I live here."
"Hmm," the dealer paused. "In that case, maybe I can do a little bit better . . ." he smiled at me. "After all, Josephine Baker belongs in Paris."
I forked over the money.
Like millions of people before me, I found I could not resist Josephine Baker.
Now Emmanuel Macron, the president of France, has made the same discovery: he can't resist her. He knows, like the antique dealer I met so many years ago, that Josephine Baker belongs in Paris.
On November 30, she will make her final and appropriately dramatic entry into the city she loved. On Macron's order – and only the President of the French Republic can make such a decision - her remains will be transferred from Monaco to the Pantheon, the final resting place of France's great. She will be the first Black woman to be so honored, and only the sixth woman.
Although it was her talent as a performer that made her famous, it was her work with the Resistance during World War II and her battle against discrimination that capped her life and earned her interment in the hallowed surroundings.
It is the final act in a life that had more dramatic ups and downs than could possibly be scripted in Hollywood. Even this last move reflects the roller coaster existence that defined the star. She died in Monaco where she had been given an apartment by Princess Grace after taxes had again pushed Ms. Baker into pennilessness. A mutual admiration and affection grew between the two expatriate Americans and at least one of Josephine's children expressed the wish that she could be left near the Princess with a plaque erected in her honor in the Pantheon.
But no. As always, the city where she first found freedom and to which she gave her heart, called to her.
It is clear Josephine Baker belongs in Paris.
And now, at last, she is coming home.
Photo ©Wednesday's Women
*****************************************************************
Our latest guest bloggers - Don and Petie Kladstrup
Don and Petie Kladstrup are authors of two best-selling books, the first being Wine and War: the French, the Nazis and the Battle for France's Greatest Treasure, a best-seller that has been optioned for a motion picture. Their second book dealt with World War I: Champagne: How the World's Most Glamorous Wine Triumphed Over War and Hard Times. Both books have been translated into more than a dozen languages.
Coming November 1st! Champagne Charlie: the Frenchman Who Taught America to Love Champagne
Don and Petie are former journalists. Don was a award-winning foreign correspondent for CBS and ABC Television News. Petie worked for several mid-western newspapers before serving as an assistant to the American ambassador to UNESCO in Paris. They are the parents of two daughters and have lived in Paris since 1978, splitting their time between the city and their country home in the south of France.