Vacation in Paris Blog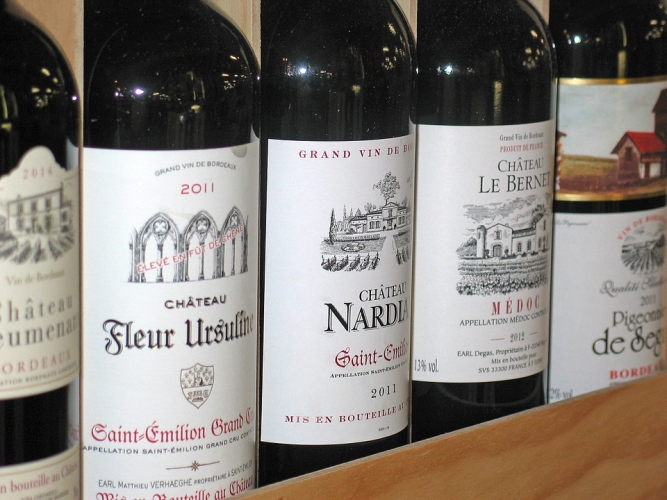 Places To Visit - Posted on Jul 26,2021 by Hampton*Jan
Shopping for wine may seem intimidating, but how can you come to Paris without buying a bottle or so? So, here's a sort of basic "user's guide" to make it as fun and easy as possible.
Wine salespeople frequently ask, "What kind of wine do you prefer?" This is the hardest question of all, because, as far as I'm concerned, the only reasonable answer is "a good one." Vendors, however, often push even further: Burgundy or Bordeaux? Red or white or perhaps rosé?
For me, though, it comes down to two related things: what I'm going to do with the wine and the price. For a picnic, I'm not willing to spend much but for an occasion or a special person, I'm prepared to splash out a bit.
So, what do you want your wine for? Are you thinking of a possible picnic on the banks of the Seine with a baguette and round of camembert? Or an apero in your hotel room with a bag of potato chips and mini sausages? Maybe a pizza? Are you hunting for a bottle to take as a gift for a dinner party? Or a souvenir of your trip to take home with you? Would you like to find a very special bottle for a friend, lover or event?
With the answers in your mind, here's an idea for an easy shopping trip: avenue Victor Hugo just off Etoile in the 16th arrondissement. In the last few months with the arrival of the wine store Lavinia, it's become a good spot for finding wines that will answer any of your questions.
At number 46, there's a Nicolas store, a branch of the oldest chain of wine shops in the world. Next year, 2022, it will enter its third century of doing business! Louis Nicolas founded the company in 1822 when he realized most people couldn't deal with buying their wine in barrels. He began retailing it in bottles so customers could try several different varieties. Along the way, the Nicolas company became famous not only for its wine selection but also for its art and design. Well-known artists, including Bernard Buffet and Paul Iribe, were brought in to design the annual catalogues and posters for the chain. In 1922, they began to feature a cartoon of a frail deliveryman named Nectar who held 16 bottles of wine in each hand. These old catalogues have become collectors' items and sell for a good many euros at auction and Nectar still makes an occasional appearance in the chain's ads.
Louis Nicolas's goal of making wine accessible remains the goal of the chain today. If you're looking for that picnic wine, an everyday wine or a just-for-fun wine, Nicolas is the place to go. Thanks to good training programs and lots of tasting sessions, the salespeople know their wines and are generally very helpful. Many of them speak some English, but smiling and pointing works well, too.
Move a few steps further to 42, avenue Victor Hugo, and you've moved up a notch in the wine world to the boutique of Ladoucette and also up several notches in elegance. The boutique – it's far too chic to call it a mere shop! – is designed to give customers the feel of actually being in a wine estate or chateau. The salespeople are just as elegant, but "intimidating" is not in their vocabulary. They are welcoming and multi-lingual, as well as fully knowledgeable about the wines from the Ladoucette stable.
And it's a big stable with wines from all over France, even though they are best known for their white burgundies. Baron Patrick de Ladoucette added numerous properties to the two-centuries-old company but made it clear that each estate was to remain true to itself, making wine in its own tradition and at a very high quality. One unifying factor across the diverse wines is the emphasis on making what they call gastronomic wines, that is wines that work well with food.
All this makes the Ladoucette boutique a lovely spot to find a perfect wine for a dinner party.
A few more steps and you'll be at wine nirvana – Lavinia - at 22, avenue Victor Hugo. This shop of Spanish origin has all the great and famous – and expensive! – wines. Here are all the major Bordeaux, burgundies, Champagnes and the top-of-the-line wines from most regions of the world.
Here, too, are polyglot sales folks with encyclopedic knowledge of wines. Special and outstanding are their stock-in-trade. But so is helpfulness, and they will gladly guide you to their large range of very good but less-pricey items as well as to bottles that will set you back more than $3,000 each. They will even arrange for you to try a bottle (at the store price) with a plate of charcuterie at one of their outside tables.
And if you've spotted something in their list or in their on-line catalogue that's not available in the store, they'll get it to you in 24 to 48 hours.
Now, a personal word about wine-shopping. A few years ago, I went to a neighborhood wine store where my husband Don had run across a collection of very good, sweet wines from the Loire valley. On one of those trips with him, I had spotted a bottle of champagne from the year of our marriage, so I slipped back to buy it as an anniversary gift for him. The male clerk reacted with disdain and went so far as to tell me I could not buy it because "your husband only likes sweet Loire valley wines." Nothing I said would change his mind. Needless to say, I stormed out of the shop with no wine, and neither of us ever shopped there again. A short time later, the store closed for good.
Happily, those days of treating women wine-shoppers as second-class citizens are long gone, and females of the species are now well established in the wine world, on both sides of the counter, as well as in the vineyards. Wine-wise women work in nearly every shop to help you find the right wine for the right moment.
Cheers! Or, as the French would say, tchin-tchin!
Photo ©KRiemer
*****************************************************************
Our latest guest bloggers - Don and Petie Kladstrup
Don and Petie Kladstrup are authors of two best-selling books, the first being Wine and War: the French, the Nazis and the Battle for France's Greatest Treasure, a best-seller that has been optioned for a motion picture. Their second book dealt with World War I: Champagne: How the World's Most Glamorous Wine Triumphed Over War and Hard Times. Both books have been translated into more than a dozen languages.
Coming November 1st! Champagne Charlie: the Frenchman Who Taught America to Love Champagne
Don and Petie are former journalists. Don was a award-winning foreign correspondent for CBS and ABC Television News. Petie worked for several mid-western newspapers before serving as an assistant to the American ambassador to UNESCO in Paris. They are the parents of two daughters and have lived in Paris since 1978, splitting their time between the city and their country home in the south of France.