Vacation in Paris Blog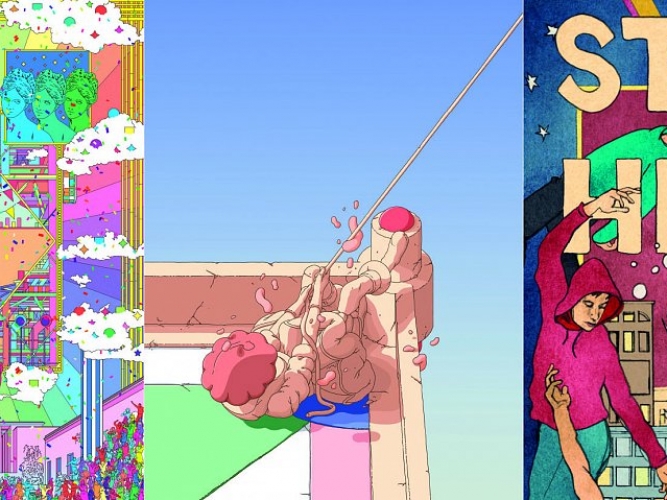 Places To Visit - Posted on Apr 02,2021 by Hampton*Jan
You can close the museums, you can shut down the galleries, but you can't keep Parisians away from art. They need it as much as they need a baguette, a piece of camembert and a glass of wine.
And now, thanks to the singer Mika, they've got it again. Mika, working with the Musée des Arts Décoratifs (MAD) and the JCDecaux advertising company, has induced a whole range of artists to create bright, colorful posters to turn the city into an open-air museum.
Nearly 2000 of the posters were dotted around Paris for the month of March, and they were so successful that a second round by different artists are now in place for April. All nine of the original artists were vetted with the help of Olivier Gabet, director of MAD. Mika himself got into the act joining with his sister Yasmine to produce one of the posters for the outdoor gallery.
The second group features the work of art students using the motto of the City of Paris as their theme: Fluctuat nec mergitur ("[She] is tossed [by the waves] but does not sink"). A more than fitting choice for a city being tossed about by a virus, but fighting it the whole way.
Many of the cheerfully designed posters are on the city's famous Morris advertising columns. The columns have lined Paris streets and avenues since 1868 when the printer Gabriel Morris imported them from Berlin. They had been gracing Berlin's streets for about 15 years by then, and Morris saw them as a way to limit the unchecked pasting of posters on the sides of buildings and everywhere else. It would also limit graffiti, he thought, and he could charge for printing them.
Plus, they would be a sanitary replacement for the colonnes mauresques that dotted the city then. While those columns did field advertisements, they also hosted open urinals, making them a less than salubrious locale.
The new columns were wildly successful and attracted publicity work by artists like Toulouse-Latrec in the years of the Belle Epoque.
Usually, the 700+ cylinders now in Paris have advertisements for stage performances, movies or nightclubs. Some are motorized so that the ads rotate slowly. Since 2017, a few even house filtration systems to reduce air pollution.
Yet, with all their value aesthetically and environmentally, 200 of them have been scheduled for removal.
It seems impossible that art-loving, history-appreciating Parisians would allow that to happen. Hopefully, Mika will keep his troops together to fight to save the site of the "outdoor museum" he created.
It's would give Toulouse-Latrec another reason to thank Mika for preserving a Paris tradition.
Photo Credit ©MAD Official Site 
*****************************************************************
Our latest guest bloggers - Don and Petie Kladstrup
Don and Petie Kladstrup are authors of two best-selling books, the first being Wine and War: the French, the Nazis and the Battle for France's Greatest Treasure, a best-seller that has been optioned for a motion picture. Their second book dealt with World War I: Champagne: How the World's Most Glamorous Wine Triumphed Over War and Hard Times. Both books have been translated into more than a dozen languages.
Coming November 1st! Champagne Charlie: the Frenchman Who Taught America to Love Champagne
Don and Petie are former journalists. Don was a award-winning foreign correspondent for CBS and ABC Television News. Petie worked for several mid-western newspapers before serving as an assistant to the American ambassador to UNESCO in Paris. They are the parents of two daughters and have lived in Paris since 1978, splitting their time between the city and their country home in the south of France.