Vacation in Paris Blog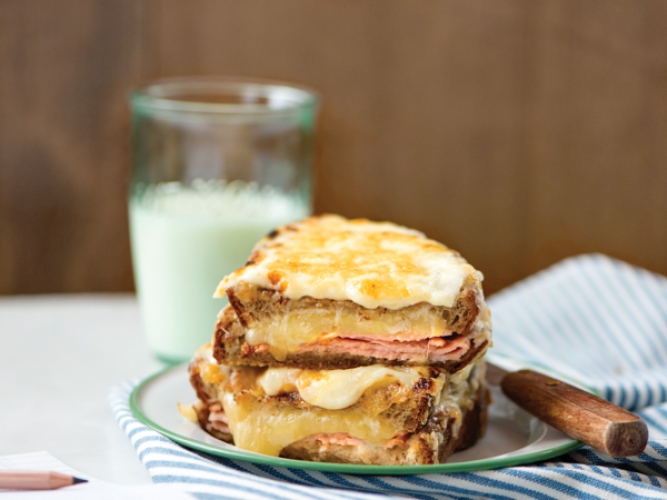 Places To Visit - Posted on May 02,2019 by Hampton*Jan
Croque-Monsieur is one of my favorite café meals to eat when I am in France. Traditionally made with square slices of pain de mie (white sandwich bread), sandwiched with creamy béchamel sauce, slices of ham and cheese and topped with more béchamel, this is definitely a once-in-a-while indulgence but one that will instantly transport you to a French café.
Did you know: "Croquer" means "to crunch" or "munch" and refers to the sound you will make when biting into the crunchy toasted bread!
Ingredients - Serves 2
For the béchamel:
1 tablespoon salted butter
1 tablespoon all-purpose flour
1/2 cup (125 mL) 2% milk
Pinch of flaky sea salt
Freshly ground black pepper

For the sandwiches:
4 tablespoons unsalted butter, at room temperature
4 slices of day-old white country-style bread
2 slices ham
1 cup (60 g) grated Swiss cheese
Method
Make the béchamel:
1. Melt the butter in a medium pot over medium-high heat.
2. Once the butter is bubbling, add the flour and cook for 2 minutes, stirring constantly with a wooden spoon, until it forms a paste (called a roux).
3. Bring the milk to a simmer in a small pot over medium-low heat, without letting it boil. You can also do this in the microwave in a microwave-safe bowl in 30-second increments until it reaches temperature.
4. Gradually add the warm milk to the flour, stirring constantly. Cook for 3 to 5 minutes, until the mixture thickens slightly, stirring constantly. Remove from the heat and stir in the salt and some pepper.
5. Scrape the béchamel into a clean bowl and allow it to come to room temperature.
Make the sandwiches:
1. Preheat the oven broiler to high (400˚F/200˚C). Heat a nonstick, ovenproof grill pan (preferably a cast-iron skillet with a ribbed base to make "grill" marks) over medium-high heat on the stove top.
2. Butter each slice of bread on one side only and place two of the slices, butter side down, on the hot griddle pan.
3. Use a spoon to spread about 1 tablespoon of béchamel onto each slice of bread in the griddle pan.
4. Top the béchamel with a slice of ham and one-quarter of the grated cheese.
5. Spread about 1 tablespoon of béchamel onto each of the other slices of bread and place them, butter side up, over the ham and cheese.
6. Cook for 2 minutes, or until the bottom of the sandwiches are golden.
7. Use a large flat spatula to carefully flip the sandwiches. Gently press the sandwiches down with the spatula.
8. Cook for a further 2 minutes, or until the cheese inside has melted and the bottom of the sandwiches are golden.
9. Remove the pan from the heat and spread 2 tablespoons of béchamel on top of each sandwich. Sprinkle the remaining cheese on the béchamel, making sure to cover the tops of the sandwiches evenly.
10. Transfer to the oven and broil for 3 to 5 minutes, or until the cheese is golden brown and bubbly.
Variation: Top with a fried egg for a "Croque Madame"
Excerpted from In the French Kitchen with Kids by Mardi Michels. Copyright © 2018 Mardi Michels. Photography © Kyla Zanardi. Published by Appetite by Random House®, a division of Penguin Random House Canada Limited. Reproduced by arrangement with the Publisher. All rights reserved.
What about you – what's your favorite French café dish?
If you subscribe to our newsletter, Mardi's sharing a post about the French café experience from morning to evening! Sign up here!
MARDI MICHELS is a full-time Francophile, French teacher to elementary school-aged boys and the author of www.eatlivetravelwrite.com - a blog focusing on culinary adventures near and far. As part of her job, she runs cooking classes for boys aged 7 to 14. Mardi grew up in Australia, lived and taught in Paris for over five years and now calls Toronto home. In 2014, Mardi and her husband purchased an historic home in southwest France, which they operate as a vacation rental property (www.neracvacationrental.com). In her spare time, Mardi teaches French cooking and baking classes in Toronto. Her debut cookbook, In the French kitchen with kids, published July 31, 2018 (Appetite by Random House). Read more at: www.eatlivetravelwrite.com/books