Vacation in Paris Blog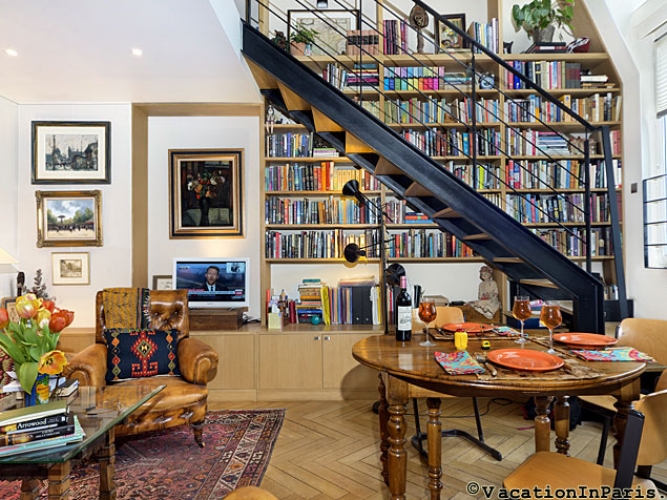 Places To Visit - Posted on Sep 21,2018 by Hampton*Jan
Oh, we read plenty of books and articles by those great ex-pat writers who had lived in Paris on the Left Bank, but we were busy. We were scheduled to be here for two to three years and in that time, we had whole new lives to create. Don was covering the world as a foreign correspondent for CBS-TV and Petie was dealing with finding an apartment, as well as schools and music teachers for our daughters. Tracing the footsteps of those literary lights would have to wait.
The two-to-three years turned into four, and then five. Almost before we realized it, Paris had become home. We decided it was time to look for a place of our own, a small place we could afford to buy. That way, we thought, even if we had to leave France, we would still have Paris.
The hunt took us to apartments big and small, lovely and disgusting. They had one thing in common: they were too expensive.
Then one hot day, we tumbled into an agency which had just received a new listing, one they said had to be sold urgently because of an illness. It was priced for a quick sale. They set up an appointment for the following day and gave us the address. The agent would meet us there.
We arrived a bit early to look at the neighborhood. When Don saw the outside of the building, he said, "No way. Too fascist." Petie said, "We have the appointment, so let's at least look at it. It's only polite."
The agent arrived. "First, the balcony," he said, and we followed him up the steps.
Our breaths were quite literally taken away. There before us was all of Paris – the Eiffel Tower, the rooftops of the city, the Grand Palais, Notre Dame, Invalides, even Sacre Coeur. We said, "We'll take it." The agent cautioned us, "This really is urgent. The owner needs the money because he has had to go into an assisted living facility, and he's sort of fallen through the cracks with no French social security, so you have to sign right away."
We agreed and found ourselves not only the owners of an apartment, but also of a piece of literary Paris, the one thing we had put off "until we had time for it."
Joseph Barry, the owner of "our" apartment, was himself an American writer. He had arrived in France with General Patton's army during World War II and essentially never went home again. Oh, he worked in New York for awhile, but Paris called and he decamped permanently to open the bureau here for Newsweek before concentrating on writing books. Among them were Left Bank, Right Bank and Infamous Woman: the Life of George Sand. We found copies of them left behind in the cave or cellar storage area that came with our apartment. We read them with great pleasure and an almost personal sense of ownership. We also found a porcelain bisque medallion of George Sand. We had it framed to hang in the apartment.
But Barry's role in the American literary life went even further and added to our appreciation of our new home. One summer during his college years, he told us, he had driven Gertrude Stein and Alice B. Toklas through Spain.
We began to fantasize: Could they have come to our flat for drinks? Had they talked literary criticism here in our apartment? Did something of that romantic past linger in the walls, in the spirit of our home?
Perhaps it did – and does.
Soon after we bought our apartment, we decided it was time to change our lives. We began concentrating on writing our own books, knowing the ghosts of Joseph Barry, George Sand and Gertrude Stein may well be looking over our shoulders. We hope they're pleased.
Our latest guest bloggers - Don and Petie Kladstrup
Don and Petie Kladstrup are authors of two best-selling books, the first being Wine and War: the French, the Nazis and the Battle for France's Greatest Treasure, a best-seller that has been optioned for a motion picture. Their second book dealt with World War I: Champagne: How the World's Most Glamorous Wine Triumphed Over War and Hard Times. Both books have been translated into more than a dozen languages.
Don and Petie are former journalists. Don was a award-winning foreign correspondent for CBS and ABC Television News. Petie worked for several mid-western newspapers before serving as an assistant to the American ambassador to UNESCO in Paris. They are the parents of two daughters and have lived in Paris since 1978, splitting their time between the city and their country home in the south of France.