Vacation in Paris Blog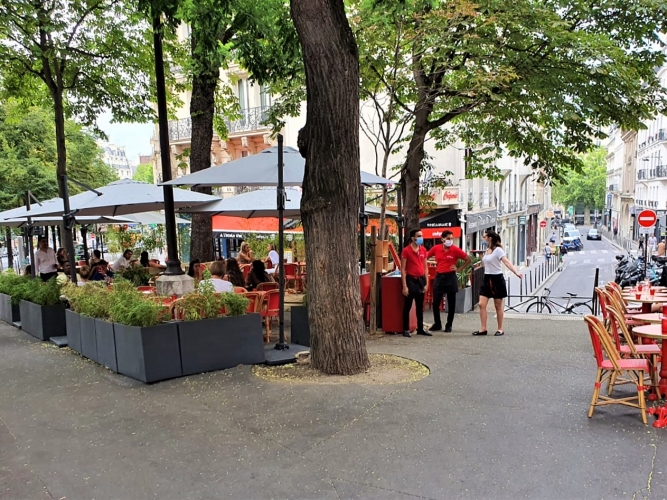 Places To Visit - Posted on Aug 04,2020 by Hampton*Jan
Five minutes in Paris and I feel that I have been transformed into a Parisienne. The bustle, the beautiful women rushing by in their pencil skirts with high heels clacking. I'm dreaming of sitting in a café, drinking a citron presse, listening to the romantic French language, and watching lovers stare into one another's eyes.
Yes, this is the Paris of my dreams. It is the Paris that I experienced with my Parisian friends, watching the fireworks on Bastille Day, rummaging in Sunday markets, and finding the most delicious buttery croissants.
While I have been to this glorious "city of light" many times, today the dreams will have to suffice, because I will not be able to come this year.
Why not this year? I am an American. France and nearly all European countries have closed their doors to us in the midst of the pandemic. We have 156,000 neighbors felled by the coronavirus, with no end in sight. Proud Americans, we are embarrassed and shocked, horrified and sad.
So, my Paris dreams are of wandering in the Tuileries, exploring the charming side streets, and admiring the beauty of the architecture with its magnificent mansard roofs. On any given street, there was often a lovely flower shop with exquisite arrangements set out for a passerby to admire. They were always irresistible!
There is so much of Paris that I love, and many special memories. One in particular was the marvelous taxi driver on whom I tried my less than perfect French. Thinking that I told him, "I love Paris," he warmly told me, in his perfect English, that I just said I loved him! He was very kind and amused, and we laughed together.
Of course, I love dreaming of Paris! For now, remembering all the delicious meals, the art, the Bateaux Mouches and the wonderful people will have to be my joy, until I can board a plane and become a Parisienne once again.
Our latest guest blogger - Lois Larkey
Lois Larkey, author, just published her memoir-Looking Back, Moving Forward, the View from Beyond Seventy. Writer, the Larkey Lowdown, a weekly blog, where she comments on politics and cultural events. Teacher and tutor, for over 25 years. Mother of two daughters, has four grandchildren, lives in New Jersey, and is always dreaming of Paris.