Vacation in Paris Blog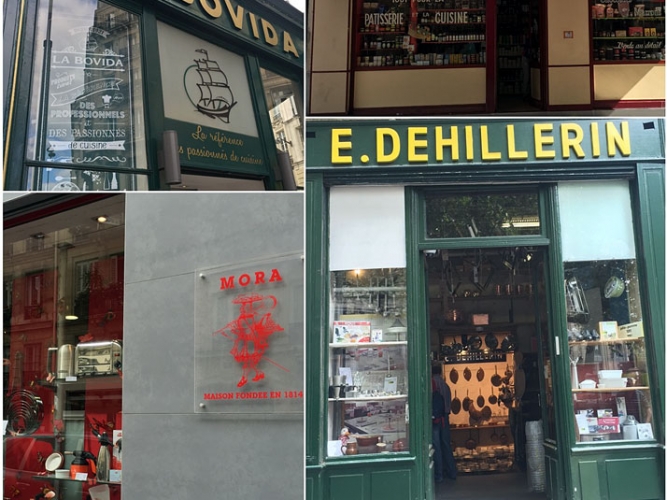 Places To Visit - Posted on Sep 22,2015 by Hampton*Jan
In 1995 when I first moved to Paris, I unwittingly moved myself right into Emile Zola's "Belly of Paris" very close to Les Halles in the 2ième arrondissement. My tiny studio apartment was situated around the corner from the rue Montorgueil, which was definitely not the "destination street" for visitors to the city that it is now, but as I slowly learned my way around the neighbourhood, I realized that there was even more for the food enthusiast than the gorgeous market atmosphere in the rue Montorgueil.
As this was back in the days before the magic of the Google search, I had precious little information about this area, apart from what I had learned in my French literature classes at university (finally – my classes paid off!), but I quickly realized that the area is a food lover's dream. The area grew out of the market "les Halles" which has been around since 1183 (Paris' original central market and one of Europe's oldest) and has developed today into quite the "must" for serious foodie tourists. Though the area is no longer quite what it used to be (and how I had imagined from reading Zola), it was indeed a flourishing working market until 1969 when most of it was moved out of Paris to Rungis into more modern, hygienic buildings to give it the space it required.
On a recent trip to Paris, I stayed at the Scaramouche Studio for a week, and I took some time to really explore the quartier again, looking beyond the beautiful produce, fish, meat and cafés of the rue Montorgueil. I was thrilled to see that the area still has so much to offer the culinary tourist – my one tip is that you'd better bring an empty suitcase to carry home all your cooking and baking souvenirs!
Here are my top picks for all things cooking and baking:
18-20 Rue Coquillière
75001 Paris
Phone:+33 1 42 36 53 13
Monday: 9am - 12.30pm, 2pm - 6pm
Tuesday - Saturday: 9am - 6pm
Sunday: Closed
Dehillerin is the Aladdin's cave of cookware. Prepare yourself and arm yourself with patience and a smile. When it's busy in there, the cramped aisles can feel overwhelming but if you allow yourself a bit of time, you'll most likely discover all sorts of items you didn't know you needed until you see them! They honestly do have everything in every size! If you're looking for a specialty item, it might pay to look up the words in French before you go in because not all the sales assistants will speak English. They do know their stuff so if you speak a little French you'll be able to get some advice. Once you've found the item you want to buy, you'll have to flag down an assistant (don't wait for them to come and find you) and they'll write the sale up on a piece of paper with the item numbers which you'll then take to the cash desk where you will pay. Once you've paid, you'll go to another desk to pick your items up. Yes, a little convoluted but the system has been working like that since 1820 so it does work! Don't forget to check out the basement where there is the biggest supply of copper pots and pans you've ever seen!
Mora
13 Rue Montmartre
75001 Paris
Phone:+33 1 45 08 19 24
Monday: - Friday 9am - 6.15pm
Saturday: 10am - 1pm, 1.45pm - 6.30pm
Sunday: Closed
Mora is the place to go for all things baking, especially pastry and chocolate-related. They have a large selection of cake decorating items, cake tins and chocolate moulds. If you've a hankering to make a macaron tower on your trip, they have the stands for those too! Unlike Dehillerin, you can choose your items off the shelf and just pay at the cash desk. I have found the staff helpful but again, if it's a specialty item you are looking for, you might do well to look some of those words up before you go. I've also resorted to showing photos of items that I couldn't find the proper translation for and the staff has always been eager to help me out.
La Bovida
36 Rue Montmartre
75001 Paris
Phone:+33 1 42 36 09 99
Monday - Friday: 10am -7.30pm
Saturday: 10am - 8pm
Sunday: Closed
Located on the corner of rue Montmartre and the rue Etienne Marcel, La Bovida offers three stories of gorgeous kitchenware and cookery items (including a small section with cake decorating and pastry specialty ingredients, like pearl sugar). La Bovida can feel a little intimidating (every time I have been there, professional chefs have been shopping!) but the staff is helpful if you have a question. I love the top floor where you can purchase all manner of "emballages" (food packaging) as well as disposable items like plates, cutlery etc… though the cake tins (tiny individual financier moulds!) might be a little easier to transport!
G. Detou
58 rue Tiquetonne
75002, Paris
Phone: + 33 1 42 36 54 67
(no website)
The name of the store is a play on words. G. Detou in French sounds like "j'ai de tout" meaning "I have everything" and they do, indeed have everything you could possibly want/need in terms of ingredients. From bulk nuts and dried fruits to food colouring, mustards, the elusive (at least where I live!) pearl sugar for making chouquettes and a huge selection of high-quality chocolates, they really do have most anything you could need for baking and cooking. Gorgeous tins of sardines (almost too pretty to open), preserved fruits and cake decorating items round out the huge selection that will have you wishing you'd brought another empty suitcase!
What food items do YOU like to bring home from Paris?
_________
Mardi Michels is a full-time French teacher to elementary school-aged boys and the author of eat. live. travel. write- a blog focusing on culinary adventures near and far. She has lived and worked as a teacher in Australia, Hong Kong, England, France and now calls Toronto home. She spends nearly every summer in France, honing her cooking and baking skills and touring different wine producing regions. As part of her job, she runs a cooking class twice a week for 7-13 year-old boys, Les Petits Chefs and Cooking Basics. She was one of the founding members of Food Bloggers of Canada, and is a cook, baker, traveller, photographer, writer, Food Revolution Day Ambassador for Toronto, contributor to JamieOliver.Com and in her spare time teaches cooking and baking classes around Toronto.
Follow Mardi on Twitter