PARIS RENTAL
Cobblestone Delight St. Germain One Bedroom - ID# 254
Sleeps up to 4 - Recent Renovations and Air-Conditioned!

Benjamin Franklin ate here and so can you! What a fabulous location in the heart of the bustling St. Germain!

Nightly Rates
Up to 2 Persons
Up to 4 Persons
Jan 3 - Mar 31
Nov 1 - Dec 19
$175
$195
Apr 1 - Oct 31
Dec 20 - Jan 2
$215
$245
For less than 5 nights add a $90 short stay surcharge - $75 if booked with ID 253. 3 night minimum stay. Prices are in US$.


LOCATION MAP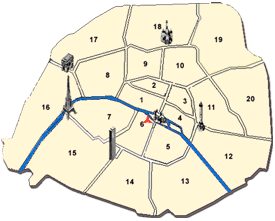 PRICES INCLUDE
Accommodation for
up to 4 persons
All utilities
Welcome bottle of wine
Local phone usage
Fresh linens and towels
Cable TV
10% Department store
discount coupon
Local contact number
Metro map, neighborhood map
Amenities as listed
Smack in the heart of St. Germain, the center of Paris, and on a private cobblestone pedestrian walkway, just chock full of history, this is one of two separate apartment units that can be rented individually or together. This is the web page for the one bedroom rental option. The one bedroom property is on the 1st European floor (2nd US) having a separate bedroom, bathroom, kitchen, queen size sofa bed and is independent from the second property.
The second property. studio ID #253, is on the ground floor and is part of this apartment. It can be rented separately, or together - see below for details. If rented separately, the only contact you may have with the other guests is passing by in the common area hallway.
Location:
History buffs will delight in being right behind the famed 'Le Procope' restaurant, which has been in business since 1686! And yes, the first ambassador from the newly formed colonies, now called the USA, ate at Le Procope, as did many dignitaries like Voltaire, Danton and Diderot. In fact, during the day in fine weather you may see some tour guides lecturing several different nationalities on the history of this ancient corner of Paris, and your famous cobblestone walkway. It is considered the heart of the left bank, and will be your own semi-private cobblestone walkway, The walkway is gated at one end and mostly closes down at night from 24hrs to 07hrs (12 pm - 7 am) but, you will of course have access to come and go whenever you please. No cars out your windows, just pedestrians bustling about, taking in all the splendid shops on this uneven walkway, for example the "Le Chocolat" restaurant just a few doors down, specializing in- well you guessed it - everything chocolate! This is such a central and great location with most everything just a couple of minutes walk outside your door. Crepe stands and restaurants, cafes, bakeries, ice-cream shops, and so much more for specialty dining pleasures! The Odeon metro is only 2 minutes away, or of course the St. Michel metro stops (several lines including airport direct lines) is only a 4 minute stroll… Walk to the Louvre in only 10 minutes or Notre Dame as well, or even Luxembourg Gardens in less than 15 minutes!
First floor single bedroom for a up to 4 persons:
After entering the building off the cobblestone courtyard, you go through the duplex door and walk up one flight of wooden stairs and enter the 35 m2 (about 370 ft2) one bedroom apartment. The apartment sleeps 4 adults with a queen size bed in the bedroom plus a queen size sofa sleeper of high quality in the living room.
Please note that due to the historic nature of this building, there are some height restrictions in the living room and kitchen area. While the ceiling is about 7 feet high, most of the exposed wooden beams are at a 6 foot 3 inch or 6 foot 2 inch height level. If you are more than 6 feet 2 inches tall (about 188 cm) you will need to be careful to not bump your head in some areas! The bedroom and bathroom have normal height ceilings.
The living room is combined with the kitchen area and is quite large and open. There is one full long wall with large windows looking out to the cobblestone pedestrian way below. These windows are large enough to offer lots of light for the apartment. The kitchen is open with plenty of counter space and all you need for cooking meals with an oven, 3 burner stovetop and microwave for just reheating items from the nearby delicatessens.
The bathroom has a large shower, large sink, WC, and an exhaust fan and towel warmer. There is an air- conditioning unit in the living room/kitchen area. The bedroom is large, with lots of large windows as well, with plenty of closet space and a very comfortable queen size bed. It is of course separated from the living room by a door. The living room itself has a queen size high quality sofa bed with a thick mattress and is easy to open/close and was purchased in June 2011. There is a very sturdy wooden banister type guardrail around the stairs for your safety, but we would like to point out that the staircase itself is a bit narrow and does not allow two people side by side.
If you are renting this unit together with the lower ground floor unit, then the inner downstairs door to the studio will be open for you. If you have only rented the upper unit, then you go directly up the private staircase, which also has a sliding lockable door at foot of the stairs for your complete privacy.
Renting Both Apartments Together:
For guests renting both units at the same time, you have complete privacy in each unit, while being connected at the same time. Click on the Paris studio apartment link for full description of the ground floor studio, which sleeps 2 persons. Each upper and lower unit will have:
- Its own telephone line
- Its own independent TV
- Its own Wi-Fi capability, no need to share
- Separate independent AC units

And the combination of the two gives you:
- 53 m2 of living space (about 570 ft2)
- 1˝ kitchens - one full and one a smaller kitchenette
- Sleeping for up to 6 adults, with 3 separate sleeping areas
- 2 full bathrooms - A dining table big enough for 6 people
Come share this grand old piece of History in the heart of the left-bank… have bragging rights for staying on a private cobblestone street, in a 17th century building, and of course do sample the fine cuisine just in front of your fine apartment at Le Procope, where Mr. Benjamin Franklin likewise dined… who knows maybe this is where he was inspired to "discover electricity"!
Rental Amenities:
NON–Smoking apartment!
1st European floor walk up (2nd US) No elevator
Air-Conditioning
35 m2 (about 370 ft2), two separate rooms plus entry hall
Sleeping accommodations:
Queen bed in bedroom
Queen sofa bed in living room
Fully equipped kitchen, specialty cookery/appliances:
3 burner induction stove
Full built-in oven
Microwave
Dishwasher
Coffee maker
Refrigerator/freezer
All dishes, cutlery & cutlery
Dining table for 5-6 people
FREE local calls
FREE calls to North America
FREE high speed Internet access; Wi-Fi or Ethernet
Bathroom which includes:
Large shower
WC
Towel warmer
"Never-out" hot water
Washer/dryer
Hair dryer
Smoke detector for your safety
Towels & linens
Iron/board
Extra cleaning service available for additional fee (the apartment is clean on arrival)