PARIS RENTAL
Cobblestone Delight St. Germain Studio - ID# 253
Sleeps up to 2 - Recent Renovations & Air-Conditioned! (with one bedroom add-on option)

Benjamin Franklin ate here and you can too. What a fabulous location in the heart of the bustling St. Germain!

Nightly Rates
Up to 2 Persons


Jan 3 - Mar 31
Nov 1 - Dec 19
$125


Apr 1 - Oct 31
Dec 20 - Jan 2
$145


For less than 5 nights add a $90 short stay surcharge - $50 if booked with ID #254. 3 night minimum stay. Prices are in US$.
LOCATION MAP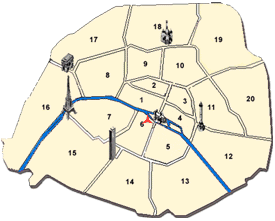 PRICES INCLUDE
Accommodation for
up to 2 persons
All utilities
Welcome bottle of wine
Local phone usage
Fresh linens and towels
Cable TV
10% Department store
discount coupon
Local contact number
Metro map, neighborhood map
Amenities as listed
Smack in the heart of St. Germain, the center of Paris, and on a private cobblestone pedestrian walkway, just chock full of history, this is one of two separate apartment units that can be rented by itself or together. This is the webpage for the studio Paris rental. The studio is on the ground floor having a living area with a fold out queen size bed, bathroom, and kitchenette and is independent from the second property.
The second property, one bedroom ID #254, is on the 1st European floor (2nd US) and connected by a staircase. It can be rented separately, or together- please see below for details. If rented separately, the only contact you may have with the other guests is passing by in the common area hallway.
Location:
History buffs will delight in being right behind the famed 'Le Procope' restaurant, which has been in business since 1686. And yes, the first Ambassador from the newly formed colonies now called the USA ate at Le Procope, as did many dignitaries like Voltaire, Danton and Diderot. In fact, during the day in fine weather you may see some tour guides lecturing several different nationalities on the history of this ancient corner of Paris, and your famous cobblestone walkway. It is considered the heart of the left bank, and will be your own semi-private cobblestone walkway, which is gated at one end and mostly closes down at night from 24hrs to 07hrs (12 pm - 7 am) but you will of course have access to enter and go whenever you please. No cars out your windows, just pedestrians bustling about, taking in all the splendid shops on this uneven walkway, like the "Le Chocolat" restaurant just a few doors down, specializing in, well you guessed it - everything chocolate! This is such a central and great location with most everything just a couple of minutes walk outside your door! Crepe stands and restaurants, cafes, bakeries, ice-cream shops, and so much more for specialty dining pleasures! The Odeon metro is only 2 minutes away, or of course the St. Michel metro stops (several lines including airport direct lines) is only a 4 minute stroll… Walk to the Louvre in only 10 minutes or Notre Dame as well, or even Luxembourg Gardens in less than 15 minutes!
Lower ground floor studio for a maximum of 2 people:
This is a fully self contained apartment. After entering the building from the pedestrian way, you go straight ahead to access your studio, with its own secure private entrance and of course, separate key. This is a delightful studio of approx. 18 m2 (about 200 ft2), which has a high quality sofa bed that can be left in open position all day if you choose, a full bathroom with shower, sink and WC. Also included is a small kitchenette in the living room area which provides a small sink, microwave unit with grill, coffee maker and tea kettle, dishes, cutlery, etc.
There are no stairs or steps in this unit, and the stairs to go up to first floor unit are completely separate with another door for complete privacy. There is one full long wall of large widows, which are all double paned, for very good sound insulation. Remember the pedestrian way outside is semi-private and mostly closed down at night anyway, except for minimal foot traffic. There is actually a second set of windows inside providing an additional 'layer' to insulate you from the outside, and providing extra privacy - see the photos. We do want to point out that this unit is slightly 'below ground level', meaning the cobblestone walkway outside is slightly higher, but only by about 2 feet. Of course you have either "light-sheer curtains" which do not allow anybody to look inside, or total blackout curtains at night for sleeping and complete privacy.
Renting Both Apartments Together:
For guests renting both units at the same time, you have complete privacy in each unit, while being connected at the same time. Click on the single bedroom link ID 254 for full description of the one bedroom Paris rental one flight up which sleeps 4 persons. Each upper and lower unit will have:
-
Its own telephone line
- Its own independent TV
- Its own Wi-Fi capability, no need to share
- Separate independent AC units

And the combination of the two gives you:

- 53 m2 of living space (about 570 ft2)
- 1½ kitchens - one full and one a smaller kitchenette
- Sleeping for up to 6 adults, with 3 separate sleeping areas
- 2 full bathrooms
- A dining table big enough for 6 people
However, if you are renting either unit separately, you are completely independent, and may only cross the other guests out in the hallway…
Come share this grand old piece of History in the heart of the left bank… have bragging rights for staying on a private cobblestone street, in a 17th century building, and of course, do sample the fine cuisine just in front of your fine apartment at Le Procope, where Mr. Benjamin Franklin likewise dined… who knows, maybe this is where he was inspired to "discover electricity"!
Rental Amenities:
NON–Smoking apartment!
Ground floor
Air-Conditioning
18 m2 (about 200 ft2) - one room plus bathroom
Sleeping accommodations:
Queen sofa bed
Small basic necessity kitchenette corner -not suitable for making meals:
Microwave combo: grill + microwave oven
Small under counter fridge with small freezer
Coffee maker
Electric kettle for tea
Small sink with hot & cold water
Plenty of cupboard space
All dishes, cutlery & glasses
Small fold up dining table for 2 or 3 people
FREE local calls
FREE calls to North America
FREE high speed Internet access; Wi-Fi or Ethernet
Bathroom which includes:
Large shower
WC
Towel warmer
"Never-out" hot water
Clothes washer
Hair dryer
Smoke detector for your safety
Towels & linens
Iron/board
Extra cleaning service available for additional fee (the apartment is clean on arrival)
AVAILABILITY CALENDAR
Every effort has been made to ensure the most up to date information. However, some apartments
need to be reconfirmed by the owner. Availability subject to change without notice.
WHITE: Available RED: Not Available