12th Century French Country House - ID# 175
Sleeps up to 9 - 3 Bedroom/2.5 Bathroom

The Perfect French Dordogne Experience!

Nightly Rates
| | Less than 7 nights | 7 nights or more |
| --- | --- | --- |
| Nov 1-April 30 | $230 | $215 |
| May 1-Oct 31 | $250 | $235 |
All reservations require $195 cleaning fee. 4 night minimum stay. Prices are in US$.
LOCATION MAP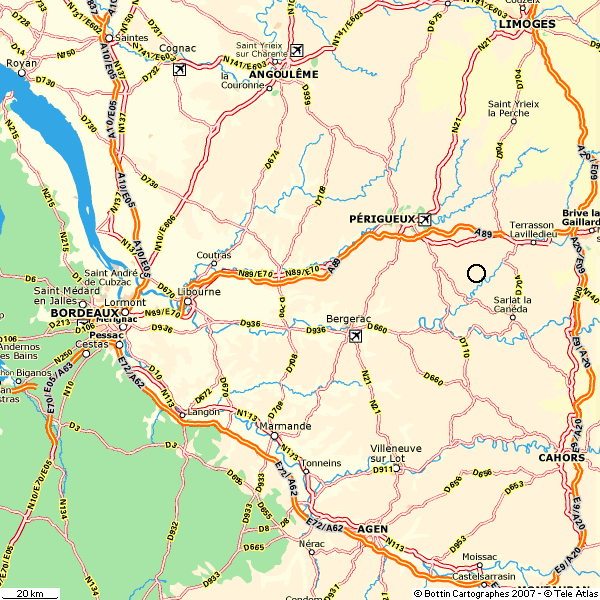 PRICES INCLUDE
Accommodation for
up to 9 persons
All utilities
Welcome bottle of wine
Local phone usage
Fresh linens and towels
Cable TV
Local contact number
Amenities as listed
The House:
A spacious living room is dominated by an impressive 12th century fireplace that is located in the center of the home. French doors open onto a Juliet balcony that overlooks the beautiful gardens and provides a stunning view of the green valley. A glass paned door separates the living room from a comfortable family room, kitchen and dining area. A second medieval fireplace is located in this inviting and warm area. The fully equipped kitchen has a gas stove, a dishwasher, built-in oven and refrigerator/freezer.
On the main level you will find the master bedroom with queen size bed and three windows. A full bathroom featuring a bathtub/shower combination is located next to the master bedroom. There is a smaller second bedroom with double bed that will sleep up to two persons. There is a half bath located here as well. The living room has a comfortable large single daybed that accommodate one person.
On the lower lever you will find a huge medieval bedroom with a king and two twin beds. This lower level stone walled bedroom remains a cool spot through the warmer summer season. A quiet, private courtyard may be reached through a 12th century arch from here. A full bathroom with a walk in shower is located nearby. The laundry room has a separate washer and dryer and offers an iron and ironing board.
The home has recently undergone several renovations including new paint on the walls and ceilings, refinishing of all of the wooden floors and beams, new towels, linens, bedding, as well as new mattresses for all the beds. New skylights, new pool liner and a pool heater all are new and welcome additions. Conversion to a salt water pool has taken place. A new heating system in the lower level of the home and an updated patio in the garden have all been installed. The recent updates will provide increased comfort for your French countryside experience.
Plazac - Our Village:

The little medieval village of Plazac lies in the heart of the Perigord Noir, famous for its history, its gastronomy and its joie-de-vivre. The village square sits at the foot of the 12th century Roman Church. It's a picturesque 15-minute drive to Montignac or Les Eyzies, both famous for prehistoric caves. Cro-Magnon man once strolled these verdant valleys. Plazac has its own small bakery with basic grocery items, which is just a 1-minute walk from the front door of the home. The post office is located next to the bakery and across the street from a wonderful cafe/bar. A 5-minute walk down the road is a co-operative organic grocery store, Le Mille Feuilles. There is a local community center between the café/bar and organic grocery store. There are frequently live music events and gatherings here in the summer season. Local activities include hikes on the dozen of walking trails in the hills around the village, canoeing on the Vezere, horseback riding and tennis on the town courts.
The Surrounding Area:
There are two large supermarkets near the village – one is a 15-minute drive into Montignac and the other in Rouffignac, just a 6-minutes drive, both which are open 6 days a week and Sunday mornings. Many local towns offer traditional street markets – in Montignac (Wednesday, Saturday); nearby Rouffignac has a Sunday morning market where local farmers offer freshly picked vegetables, fresh foie gras and a large variety of local cheeses; the Wednesday and Saturday markets in Sarlat are famous, as is the Sunday market in Saint Cyprien. The Perigord Noir is a gourmet's paradise and there are many excellent restaurants near Plazac.
The Dordogne Region:
The Perigord Noir is the jewel of the Dordogne; this is the land of 1,000 chateaux. There are medieval towns everywhere. The Dordogne River (15-minute drive) formed the border between France and the English territory of Acquitaine during the Hundred Year's War. Castles were often built in pairs, one French, one English, on opposite sides of the river. In the Valley of the Five Chateaux (15-minute drive) Castelnaud still features a medieval catapult, which once hurled rocks across the Dordogne at Castle Beynac; still occupied by the Count. Sarlat-la-Caneda (30-minute drive) is a preserved medieval city where you can wander the narrow streets and marvel at the beauty of the architecture. The vibrant, more modern city of Perigueux (30-minute drive) is known as the truffle capital. Also nearby are the medieval towns of Domme, Rocamadour, Saint Cyprien, Meyrals, Berbigueieres, Le Roque Gageac, and the bastide town of Monpazier. Bergerac is a one hour drive away.
Rental Amenities:
Non-Smoking home!
Property keys are given upon arrival at the house by the local manager
12th century historical stone home with pool and garden
Located in the heart of a picturesque village
About 2500 ft2 of living space
Air-Conditioning in master bedroom (more coming soon)
2 large fireplaces
Sleeping accommodations:
Queen in master bedroom on main level
Double in second bedroom on main level
Single day bed in living room on main level
King bed and two twins on lower level

Fully equipped kitchen includes:
Gas stove
Oven
Dishwasher
Refrigerator/freezer
All dishes, cutlery & glasses
Dining table seats up to 8
FREE local calls
FREE calls to North America & European landlines
Free high speed Internet access; Wi-Fi or Ethernet
Satellite TV with DVD
Buetooth enabled sound system
First bathroom on main level includes:
Bathtub with attached shower
Sink
WC
Hair dryer
Second bathoom on lower level includes:
Walk in shower
Sink
WC
Hair dryer
Half bathroom located on main level:
WC
Sink
Laundry room on lower level includes separate washer & dryer
Luxury towels/linens
Iron/board
Parking nearby - vehicle is recommended
Outdoor garden includes:
Salt-water pool (add $30 per day for heating)
Seating
BBQ
Ice chest & picnic basked available for day trips
Bistro, bakery, post office & organic grocery store located in village. Market towns nearby.
Welcome bottle of wine
The house is clean on arrival
AVAILABILITY CALENDAR
Every effort has been made to ensure the most up to date information. However, some apartments
need to be reconfirmed by the owner. Availability subject to change without notice.
WHITE: Available RED: Not Available