< BACK TO RENTAL INFO
GUEST COMMENTS - ID# 48
RATINGS:
5 = Excellent ; 4 = Very Good ; 3 = Good ;
2 = Acceptable ; 1 = Unacceptable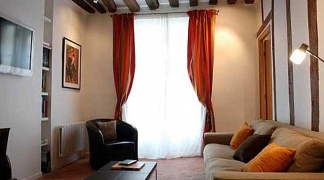 Jul 25, 2014: Dana S. - Sammamish, WA for 10 nights
Interaction with VacationInParis.com:
Comments:Outdoor noise was not a problem if you kept the street side windows closed. For air flow we opened the window over the courtyard and at the front door.
---
Jul 10, 2013: Yita S. - Vienna, VA for 3 nights
Interaction with VacationInParis.com:
Comments:It would have been nice to know that there was construction work being done in the stairs leading to the apt. Made a bad impression when we arrived and saw the mess and wondered, " if this is the stairway what is the apt going to look like?" Not sure what you mean by noise from outside / inside the building. If the windows are closed one does not hear the street noise; the only other noise was when the workers were working on the stairs, but that was sporadic It's a great location - with several metro stops nearby; the Jardin de Luxembourg for jogging and plenty of sightseeing. I would definitely recommend the apt to friends.
---
Mar 28, 2013: Ingrid S. - Sonoma, CA for 9 nights
Interaction with VacationInParis.com:
Comments:The street noise kept those in the front bedroom and living room up most of each night and earplugs helped but not fully! Both sets of front windows had to be kept closed during the night due to the noise. The back bedroom is not as bad. Other than that it was very nice. While we were there we were out and about every day, all day. Had we been hold up in the flat, it would have been very problematic because there was significant stairwell work going on near us and the noise from the hammers was unbearable if you were in the flat. The work needs to be done, and it is an improvement and temporary, so no real complaint about that. We just stayed out and about. The location of this flat is just perfect in relation to the City and central location and for that reason I might consider coming back to it. Probably I would look for something in the same location, but a little more isolated from a street with all night bars open where customers must smoke outside on the street! Another reason to have the windows closed as patrons spent much time smoking and drinking out in the street just below the windows! Ugh!
---
Dec 29, 2012: Therese M. - , for 7 nights
Interaction with VacationInParis.com:
Comments:
---
Sep 12, 2012: Gareth M. - Calgary, ALBERTA Canada for 8 nights
Interaction with VacationInParis.com:
Comments:The kitchen sink was very stained. We really had to scrub with the cleanser to bring it up to acceptable standards. There were dishes missing so that we had to replace a mug, just to have 4. It was very helpful to have all the booklets for the applian We would certainly book through your agency again however would suggest more follow up on the properties may be a good idea.
---
Jun 16, 2012: Ingrid E. - New York, NY for 4 nights
Interaction with VacationInParis.com:
Comments:We liked apartment very much but there were two issues. The key issue for us was the single toilet. We understood that the apartment had two bathrooms, but only one of the bathrooms had a toilet. The noise from outside was also pretty deafening on Saturday night in particular. We are heavy sleepers and live in NYC - but I expect most guests would find it much too loud.
---
Jun 09, 2012: David W. - San Diego, CA for 7 nights
Interaction with VacationInParis.com:
Comments:I've rented apts on this street before. The noise is unavoidable because r. des Cannettes is such a busy street late into the nite because of the restaurants. EuroSoccer 2012 was in full bloom, so the "sports bar"/cafes were running in full blast. This is the first time I've used VIP to rent in Paris. I am very pleased. From start to finish all aspects of the rental process worked very well. The reason I used VIP this time was because of the clarity & ease of using the website to find an apt. I have done this several times before over the years, and I could immediately tell that I was getting all the details I wanted about each apt listing.
---
Apr 27, 2012: Evelyn M. - Busselton, WA Australia for 8 nights
Interaction with VacationInParis.com:
Comments:We had great dfficulty with the keys and opening the front door.
---
Oct 22, 2011: Brian M. - South Bend, IN for 7 nights
Interaction with VacationInParis.com:
Comments:We knew the neighborhood and so we knew that it would be noisy esp Friday and Saturday nights. Did not bother us , but other guests might have answered that there was too much noise It would have been nice to have a brief restaurant guide for the area. There are so many places to choose from.
---
Oct 15, 2011: Lucinda R. - Lincolnville, MA for 7 nights
Interaction with VacationInParis.com:
Comments:There were not enough drinking glasses or coffee mugs in kitchen. We had a hard time figuring out the stove top, but finally did! We couldn't get the television to work! Wonderful location!
---
Sep 03, 2011: Matthew B. - Oakville, ONT Canada for 7 nights
Interaction with VacationInParis.com:
Comments:Lovely apt and we would definitely stay again. We would also highly recommend the apt to friends/family. Very nicely appointed. Beds were very comfortable with good quality linens. The only disappointment was the washing machine did not function so we were not able to wash clothing. Having a washing machine available to us had been an important feature in the apt we chose to rent so this was definitely disappointing.
---
Jul 23, 2011: Jenny P. - Clinton, NJ for 5 nights
Interaction with VacationInParis.com:
Comments:The only issue we had was determining which apartment was ours. There are two sets of stairs and the instructions did not clearly state which one to use.
---
Jul 11, 2011: Maria W. - Tampa, FL for 7 nights
Interaction with VacationInParis.com:
Comments:This is a wonderful apartment! The building entrance corridor and stairway are dark and shabby, but the apartment itself is bright, clean, stylishly decorated and well-maintained. The kitchen and bathrooms are modern and nicely appointed. I learned about Vacation in Paris through tripadvisor.com
---
Jun 22, 2011: Wendy H. - Richland, WA for 8 nights
Interaction with VacationInParis.com:
Comments:The only comments I would have that really are meant to be helpful and not critical would be the following: 1. It would be helpful to have more than one kitchen dishtowel (this was probably the most inconvenient item as with 6 people we were using it all the time), the cutting board is broken but we were able to use it. Looked and found a couple of sponges in with the cleaning supplies, not sure what they had cleaned but they were the only things we could find to wash the dishes with.... 2. Helpful to have someplace to hang hand towels in the bathroom, we used paper towels as we didn't want to share germs since there were 6 of us. 3. The appliance manuals were simply all in a pile in a kitchen cupboard, one making the cupboard not very usable and also hard to find the correct one. Putting holes in them and putting them in a binder would help people find things easier and save space. 4. I had asked for directions on how to use the washing machine before our trip and was directed to use the manual provided, it was only in French! so not much help... a simple step by step instruction printed in the binder would be very helpful for your American guests as European washers are soooo different and we really don't know what the differences mean and what we should expect as far as how dry things should be when they come out, which settings are for what, how full the washer should be, etc... 5. Regarding noise from inside the building, I only remember a couple of times that that was a problem, the people sleeping on the street side experienced a lot more noise. My son and I shared the room with the twin beds so we had the quieter side. I can't really comment on the noise from outside the building so am leaving that answer in it's default position. Other than those small items it was a great apt. Nice storage in the bedrooms for our clothes which was nice. We were too busy to even turn on the TV so have no idea how easy that was to work. Fantastic location, metro nice and close, grocery store very convenient as we used this everyday. Also helpful to have the pharmacy so close as I got sick the second day and needed cough drops. I would recommend this apartment to others though and appreciate the thoughtfulness taken putting it together as I do the same with a cabin in Idaho. Thank you again for your great customer service, VIP has been great to work with and the owners have been fantastic and understanding. I hope my comments are not taken as being critical but only meant in a spirit of helpfulness. Wendy Thanks!
---
May 28, 2011: Noelle B. - Austin, TX for 7 nights
Interaction with VacationInParis.com:
Comments:The apartment and location were perfect! This was one of the best lodging experiences I've had and would absolutely stay here again. I'm going to recommend it to friends for sure. The customer service we received along the way was extensive and flawless. I believe we received tremendous value for our money. Many thanks for helping us have an amazing week in Paris!! We learned of the apartment through TripAdvisor.
---
Apr 16, 2011: Terry M. - Ikoyi, LAGOS Nigeria for 8 nights
Interaction with VacationInParis.com:
Comments:We couldn't get the TV to work, but that could have been our stupidity. Maybe the owner should just check on that.
---
Apr 09, 2011: Sher R. - Hillsborough, NC for 7 nights
Interaction with VacationInParis.com:
Comments:The owner should add detailed instructions on the operation of the stove, oven, and washing machine. Also, we assumed there was a dryer because there was a washer. There was a nice drying rack, but it would have helped to know in advance that there was no washer.
---
Nov 07, 2010: Robin P. - Toronto, ON Canada for 13 nights
Interaction with VacationInParis.com:
Comments:The washing machine wasn't great and it was difficult to get anything to dry on the rack - thank goodness for the heated towel racks. Fortunately there was a laundromat around the corner (though quite expensive 50 Euros to wash and dry three loads!). Lots of noise all night from Chez Georges downstairs, but we had earplugs, so not a problem. Internet connection was sporadic, didn't seem to work in that well in the evening. Great experience with VIP as usual (this is our third rental) - very happy to recommend in the future.
---
Oct 25, 2010: Van R. - Bridgewater, NJ for 7 nights
Interaction with VacationInParis.com:
Comments:Overall the apartment was very nice, clean and in good shape. It has a great deal of light, better than many Paris apts. which face dark courtyards. In some aspects it was slightly tired looking, e.g., the drapes, floor, furnishings and decor. This was not a deal breaker, but would keep me from describing the apartment as "luxury". Another downside was that the toilet was "miles" away from the master bedroom (no toilet in the bath off the MB), but this isolated single toilet situation seems to be a common quirk of French living. The biggest plus was that it was quite spacious. The location is excellent in terms of access to metro lines, attractions, food markets, shops and restaurants. The outside street is noisy due to the number of bars, and ongoing construction work very early in the morning, but with earplugs this did not obviate all of the other advantages of this apartment.
---
Aug 28, 2010: Grier W. - Carmel, IN for 7 nights
Interaction with VacationInParis.com:
Comments:Loved the space and overall features of the apartment. The outside noise late into the noise was too much. Noticed that smokers tending to hang out in the street which may have increased the noise. Suggestions: provide additional waste baskets, provide instructions for using the dishwasher, washing machine, and stove, provide additional hooks for bath towels etc. The maps provided were great, showing metro stops, Monoprix, and bakeries. VIP provided excellent service, will likely use you again.
---
Aug 14, 2010: Kim F. - Ashburn, VA for 7 nights
Interaction with VacationInParis.com:
Comments:As Vacation in Paris is aware, when we arrived our apartment had not been cleaned. This was definitely a disappointment, as we were expecting a "luxury" accomodation. The owner did respond right away, and apologized for her mistake. She made up the beds with fresh linens and cleaned the bathrooms so we could settle in for the night. The owner also made a very nice gesture in not charging us for that night, and she even brought our family a bottle of champagne and a box of macroons. We feel she did all she could do to apologize and to make up for our inconvenience. We also had some trouble on arrival in finding which apartment was ours in the building. The apartment is on the third floor. We found this information deep within the arrival documents. We used the washing machine in the aparment while we were there. There were no directions in English, and while my husband has good working French, it was a bit of a challenge for us. We were concerned about being careful, and not harming the machine. I am sure other American families would be in the same boat as we. So perhaps simple English directions by the machine would temper any anxiety. The location of this apartment is by far its strongest selling point. The location was unbeatable. We enjoyed our stay, and the ease of working with Vacation in Paris. For our family, we hope to book with you again in the future. Thank you.
---
Jul 28, 2010: Mickey C. - Carlsbad, CA for 10 nights
Interaction with VacationInParis.com:
Comments:I would designate it as "Luxury". It is a very nice palce, great location, but not really luxurious. It was perfect for our needs.
---
Jul 11, 2010: Luis G. - Sydney, NSW Australia for 7 nights
Interaction with VacationInParis.com:
Comments:
---
Jul 05, 2010: Jennifer E. - Hadleigh, ESSEX Uk for 5 nights
Interaction with VacationInParis.com:
Comments:We would like to congratulate the staff of Vacation in Paris for their excellent service and in particular Donna Reynolds who handled our booking. The information and help we received was perfect and I have already recommended Vacation in Paris to my friends. We had a wonderful holiday and would use Vacation in Paris again. This was our first holiday in Paris where we stayed in an apartment instead of hotel and would recommend this to anyone considering this idea as we really enjoyed the freedom it gave us. For anyone considering staying in this apartment, the area was lovely with lots of shops and restaurants, but it could be a little noisy at night. The apartment itself was very nice. Initially the air conditioners were not working properly, but once we had spoken to the owner about this, she came to the apartment and sorted the problem out. On a minor issue, we found that the curtain to the window by the front door was only covering three quarters of the window leaving a gap of several inches at the bottom. This gave anyone going up or down the stairs outside our apartment, the opportunity to see inside. We personally felt that there should be a curtain there covering the whole of the window to ensure the privacy of the people staying there. Regards, Jennifer
---
Jun 26, 2010: Ann H. - St. Paul, MN for 4 nights
Interaction with VacationInParis.com:
Comments:1. Instructions for entry weren't clear--the apartment requires a code for access (nicely included on the key fob, we eventually realized!) but we didn't see that requirement in any of the written materials. Tired travelers may not be creative problem solvers (we managed our way in!) 2. Specify the apartment location more clearly: up three flights of stairs, apartment has white door to the LEFT (again, making it easier for tired travelers.) 3. The directions for the appliances were available, but a simplified explanation might help (we never did get the induction stove top to work and were concerned that the apparent microwave setting on the all in one oven might not be what we intended.) 4. Bedding option: It appeared that as is the French custom, either a heavy duvet or nothing are the options for sleeping. It was >30 deg C last week during the days, and a light cover (just a sheet or a light blanket) would have been great. 5. Noise on the street coincident with open windows and World Cup match celebrations, part of the cultural charm. 6. We never detected cool air from the AC units (the green light showed on the units when we manipulated the controller) 7. the WiFi directions are incorrect, the network to connect to is freebox_SCHWAL (and then the credentials work), there is another network called freebox that might be unsecured. Thanks for a great apartment.
---
Apr 02, 2010: Carolyn S. - Berkeley, CA for 9 nights
Interaction with VacationInParis.com:
Comments:We arrived in the evening and there weren't any instructions regarding entering a code to get past the main door, so we figured it out on our own. Also, there wasn't a number on the door to the apartment, or any description of the door (for example, the color) so we weren't sure we were at the right apartment when we first arrived and put the keys into the door. We loved the apartment and especially the location. There was quite a bit of street noise, but it was lively, and not irritating. Our travel agent recommended your website.
---
Mar 23, 2010: Jessica B. - Pittsburgh, PA for 6 nights
Interaction with VacationInParis.com:
Comments:We would use the apartment again because of its very central location to the parts of Paris we were interested in visiting. We would recommend it to friends because of its location. However, in both cases, we would consider the nighttime street noise to be a possible problem and we would advise friends about this issue. Also, we would hesitate to define the property as a "luxury" property because it was missing some very basic items including toilet paper (which the owner delivered later), facial tissues, soap (for hands and/or body), extra bath towels, a kitchen waste bin, and paper towels.
---