< BACK TO RENTAL INFO
GUEST COMMENTS - ID# 382
RATINGS:
5 = Excellent ; 4 = Very Good ; 3 = Good ;
2 = Acceptable ; 1 = Unacceptable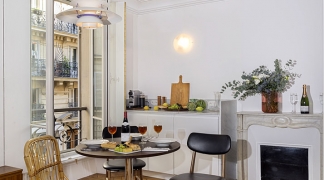 Sep 29, 2019: Al M. - Fairfield, CA for 6 nights
Interaction with VacationInParis.com:
Comments:May have been the first or nearly so to use the apartment. Apt is NEWLY refurbished to high standards. Top of the line appliances, quality paint job, very comfy main bed. Pull out sofa bed is pretty hard, better to sleep on the sofa. Great bathroom, shower. Overall a very top quality apartment. Not a bit of noise. Check out the (very) expensive kitchen drawers. Owners spent a lot of money on top quality furnishings. The highest quality apartment we have ever stayed in in Paris Great .Patisserie a few feet away, lots of nearby streets with many small restaurants. Enjoyed our stay. Probably have stayed in 15 different apartments/hotels in Paris. Beautiful apartment.
---
Sep 20, 2019: Andre F. - Vaucluse, NSW Australia for 8 nights
Interaction with VacationInParis.com:
Comments:We were delighted and considered ourselves quite lucky for that apartment becoming available when we needed it. Loved everything and were quite sad when it ended. The only item requiring comment was that we were at a time when the climate became Cold and the apartment needs heating equipment, which was supplied, until central heating is turned on.
---