< BACK TO RENTAL INFO
GUEST COMMENTS - ID# 361
RATINGS:
5 = Excellent ; 4 = Very Good ; 3 = Good ;
2 = Acceptable ; 1 = Unacceptable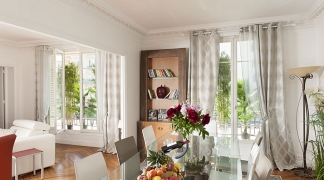 Jul 17, 2019: Susan D. - Wharton, NJ for 8 nights
Interaction with VacationInParis.com:
Comments:The property is near a hospital. We may have chosen another place because of that. AC was wonderful although not what we have in US. The TV was difficult to use and/or find an english speaking channel for news. I would definitely use your company again! Maybe even next year. I am getting friends together from Seattle.
---
Jun 23, 2019: George L. - North Eastham, MA for 5 nights
Interaction with VacationInParis.com:
Comments:Our only criticism is that the TV and WiFi did not work for most of the stay. I would call, have to wait in the apartment until they came to fix it and then it would go out again in a couple of hours. Very annoying and we spent a lot of money on data. We really appreciated the 3 portable air conditioners since it was 100 degrees.
---
Sep 20, 2018: Michael M. - Duxbury, MA for 5 nights
Interaction with VacationInParis.com:
Comments:Convenient location, great apartment with a lift to accommodate 5 adults but the noise level at night with fights and arguements in the wee hours made sleep difficult and if we closed the windows we got too hot to sleep well. We needed closet space or chest of drawers for our clothes and personal items in two of the three bedrooms since we were staying 5 nights. All the closets in those two bedrooms were locked. There were no washcloths or top sheets. The toilet dispenser in the master bath was impossible to reach. One of the burner on the stove was broken. We needed a top sheet because the duvet kept us too warm. I would recommend replacing the hair dryers. They were too weak. For someone looking for a larger apartment, this is still a great option so I would recommend it with some of the above reservations. No.
---