< BACK TO RENTAL INFO
GUEST COMMENTS - ID# 353
RATINGS:
5 = Excellent ; 4 = Very Good ; 3 = Good ;
2 = Acceptable ; 1 = Unacceptable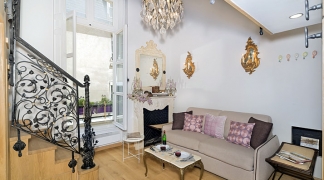 Nov 15, 2019: Ute G. - Essen, Germany for 4 nights
Interaction with VacationInParis.com:
Comments:Rue des Rosiers is bound to be noisy, there's no way around it. It's a narrow street. It is very crowded, there's always an echo of people walking and/or speaking. The noise was acceptable for us because it was winter and we kept the window closed but I c
---
Jun 27, 2019: David E. - Palo Alto, CA for 3 nights
Interaction with VacationInParis.com:
Comments:Apartment description and photos were accurate. Location was great. Value was great. Apartment was very quiet with windows shut though street was noisy. Air conditioning ketp the apartment cool during the heat wave.
---
Jun 18, 2019: Patty D. - Aldie, VA for 3 nights
Interaction with VacationInParis.com:
Comments:Loved the location, the upstairs bed was comfortable, the sofa bed was comfortable. The upstairs bathroom is a challenge due to the low ceiling height, and if you want a regular bed (as adults, we definitely did not want a pull out sofa), the low ceiling height was not optimal. The upstairs was a bit warm, even with the fan that was provided. If we were traveling with our sons again, we would stay again, but as a couple, we would not, only because of the bathroom ceiling height. Having an additional fee for a check in after 6pm seemed unreasonable. I would expect an additional fee for a late night check in, but not at 7pm.
---
Apr 16, 2019: Rachel L. - , for 7 nights
Interaction with VacationInParis.com:
Comments:
---
Dec 27, 2018: Angel Jimenez M. - , for 5 nights
Interaction with VacationInParis.com:
Comments:
---
Sep 07, 2018: Karen T. - Brooklyn, NY for 4 nights
Interaction with VacationInParis.com:
Comments:We thoroughly enjoyed our stay in Marais. Very easy to get to, clean, and on a lively little street. My husband commented that he didn't feel like he was a foreigner visiting Paris, but that he lived there for a week. Lan met us at the apartment with the keys. She was wonderful and gave us lots of tips to make our stay easy and memorable. And the food there was great especially the restaurant across the street. (That last sentence was my 8 year old daughter!, "that has great taste in food") It was four of us in the studio. Initially, we planned on having the kids sleep upstairs, but feared our 3 year old wandering down the stairs in the middle of the night. So my husband and I slept upstairs. Bed were very comfy, and having a second bathroom was very helpful. I should definitely stay again and recommend to others. Thanks for a wonderful holiday! Family in NYC
---
Sep 10, 2017: Mike C. - Needham, MA for 6 nights
Interaction with VacationInParis.com:
Comments:This apartment is located on a cobblestone pedestrian only street in the Marais, a vibrant and enthusiastic neighborhood on the right bank. One enters through a small courtyard into a somewhat older building. The apartment itself, however, has been completely renovated with all first-class supplies and modern appliances. It is a wonderful location perhaps a 10 minute walk from Ile de la Cite and an approximate 20 minute walk to the Louvre. The neighborhood is populated with small shops, boutiques and caf
---
May 03, 2017: Rhonda G. - Englewood, OH for 14 nights
Interaction with VacationInParis.com:
Comments:We had a wonderful time in Paris and absolutely loved the apartment and it's location!! I did check that there was noise from outside but honestly, it wasn't something that would keep us from staying there again. All of my communication with the staff at Vacations in Paris was above my expectations. I was very thankful for all the help and the timeliness of it. Also, we loved the service recommended to transport us to and from the airport!! Thank you, thank you, thank you!!!!!
---
Apr 18, 2017: Sharon H. - Cherrybrook, NSW Australia for 7 nights
Interaction with VacationInParis.com:
Comments:We would like to suggest that a small table ( maybe fold out type) would fit by the stairs near broom cupboard. This apartment was supposed to sleep 4. However there is only a small coffee table we met up with some friends and would have liked to ask them back for a drink but not enough chairs or a table! Really need a table for breakfast. Also a small saucepan to boil an egg only 2 saucepans extra large& large. One last thing most of the books are only in French it would have been nice to read he books most tourists would be English speaking I imagine. Liked location , disappointed we didn't receive complimentary bottle of wine we didn't receive one the other time also.
---
Dec 19, 2016: Anthony H. - , for 3 nights
Interaction with VacationInParis.com:
Comments:We found this gem of a place just a few weeks before we were off to Paris and we couldn't of been more happy with the choice. I did a lot of research for apartments in the heart of the Marais district and luckily this apartment was available. It was perfectly the right size for the two of us, (there was a pull out sofa for additional guests). It's a small studio apartment with a loft and 1.5 bathrooms, but designed rather smartly. It has been recently remodeled and everything is new and modern. The apartment is situated in such an awesome street in the Marais district with amazing restaurants, bakeries, shops just a few steps outside. It's so Parisian! This is perfect studio with a loft for two. It's a small space but so clean and comfortable. We were so pleased with this find, and plan to rent it again when we return. Thanks to Soad and team for adding to our amazing stay in Paris. Ahhh, Paris, until next time? The upstairs is a loft, so if you are taller than 5' 5", you will need to bend down. My husband is 6' 2" and he didn't seem to mind since the only time he needed to use that space was to sleep. The main floor has plenty of head room. The bed is very comfy and there are plenty of covers and pillows to keep you warm and cozy.
---
Jul 03, 2016: Michael J. - , for 6 nights
Interaction with VacationInParis.com:
Comments:We had a wonderful time in the Marais area and were quite fortunate to have found such a nice place to stay at last minute when our first booking fell through. Our host was very communicative, met us at the apartment with keys and checked on us several times during the stay. The apartment is very nicely furnished and the host was extremely generous with wine, cheese, coffee and other goodies, as well as a good supply of toiletries and cleaning supplies. The apartment is exactly as described and very tastefully remodeled with everything brand new and immaculate. Having a washer/dryer was very convenient for a long stay. As described in the ad, as a studio, the apartment is "cozy" and the loft bedroom area has a low ceiling. Therefore, while it technically sleeps 4 with the pullout sofa, I think it would be a bit of a stretch for more than two to stay for an extended time, except for perhaps smaller children. The Marais area is simply delightful, with the charm of the old city, and full of shops and restaurants. This apartment is right at the center of it all and we loved being able to walk right out onto the cobblestone street and choosing among many fine restaurants. Street action is entertaining to watch from the apartment during the day and early evening, but it can be a little noisy in early mornings or late night with the window open.
---