< BACK TO RENTAL INFO
GUEST COMMENTS - ID# 352
RATINGS:
5 = Excellent ; 4 = Very Good ; 3 = Good ;
2 = Acceptable ; 1 = Unacceptable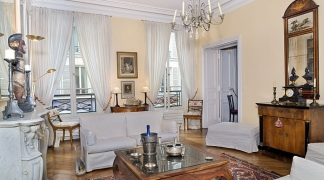 Aug 31, 2022: Chas Geiger & Tom C. - Harleysville, PA for 30 nights
Interaction with VacationInParis.com:
Comments:We had a great time in this very large apartment, a classic Haussmannian apartment with three large reception rooms that hasn't been broken up into smaller units and the furnishings in it are beautiful. You really feel as though you are at home and not in a rental apartment. This is what we most loved about being there. Its central location is superb, especially for anyone who hasn't been to Paris before and its close access to M?tro Lines 1 and 9 make it even more convenient. The two portable air-conditioning units were wonderful to have and the heating system works beautifully. It was also great having a full-sized refrigerator. What we most appreciated, though, was the separate washer and dryer. This saved us an enormous amount of time and it's the first time we ever had an apartment in Paris that had this. I wish they all did. It was wonderful. We couldn't have asked for more. The master bedroom overlooks rue d'Artois which was noisy on some weekend nights, but not every weekend.
---
Jan 11, 2022: Kathleen & Jim W. - Wilmette, IL for 21 nights
Interaction with VacationInParis.com:
Comments:Very comfortable, large apartment. The bedroom with windows over the street had more noise than the bedroom with courtyard windows. Good bathroom showers with plenty of hot water. Lovely neighborhood. No difficulty finding pharmacy, grocery or good lo
---
Jun 18, 2019: Theresa W. - Palos Verdes Estates, CA for 5 nights
Interaction with VacationInParis.com:
Comments:Had trouble with internet access, property manager was helpful, but we were without it most of the time and wasted a couple of hours trying to resolve. Flooring is bad, slanted, squeaky. Found the wine, did not realize it was for us, and thus did not drink it. Too bad. They provided two laundry detergent pods for our use for an entire family and a very small washer. In fact, the manager specifically told us that she left two, like she was being generous. Just felt this was extremely cheap.
---
Jul 19, 2018: Cindy P. - Saugus, CA for 4 nights
Interaction with VacationInParis.com:
Comments:I loved the antique feel of the apartment but I have to say, there were some parts of the floor we were afraid to walk on as they seemed so fragile. The location was great - lots of places to visit nearby and great restaurants. There was quite a bit of noise on 2 of the 4 nights we stayed. One night probably due to the nightclub and a traffic jam that backed up to Rue d'artois and surrounding streets (people yelling and honking their horns outside our window from 2 - 330 am). And then the next night people fighting in the street (an angry couple it seemed). The apartment itself was incredibly elegant and quite big. David was wonderful and Joseph (at the building) was very nice as well. This stay was an adventure but we did enjoy it!
---
Mar 03, 2018: Mr. Mohammad A. - Housr 26, for 14 nights
Interaction with VacationInParis.com:
Comments:
---
Jul 23, 2017: Maria W. - Washington, DC for 5 nights
Interaction with VacationInParis.com:
Comments:
---
Jul 06, 2017: Joanne M. - , for 3 nights
Interaction with VacationInParis.com:
Comments:We felt every bit in Paris at this spacious and comfortable property near the Champs-Elysees. The apartment has two large living rooms, a dining room, two large bedrooms, fully stocked kitchen, and 2.5 baths. There are large windows on both sides of the apartment, with one side overlooking a courtyard. The separate washer and dryer were nice to have as well. The apartment is just a block or two from everything you need, a Metro station, bakeries, multiply grocery markets, and dozens of restaurants and cafes. Our only caution is that the apartment doesn't have air conditioning. We were in Paris during a heat wave and needed to keep the windows open. The temperature inside the apartment stayed relatively cool, but there was a lot of street noise from cars, motorcycles and people at the cafes below at all hours. I will note that when we closed the windows, you could barely hear any street noise
---
Jun 24, 2017: Doris I. - Boston, MA for 4 nights
Interaction with VacationInParis.com:
Comments:Absolutely beautiful apartment! Great interactions with VIP: very fast responses, timely info sent. Only complaint is the street noise in the bedroom overlooking the street, when windows were open. Because there isn't air conditioning, on hot nights you need the windows open and there was talking/partying/motocycles zooming into the 3am/4am hours. With windows closed, and fan on, on the cooler nights, this was not an issue. Really appreciated the availability of phone service to the US and also the excellent book of resources and area restaurants in the apartment. Thanks!
---
Jun 19, 2017: Gerald C. - Superior Township, MI for 5 nights
Interaction with VacationInParis.com:
Comments:
---
Apr 21, 2017: Lewis L. - Madison, WI for 4 nights
Interaction with VacationInParis.com:
Comments:The apartment itself was excellent. It has excellent amenities. I did have a problem with the television set which never got resolved because the local manager was not available. It affected my stay in a minor way but was nevertheless annoying. It occurred during French election returns about which I wanted to hear French commentary. It is an excellent property. It would be very desirable if the local manager were more readily available.
---