< BACK TO RENTAL INFO
GUEST COMMENTS - ID# 337
RATINGS:
5 = Excellent ; 4 = Very Good ; 3 = Good ;
2 = Acceptable ; 1 = Unacceptable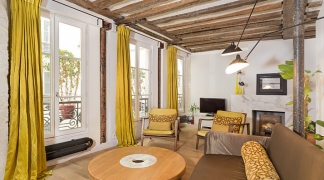 Oct 09, 2019: Kathleen A. - Poland, OH for 4 nights
Interaction with VacationInParis.com:
Comments:
---
Jun 01, 2019: Paula F. - Charlotte, NC for 4 nights
Interaction with VacationInParis.com:
Comments: Would be nice to have written directions on everything about the apartment that was explained to us in 10 minutes. Second day we had trouble getting hot water, even after punching the correct button. We also had the windows open at night with it being s
---
Apr 13, 2019: Andrew N. - Westerly, RI for 4 nights
Interaction with VacationInParis.com:
Comments:
---
May 18, 2018: Bill M. - Rothesay, NB Canada for 4 nights
Interaction with VacationInParis.com:
Comments:This was a wonderful choice for our family of 5 adults.The apt was very spacious and sooo quiet that one day we all slept till noon( so set an alarm)!,It was in a trendy area that our Daughters loved to experience,close for walking to the major sites and the Metro nearby for things further out,.many bars and restaurants nearby but not on our street,so no noise.We really did appreciate the coffee,tea ,eggs and cheese available for our arrival.iWe would certainly recommend this property and use this company for apts in Paris again...MacLean Family. This was a great choice for my husband ,myself and our 3 adult daughters.lovely apartment and great location.so clean and great bedrooms and lots of bathrooms for 3 girls.would definately recommend your company and this location to anyone travelling to Paris.
---
Jun 16, 2017: Elizabeth H. - , for 5 nights
Interaction with VacationInParis.com:
Comments:We were in Paris from June 16th - June 21st 2017. The apartment is decorated beautifully and well stocked. We rented an apartment so we could have more space and flexibility to cook breakfast and light snacks in between exploring Paris. We ate lunch and dinners out everyday/night but we could have easily prepared meals at the apartment. The only challenge we had was the weather because it was unseasonably warm and there is virtually no air conditioning in Paris. (I would not have wanted to cook anything beyond breakfast due to the heat) If AC is important to you for sleeping and relaxing I would recommend a hotel over an apartment if traveling in the summer - but then you would give up the conveniences and space offered in the apartment. There were plenty of fans in the apartment for everyone to sleep comfortably and again, it was unseasonably warm so living without AC is probably not an issue the majority of the time. It was really nice to walk one block from apartment to a grocery store and get coffee, breakfast food, wine, beer, milk, water, etc. It was also nice to be able to have a washer and dryer so you can pack light if you're able. There is one set of stairs to the apartment that are safe and easy to walk up (with railing to hold if traveling with older family)...However, getting a huge suitcase up was a little difficult so traveling with medium/smaller luggage would be helpful in my opinion. The manager was very thorough and we did not have any reason to call for questions once we were given all the apartment instructions. We were also able to check in early. I appreciate any hotel or HomeAway rental that makes an exception to check in and check out times when they are able. The street the apartment is on is described and feels a bit like an alley - however, once you get your bearings you will find it to be a very charming street. I was thankful that it was not a main street in the area at night. I felt as safe as one can feel in Paris on our street and in the apartment. Paris, like NYC is for example, is a city you have to be prepared to visit. You must be diligent in preparing and planning your trip to insure a safe and fun experience. Locking doors, closing windows, walking in groups or with someone (especially if you are a woman) is always necessary in a large busy city and Paris is no exception. It was an amazing trip for myself, mother, sister and our daughters - a perfect 3 generation Paris vacation!
---
May 24, 2017: Jennifer R. - Castelton, NY for 6 nights
Interaction with VacationInParis.com:
Comments:The apartment was above and beyond what I expected. We were a group of 5 and there was plenty of room. The apartment was cool despite the heat and humidity outside. The charm of the building just added so much to the overall experience. The apartment is in a fantastic neighborhood just blocks from the RER. There is no lack of places to eat at any hour. Plus there is a little grocery store within a block where you can find a bottle of wine cheaper than a bottle of water. Additionally, there is lots of shopping nearby. I can only provide a glowing report because I just LOVE this apartment.
---
Jul 11, 2016: Scott & Ashley P. - Tarzana, CA for 5 nights
Interaction with VacationInParis.com:
Comments:The beds were hard and no toilet in master, but otherwise it was all excellent. Merci!
---
Mar 31, 2016: Sergio C. - San Antonio, Chile for 5 nights
Interaction with VacationInParis.com:
Comments:
---
Mar 21, 2016: Camille C. - Alexandria, VA for 6 nights
Interaction with VacationInParis.com:
Comments:This was our first Airbnb experience and it could not have gone better. The renting process was seamless and our host was communicative and welcoming throughout the process. Our family thoroughly enjoyed our Marais "home". The layout was just perfect for a family of six, offering comfort and practicality. We used the kitchen every day to make breakfast and coffee, or to have a mid-day snack between activities. The bathrooms were beautiful, modern and clean. Each bathroom had plenty of clean towels and cozy robes. Accessing the building was easy and the neighborhood itself was quiet and calm. The bedrooms were clean, beds were set up to accommodate all travelers, and fresh sheets made us feel at home. The location was better than we ever anticipated. Our family walked every where each day. We only took the metro for our day trip Versailles. Just outside our front door was a great selection of cafes, sandwich shops, grocery stores and even a Starbucks. This Marais neighborhood quickly became our favorite location for nightly dinners. Our hosts were wonderful; professional, kind and easy to work with. Someone was there to greet us for our 8am arrival and they walked us through every detail of the apartment. They even had a beautiful bowl of fresh fruit, a plate of cheese, a large bottle of water and orange juice waiting for us! Our family had a fantastic experience overall and we would book this apartment again with no hesitation.
---
Sep 29, 2015: Edward A. - Santa Barbara, CA for 8 nights
Interaction with VacationInParis.com:
Comments:The cute apartment was perfect for our group, one couple and two singles. Great kitchen fully stocked with pots/pans utensils, coffee maker, etc. Lovely cheese and wine basket provided upon arrival. We were promptly met and shown the property. What you do need to understand though, is that the master bathroom, while beautiful, does not actually have a toilet so you just need to be aware of that and there are 2 toilets elsewhere in the apartment. The lighting in the bedrooms was a little dim for our preferences but that is a minor issue. The apartment is located on an alley and at first I was a little nervous about that but that little alley is a thriving business community with little restaurants and bars and fashion businesses and you are off the main streets so we came to appreciate it. This apartment is about 1 1/2 blocks for the Pompidou Modern Art Museum, walking distance to the Picasso Museum, the Seine, Notre Dame, the Louvre, and the Museum Orsay and walk we did. There is a grocery store and pharmacy around the corner as well as many many restaurants for outdoor dining. Two of us LOVED our beds and wished we could have that comfort at home. I would recommend this apartment to our friends.
---
Sep 03, 2015: Caroline C. - , for 5 nights
Interaction with VacationInParis.com:
Comments:What a great location and warm welcome! I was in Paris for work and this apartment was absolutely perfect. I was greeted with a fresh fruit basket and cheese plate, champagne, espresso and a clean spacious apartment. I only wish I was on vacation to enjoy it all! They was so helpful in letting me check out late as well. I highly recommend this apartment for anyone looking for a great apartment with all the comforts of home in a charming part of the Marais. My only complaint was that I wish there was a little more natural light, but it was actually perfect for helping me sleep and adjust to jet lag. I loved the warm welcome, the little goodies in the fridge and the fruit was an incredibly thoughtful touch! Also the espresso was an absolute miracle! Thank you!!! I would only suggest you change the wifi password :)
---
Aug 30, 2015: Trevor H. - San Francisco, CA for 4 nights
Interaction with VacationInParis.com:
Comments:Wonderful apartment in the Marais from which to explore Paris. The apartment was quite spacious for Paris and located on a nice quiet street just a couple blocks from the Pompidou and many other great parts of the Marais. Definitely recommend this apartment for other families or groups visiting Paris.
---
Jul 27, 2015: Leah R. - Cambridge, MA for 5 nights
Interaction with VacationInParis.com:
Comments:The apartment was very quiet and very spacious. We liked the neighborhood and very much enjoyed the experience.
---
Jul 19, 2015: Juan P S. - Atlanta, GA for 4 nights
Interaction with VacationInParis.com:
Comments:The place is amazing, great location and awesome neighborhood. We recently stayed at this awesome listing while our first visit to Paris in July. The location is perfect for touristing around; there are a number of train stations just a short walk away. The neighborhood is packed with restaurants and cafes all over. On the same street there are a couple of bars and coffee shops that are a great choice for a drink at night or a coffee in the morning. Overall it was a great experience and we highly recommend this listing for anyone traveling to Paris and wanting a centralized location without compromising on space and a quiet street with plenty of nearby dining options.
---
Jun 16, 2015: Scott S. - West Hartford, CT for 5 nights
Interaction with VacationInParis.com:
Comments:We had a great stay in the three bedroom apt in Le Marais (Rue Quincampoix). There were five of us and there was plenty of space. The apt is very nicely furnished and the photos on the site are representative of the beautiful details throughout. The neighborhood is perfect Parisian lifestyle. Grocery, boulangerie, patisserie, cafes, bistros all within 2 minute walks. Very convenient to the metro, the Louvre, Ile de la Cite etc. we had no issues during our stay and things went smoothly. Our property manager didn't answer the phone when we arrived at the train station for check in, and we had a few moments of anxiety when the backup manager wasn't completely sure about our stay, but it turned out that there was someone waiting for us there. Wine, cheese, fruit and some other basics were freshly stocked and much appreciated. Highly recommend.
---
Jun 12, 2015: April W. - London, United Kingdon for 4 nights
Interaction with VacationInParis.com:
Comments:VIP were amazing! This was a last minute booking and VIP handled it promptly and ensured that we were well looked after. The owner is great too and made sure we were shown round and knew how everything worked prior to leaving. Beautiful and fantastic apartment in a central location, just 10-15 minutes away from Notre Dame! The apartment is a great size and comfortably fitted the 5 of us. Great size kitchen and living/dining room. We will definitely be back! Only downful was it was too close to the boulangerie/patisserie/chocolatier so the pounds pilled on due to amazing pain au chocolat's, desserts & bread! :) If I bought an apartment in Paris - this is exactly how and where I would want it to be. Thanks VIP and to the lovely owner for making it come together!
---