< BACK TO RENTAL INFO
GUEST COMMENTS - ID# 318
RATINGS:
5 = Excellent ; 4 = Very Good ; 3 = Good ;
2 = Acceptable ; 1 = Unacceptable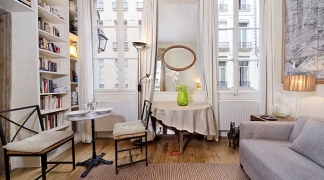 May 09, 2017: Kristen M. - Fort Pierce, FL for 4 nights
Interaction with VacationInParis.com:
Comments:Terrific location
---
Jul 21, 2014: Andrew W. - Fairfax, VA for 6 nights
Interaction with VacationInParis.com:
Comments:We had a great time in Paris and the apartment was fine. Just two observations: 1. The street noise outside was pretty bad, very loud. There is a bar across the street and lots of loud drunk people outside at 1 am. It sounded as if they were in our living room. We had to keep windows open because of heat so we couldn't just shut the windows to block the noise. 2. Not as big of a deal but one of the curtains in the bedroom was smaller than the window so it didn't provide complete privacy - without also closing the exterior shutters. Also one of the curtains (kitchen) wasn't connected to some of the rings at the top of the curtain (couldn't fix this as it was very high up). I liked the property itself and the area was great for cafe, restaurants etc. but it was noisy. I would prefer just a slightly quieter area. The daily garbage trucks and all of the noise from those wasn't ideal either. Some of the towels were damp when we arrived. I suggest they get laundered and dried outside so they aren't damp on day one. The bathroom was OK but tiny. Shower was tiny, tiny.
---
Jun 19, 2014: Linda M. - Everton Park, QLD Australia for 6 nights
Interaction with VacationInParis.com:
Comments:Our family loved our stay in the Paris apartment. The location was fantastic and the apartment was really lovely. The bathroom is a little small but that would be our only negative. Our dealings with Vacation in Paris and the building manager were very professional and helpful, and our enquiries always dealt with in a timely manner. The apartment is probably best suited for two people, but in saying that our family of four (2 adults 2 teenagers) found it a cozy fit. We would certainly consider staying in the apartment again, should we be lucky enough to revisit Paris. And as for the boulangerie just a few steps away....truly delicious!
---
Jun 14, 2014: Kathie B. - Seattle, WA for 3 nights
Interaction with VacationInParis.com:
Comments:The Apartment is lovely. I was expecting one night of noise but someone won a game and they televised it at the bar the next night so it was noisy all over again. I said yes to staying there because of the location, but might not if over an entire weekend. There was no book but the manager showed me where the grocery store was located.
---
May 28, 2014: Luis G. - Sydney, NSW Australia for 5 nights
Interaction with VacationInParis.com:
Comments:The information and material received from the agency was excellent, as always No complaints. Your Paris manager was friendly and helpful but we had issues connecting to the Internet, which your staff could not solve. More concerning: the code to the main door had changed in the time between our departure from Sydney and our arrival in Paris. Your email with the new code arrived while we were in Paris. Your manager did not know the code had changed, either. In future, I suggest a phone call to our number or even an SMS? Otherwise, we were very happy with the service. Happy to recommend your agency.
---
Apr 13, 2014: Lesley L. - Granite Springs, NY for 7 nights
Interaction with VacationInParis.com:
Comments:Although the location and neighborhood were fantastic, the nightclub across the street was very loud and active, most nights until 4am. It was difficult to sleep...My only other comment/recommendation would be for more towels... One per person for a week is not really sufficient.
---