< BACK TO RENTAL INFO
GUEST COMMENTS - ID# 312
RATINGS:
5 = Excellent ; 4 = Very Good ; 3 = Good ;
2 = Acceptable ; 1 = Unacceptable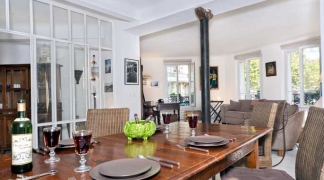 Jun 27, 2015: Beth D. - Gainesville, FL for 7 nights
Interaction with VacationInParis.com:
Comments:Lovely apartment and fabulous location. Easy walk to Things to Improve: Would have appreciated kitchen towels and a couple more towels for the 4 of us for the bath. Had to purchase more Toilet paper, trash bags and paper towels . Shower drained slowly. The kitchen lights never worked. Would definitely recommend for only two people in cooler weather who can fit their knees in tiny toilet room. The apartment bedrooms and living areas are spacious and we loved the views and the convenience of the wonderful shops, atm, cafes, metro all within less than a minutes walk. The woman who met us was really great, stayed late to help us after our transfer was late. Answered our endless questions and gave us a map. Wonderful management company.
---
Jun 15, 2015: Karen P. - Ashburn, VA for 6 nights
Interaction with VacationInParis.com:
Comments:Vacations in Paris is a first class company! I would definitely book through you again. The apartment was delightful! Although it was very noisy with the windows open, it was amazingly quiet with the windows closed. I don't think the location could have been any better! My only complaint would be the extremely small toilet room (closet). I'm not sure a larger person would have fit!
---
Sep 27, 2014: Mary K. - Kaysville, UT for 10 nights
Interaction with VacationInParis.com:
Comments:This apartment was the 13th property I've rented through VIP and I've loved them all. This was a terrific flat in every way. Yes, there are traffic sounds, and even metro sounds below at times, but they were never an issue. It was so fun to watch the market being set up and the city coming to life from one floor up. Perfect. Love love love this apartment with all the windows and light and space. I would highly recommend this flat to anyone interested in a spacious layout and a fun area. I especially loved the market across the street three days a week and being so close to the islands. The close bus lines are a little tricky as St. Germain des Pres is a one-way heading to the suburbs, so you have to figure out where to get on going another direction . The metro is right in the middle of the market place. I also signed up for the Uber taxi app and it was the best find ever. We did take metros and buses and walked our legs off, but Uber was so easy and cheap that I'm hooked for life. I'm sure you know it, but if not, check it out NOW. Even in rush hour we never waited more than 6 minutes. If no taxis are near, click on Uberpop and you'll get the cheapest ride of all, because these are the part-time drivers. English speaking, nice clean cars, safe drivers and always available. We three retired teachers and swimming buddies had a fabulous adventure in Paris, thanks to VIP and apartments #204 and #312. We loved #204 the first three nights, being so close to the Eiffel Tower, and then moving to #312 in the Latin Quarter for ten days. Thanks VIP for being so friendly and professional. I can't wait to go back in the Spring, I hope. You make it so much fun. I would love to advise anyone about these two apartments, or any others I've been lucky enough to stay in with VIP. You are the best! Thank you again for the 13th time.
---
Jul 25, 2014: Stacie S. - Rancho Murieta, CA for 5 nights
Interaction with VacationInParis.com:
Comments:This property was AWESOME. Two blocks from Notre Dame, on top of a farmers market, loads of options for food, drink, banking, everything is right there. The bathroom is tiny?welcome to Paris?that is just part of the deal. It is loud but the trade off is the fabulous location the bathroom is a bit dangerous. VERY slippery. Just have to be cautious. And the back room is behind the bathroom so that is a bit awkward.
---
Jul 07, 2014: Lina R. - Glen Iris, VIC Australia for 7 nights
Interaction with VacationInParis.com:
Comments:The rental was in a good location with easy access to the markets, shops, restaurants and the Notre Dame. Just a suggestion to have a curtain that is wider to provide privacy in the bathroom considering that there may be non-family members in the bedroom that is part of the en-suite. The 2 single beds were not comfortable (mattress was too hard) but this is only my preference. The toilet was claustrophobic. Although there were 5 of us sharing the unit we managed quite well and enjoyed our stay.
---
May 26, 2014: Aruna H. - Winnipeg, MB Canada for 5 nights
Interaction with VacationInParis.com:
Comments:
---