< BACK TO RENTAL INFO
GUEST COMMENTS - ID# 311
RATINGS:
5 = Excellent ; 4 = Very Good ; 3 = Good ;
2 = Acceptable ; 1 = Unacceptable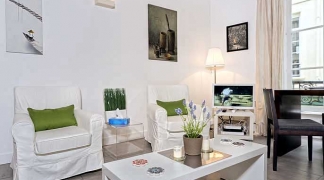 Sep 09, 2017: Betty B. - Arlington, VA for 7 nights
Interaction with VacationInParis.com:
Comments:This apartment was a wonderful experience in Paris. We have rented from Vacations in Paris before in the Marais but liked this location much better. Just blocks from restaurants and the Seine. Very quiet and well equipped. Would definitely rent this property again.
---
Jun 19, 2017: Gwendolyn L. - Harrisburg, PA for 7 nights
Interaction with VacationInParis.com:
Comments:1. With the windows closed, there was very little street noise. With the windows open, there was minor noise except for the night that there was a major street party directly outside the door to the building. 2. The furnishings were fine except for the lack of lamps next to the couch and the chairs in the living room. It was quite dark - too dark to read. This was a major drawback for us. 3. The reason we would not use the apartment again has to do with the portable, plug-in air conditioner that vented through the window of the room with the toilet. The AC unit was actually stationed in the doorway, so that there was no privacy when one used the toilet. It made access to that room, and to one side of the bed, very difficulty. 4. We would recommend the unit to friends, because it was a good value and we liked the location very much. If the AC problem could be remedied, and some useful lamps added to the living room, we would return ourselves. The Vacations In Paris staff, including the staff in Paris, are wonderful to work with. Despite our couple of issues with the apartment, it was a good value and we had a good stay. This is our second time with your company, and we will use you again!
---
Jun 10, 2016: Carrie B. - Acworth, GA for 6 nights
Interaction with VacationInParis.com:
Comments:PROS: INCREDIBLE location. Steps from the Odeon metro and Blvd. St-Michel. No elevator, so I was thankful that it was only one floor up. The kitchen was very well stocked. Guest info book gave lots of useful information. Plenty of room in the bath sink/shower area to place products. Hair dryer was excellent. Plenty of space in LR for the two of us to spread out and relax after a long day. My daughter was fond of sitting in the window seat with pillows reading. Lots of natural light in the front room. CONS: LR/Kitchen area could get noisy with the window open since the street is used often as a cut through for motorists. Thankfully, you cannot hear the noise in the bedroom with the door closed. A portable fan would have been nice since there was no A/C and leaving the windows open wasn't an option for air flow. (the bedroom window faces a neighbor's window and also opens to the trash area below). The owner should consider getting an inexpensive bedside table, I ended up dragging a side table in from the LR. Very little room in the bedroom itself, we ended up using the LR to get ready since there was more room to breathe. Small starters of hand soap & dish soap would have been greatly appreciated. No welcome bottle of wine. I was quite alarmed when one morning while my daughter and I were getting ready, the next door neighbor used what I assume was a spare key to let himself into the apartment. Apparently he and his contractor needed to look at and measure the LR window (???) He said he'd called John to see if anyone was staying in the apt. and John "couldn't remember". He was perfectly nice and was embarrassed about the intrusion, but since we were two females alone in a foreign country, it really unnerved me. VIP & John the manager had my cell phone information. A simple call/text/email to alert me that someone needed to get in at some point during my stay would have been great.
---
Apr 25, 2016: R. Alta C. - Madison, WI for 19 nights
Interaction with VacationInParis.com:
Comments:Fabulous location! Apartment clean and functional, but totally lacking in charm. Bedroom window opens into filthy airshaft/courtyard. Toilet is crammed into a tight space and sits at odd angle. Towels were skimpy. And there was nothing by way of food from previous guests left in apt to start off with. Also no laundry detergent, not enough dishwashing liquid, and no trash bags. BUT everything works, you are steps from all the best parts of Left Bank, the manager was there to greet me. The table by the window is a very pleasant place to eat or to work. TV and wifi were very good, and welcome book had lots of good information. Overall I wish it had some charm (like the place I rented last year) but it worked out very well for me nonetheless.
---
Sep 16, 2015: Carolyn G. - Wilmington, DE for 4 nights
Interaction with VacationInParis.com:
Comments:
---
May 08, 2014: Brian & Pam M. - Belrose, NSW Australia for 21 nights
Interaction with VacationInParis.com:
Comments:Position Position a fantastic apartment and would stay there again. The area is safe and lots of bars and restaurants and transport right on your doorstep. We would like to thank you and your company for all the help that you gave us especially at all the weird hours we were talking to each other and the Taxi service from the airport was also fantastic. Especially after a long flight it was nice to relax wi
---
Mar 13, 2014: Esther R. - Ottowa, ON Canada for 7 nights
Interaction with VacationInParis.com:
Comments:the kitchen was very well equipped. Linens and towels could have been better and more plentiful. Wonderful experience - our first time staying in an apartment as opposed to a hotel. Felt like we were natives. Great location right beside a metro.
---