< BACK TO RENTAL INFO
GUEST COMMENTS - ID# 306
RATINGS:
5 = Excellent ; 4 = Very Good ; 3 = Good ;
2 = Acceptable ; 1 = Unacceptable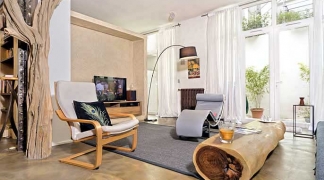 Mar 15, 2019: Andreas R. - Oberwil-lieli, Switzerland for 6 nights
Interaction with VacationInParis.com:
Comments:The apartment was overheated, when we arrived. I corrected this (no problem), but we did not try the complimentary wine, since it had been in the overheated kitchen for some time, probably.
---
Jun 10, 2017: Jim P. - Philadelephia, PA for 7 nights
Interaction with VacationInParis.com:
Comments:
---
Oct 01, 2015: Michelle Briand & Philip K. - Malden, MA for 13 nights
Interaction with VacationInParis.com:
Comments:This apartment was exactly how it was pictured - well appointed & spacious. It's the perfect apartment for people who want the "old school" Paris experience (cafes & daily bakery runs) but appreciate USA style amenities like satellite television & central heat. Paris, like anywhere is changing so much, but this neighborhood has been able to keep more of that classic "French" identity that you may remember from your school year abroad. The apartment itself is very quiet and located very close to the subway and the light rail. It's really a great place. We rented this apartment so that we could take an older family member to Paris for a milestone birthday. It was really perfect. The apartment itself allowed her to have her own space for when she needed to nap or be alone. The fixtures & appointments were as such that when she felt tired or a bit overwhelmed by being a foreign place, she could retreat back & have a familiar "American" experience in the apartment (English television, full sized kitchen, etc.). I would definitely recommend this apartment for people traveling with family.
---
Jun 12, 2015: Melissa J. - San Antonio, TX for 5 nights
Interaction with VacationInParis.com:
Comments:We loved this spaciously stunning apartment in this culturally diverse neighborhood! We truly felt at home. The owners attention to detail was greatly appreciated. Everything was in working order. Beds were comfortable. Linens soft, pillows fluffy, and the clawfoot tub very relaxing with plenty of hot water. The washing machine was a life saver , as well as some complementary laundry soap packets. Tania was awesome in showing us around and how things worked like setting up the TV/DVD and how French washing machines work. The Olive Market, McDonald's, Pharmacy, Grocery stores, Bakeries, Post Office, as well as, many retail shops were all within 5 minute walking distance. But most important, the Metro Line 12 was 2 minutes outside the apartment easily connecting us to all of Paris, Versailles, and Mont St. Michel. Gare Nord was about a 20 minute direct walk from the apartment. Again Thank You so much for sharing your apartment with our family. The rental process with Vacation In Paris was so easy and stress free! Thank you for the prompt return of the key deposit. We truly enjoyed our Vacation in Paris Experience!
---
Jun 29, 2014: John J. - , for 5 nights
Interaction with VacationInParis.com:
Comments:This spacious apartment with its' huge terrace made for the perfect retreat from the hustle and bustle of the cosmopolitan city of Paris! The high ceiling combined with floor-to-ceiling widows created a light and airy feel of spaciousness even though the unit is on the lower level. The unit is located in an inner court providing a quite and peaceful stay. At first we were a little concerned the the location might be a too remote from all the sights and activities but the Metro stop for Line 12 is less than a half of a block from the buildings entrance making the whole of Paris literally at your door step. The owner has prepared a comprehensive guide to the neighborhood as well as useful tips for your time in Paris. The owner has a library of Paris and France guidebooks that were very helpful in planning our days. The owners rep was delightful and very accommodating. The bathrooms offered special features like an oversized tub that was great for soaking away all your troubles and a shower with a huge "rain" shower head that had lots of water preasure perfect for washing away the city grit after a ful day of sightseeing . Overall we were very pleased with the unit and very pleased with the service of Vactions in Paris Holiday rentals. Thank you for a pleasant stay,
---