< BACK TO RENTAL INFO
GUEST COMMENTS - ID# 304
RATINGS:
5 = Excellent ; 4 = Very Good ; 3 = Good ;
2 = Acceptable ; 1 = Unacceptable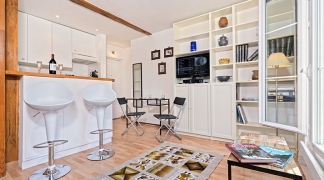 Mar 04, 2019: Ion L. - , for 6 nights
Interaction with VacationInParis.com:
Comments:
---
Oct 01, 2013: True A. - Littleton, CO for 19 nights
Interaction with VacationInParis.com:
Comments:Apartment a little sparse on chairs, used folding one from closet as I did not fold up the bed. Washer did not work. There were NO directions in either French or English for appliances. Maybe for dishwasher but I chose not to use it as I wasn't having much luck with appliances! There is a noise problem from outside in front of the building. Partying and loud talk continues late until 3:00-5:00 am. in little area across the street. Not every night but e or 4 times during my stay. I would have preferred quieter area. The entire area of the apartment is very good. Lots of cafes, shops, easy walk and transportation. Elevator great! Only one noise problem inside one time. I liked the studio idea. I still love Paris and my experience with VIP. Would qualify recommendation due to the outside noise making it difficult. Entrance code was incorrect on my information. Actual:5430, Given:3054. Lady in men's store next door knew the combination and offered assistance.
---