< BACK TO RENTAL INFO
GUEST COMMENTS - ID# 304
RATINGS:
5 = Excellent ; 4 = Very Good ; 3 = Good ;
2 = Acceptable ; 1 = Unacceptable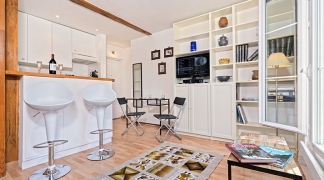 Oct 25, 2019: Frédéric O. - Limoges, France for 5 nights
Interaction with VacationInParis.com:
Comments:1) pas de torchon dans la cuisine 2) pas de pelle /balayette pour petit balayage rapide et donc impossible de ramasser les miettes ou poussière au sol sans avoir recours à l'aspirateur 3) pas de cintre digne de ce nom dans le placard à vêtements qui est ..... .......4) occupé par aspirateur et balais textile micro fibre 5) absence d'éclairage central 6) pas de lampe de chevet ..il faut avoir recours au lampadaire à côté du lit 6' ) pas d'abat jour sur le lampadaire à côté du lit à mon arrivée : j'ai dû appeler pour qu'on me dise qu'il était sur les étagères de.... la bibliothèque 7) le jour du départ, qu'on avait convenu à la demande expresse de Karim à 10h30 , il n'est pas en bas de l'immeuble et la femme de ménage ne parle pas français et son anglais et très ( TRES ) limité : je n'avais pas son nom pour lui donner les clefs d'où qui- pro-quo et Karim ne répondait plus au téléphone.... 8) l'horaire de départ de 09h30 demandé par Vacations in Paris est un peu tôt d'autant plus qu'ensuite , comme ce n'est pas un hôtel, il n'y a pas de service de baggagerie, ce qui rend le jour du départ compliqué et empêche de profiter de paris avant le retour 9) la vasque de douche déborde rapidement et on inonde la salle-de bains très vite 9) le détail de la proprété de la salle de bain : le bloc wc n'est pas impeccable au niveau du sol 10 ) la poussière sur le cadre du miroir entre les deux fenêtres....ou la la 11) tout cela sent le ménage vite fait en global mais pas en détail je ne bois pas de vin donc la " complementary bottle of wine " n'est pas nécessaire pour mon prochain séjour en date du 22 décembre jusqu'au 03 janvier 2020 j'ai à nouveau réservé car j'ai pu avoir 12 nuits à la suite depuis le 22 décembre : chose
---
Mar 04, 2019: Ion L. - , for 6 nights
Interaction with VacationInParis.com:
Comments:
---
Oct 01, 2013: True A. - Littleton, CO for 19 nights
Interaction with VacationInParis.com:
Comments:Apartment a little sparse on chairs, used folding one from closet as I did not fold up the bed. Washer did not work. There were NO directions in either French or English for appliances. Maybe for dishwasher but I chose not to use it as I wasn't having much luck with appliances! There is a noise problem from outside in front of the building. Partying and loud talk continues late until 3:00-5:00 am. in little area across the street. Not every night but e or 4 times during my stay. I would have preferred quieter area. The entire area of the apartment is very good. Lots of cafes, shops, easy walk and transportation. Elevator great! Only one noise problem inside one time. I liked the studio idea. I still love Paris and my experience with VIP. Would qualify recommendation due to the outside noise making it difficult.
---