< BACK TO RENTAL INFO
GUEST COMMENTS - ID# 302
RATINGS:
5 = Excellent ; 4 = Very Good ; 3 = Good ;
2 = Acceptable ; 1 = Unacceptable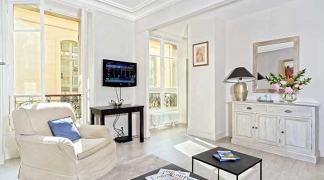 Nov 30, 2021: Cynthia W. - Walnut Creek, CA for 9 nights
Interaction with VacationInParis.com:
Comments:The bathroom was really small and the shower door did not close properly when we showered so we had to use towels to be sure that water did not drip onto the floor. My husband said the toilet had constant running water so there was some noise but fixed w
---
Oct 08, 2019: Ellyn B. - San Jose, CA for 6 nights
Interaction with VacationInParis.com:
Comments:While we realize that the apartment is self catering, there should have been a larger supply of toilet paper, bath towels and coffee pods. We were given one washcloth, one hand towel and one bath towel each for a six day stay. We were given 10 coffee pod
---
Sep 10, 2018: Tia J. - , for 7 nights
Interaction with VacationInParis.com:
Comments:My daughter and I stayed here for a week. It?s comfortable clean quiet and close to parks shops restaurants and lots of options for groceries. We had a perfect little stay.
---
Jun 26, 2016: Darryl E. - Chicago, IL for 9 nights
Interaction with VacationInParis.com:
Comments:The location of the apartment was central to many museums with easy access via the nearby metro stop to places further afield. The living room and bedroom were spacious and tastefully furnished. The kitchen and bathroom were quite small but functional. A few additional,items in the kitchen would be useful: a small cutting board (given the limited counter space) and small drying rack. The bathroom would be more user friendly with the addition of a couple of hooks for towels, bathrobes or other clothing items, a small rack for soap and toiletries in the shower, and a soap dish plus toothbrush holder for the sink. Despite the fact that the apartment is located in a quiet neighborhood, the street noise, if the windows were open, was a bit disconcerting, well into the night, and early in the morning. When the windows are closed, however, there is no obtrusive outside noise. Finally, the information about the area (restaurants/things to see/do) was cursory at best. I am quite familiar with Paris, so I could easily find my way around, but local insight is always a nice touch! There were minimal basic necessities such as toilet paper and paper towels or dish rags provided. For a stay of ten days, I was provided with (literally) less than a third of a role of toilet paper and half a roll of paper towels. There was liquid hand soap provided in the bathroom, but no bar soap or shampoo. This is my fifth time renting an apartment through Vacation in Paris and never before have the "basics" been so inadequate. I mentioned this to the property manager in an email and she responded that this was because of the same day turn around for the apartment and the fact that it was Sunday. Given the fact that the point of renting an apartment is to ensure that it is rented as fully as possible, this seems like an inadequate response, and given the fact that I was staying ten days, adequate supplies could easily have been delivered to the apartment the next day. Additionallly, the shower had a slow, consistent drip from the time Imarrived, untill the time I left. I notified the property manager of this immediately and she indicated that she would call a plumber. However, nothing was done about this drip for the entirety of my stay.
---
Sep 22, 2015: David M. - Marietta, GA for 5 nights
Interaction with VacationInParis.com:
Comments:We really enjoyed this apartment. The location was great, and the apartment was very comfortable and nice. We would definitely use it again.
---
Sep 13, 2015: Durrelle & Rodney L. - Washington, DC for 5 nights
Interaction with VacationInParis.com:
Comments:This was a super apartment for our needs. Unfortunately, the apartment next door has just been sold and they were renovating at great speed - heavy drilling - at various times of the day - starting at 8.30 am. It didn't really bother us as it needs to be done - and the owner and manager apologized as I don't think it had been sold at the time of our booking! We said we didn't mind as the apartment was so nice - we'd return anyway! Beautiful collection of art and history books - wish I had had more time to enjoy them! Suggestions: - Small dish draining rack - with tray container - as there is not much room on bench - no dishwasher. - Small clothes drying rack which could be tucked into a corner. - Perhaps a mini ironing board set up - there is an iron. - Instructions for stove top and washing/machine - even a copied version in English as we had to call on the Manager to help us out. May be an idea to put it in a plastic container and leave on top of stove top/ or on hook on wall. There is a new boulangerie/patisserie and a very nice ready to take away food shop in Rue de Sevres - just across the traffic lights. Very handy if you want to stay home after a busy day out.
---
Jul 04, 2014: Stacey S. - Needham, MA for 6 nights
Interaction with VacationInParis.com:
Comments:The bathroom is quite small and there is a large drying towel rack which is somewhat obstructing/confining. I would take that out and put a small bar to hang up toilet paper from. Not a big deal. However, the shower door does not close well and you have to angle it just so to prevent water from cascading onto the floor. Manageable as well. We did not receive a welcome bottle of wine and we were told that the orange juice boxes and crackers in the fridge were substituted by VIP when I had some email correspondence with owner. Not a big deal but wine with wine glasses would be a nice touch. There were a few plastic cups in cabinet. The apartment is ideally situated for a first trip to Paris....we loved the location and walked EVERYWHERE! Great access to all musees and other sites and the local neighborhood is charming with affordable friendly bistros right down the street. Rue De Sevre is noisy at night and the noise carries up the narrow little street apt. is on...but nonetheless, we loved the location!
---
Jun 07, 2014: Asra C. - Miami, FL for 7 nights
Interaction with VacationInParis.com:
Comments:We loved the apartment; beautifully decorated; all of the furnishings seemed brand new and were very clean. There were also several guidebooks in the apartment that were very helpful, and the small kitchen was very well equipped. Neighborhood is one of the best in Paris and close to shopping, bars, restaurants, and grocery stores. We would definitely stay here again. Our vacation was in mid-June and the apartment was a little bit warm at times (because it gets so much nice sunlight.) We were certainly comfortable enough with the windows open, but future guests might appreciate having a small fan to use at night. We
---
May 13, 2014: Helen T. - Spence, ACT Austrlaia for 7 nights
Interaction with VacationInParis.com:
Comments:We found the apartment a quite perfect place to spend a week in Paris. A perfect Parisian location, a well appointed, light and stylish apartment and a sense of security with the friendly communications from the manager. The internet connection was perfect and a real bonus for travellers far from home. My husband is tall, and so we found the bathroom a little small and compressed, but overall, the apartment was excellent. We were not able to work the TV - though that didn't matter, it would be helpful to have more instructions about how things worked, and maybe a few more suggestions of places to go, things to do. The suggestions that were there - and we followed them all
---
Apr 04, 2014: Mario E. - San Diego, CA for 7 nights
Interaction with VacationInParis.com:
Comments:Instruction for use of cable TV not clear enough Thanks it was a great experience.
---
Mar 18, 2014: Brian C. - Dallas, TX for 6 nights
Interaction with VacationInParis.com:
Comments:Overall we were extremely happy with our rental. It was a good location, close access to metro, clean/safe neighborhood, and excellent furnishings. We did not notice a bottle of wine, but all things considered it wasn't a huge disappointment. We used some of the provided espresso "pellets" and restocked them before we left. I haven't used any other properties from your company, but I think that unit is a gem. Very happy, we would gladly rent it again.
---
Oct 13, 2013: Laurie K. - Westminster, CO for 7 nights
Interaction with VacationInParis.com:
Comments:I appreciated the extra security. The lights are a little tricky in the stairwell which can be a challenge if arriving at night with a big suitcase!! I was surprised that everything had to be cleaned before leaving (towels, dishes). usually these things are taken care of in rental charges. This neighborhood was fantastic! Safe, not touristy and friendly. As a first time visitor, I am glad fate had me here. The owner was very nice and my only complaint, a neighbor, she addressed immediately and appoligized sincerely.
---
Oct 07, 2013: Tim C. - Ainslie, ACT Australia for 6 nights
Interaction with VacationInParis.com:
Comments:
---