< BACK TO RENTAL INFO
GUEST COMMENTS - ID# 300
RATINGS:
5 = Excellent ; 4 = Very Good ; 3 = Good ;
2 = Acceptable ; 1 = Unacceptable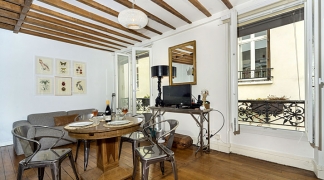 Oct 11, 2019: Isabelle M. - Arlington, MA for 4 nights
Interaction with VacationInParis.com:
Comments:It would have been helpful to know how to exit the property from the alley to the street as this took us a few days to figure out. There was a small button just inside on the right that unlocked the big heavy cast iron gate. Without this info, we were reaching outside to push the buttons on the electronic keypad which was a bit awkward. Also would have been helpful to have perhaps a few more towels, such as some small hand towels. We really appreciated the owner making a reservation for us at La Vache Acrobate on the first evening as we needed to get our bearings and were pretty tired. We really enjoyed this restaurant! Also got some great tips from the master notebook in
---
Apr 15, 2018: Judith O. - Philadelphia, PA for 7 nights
Interaction with VacationInParis.com:
Comments:This is a great apartment for anyone who wishes to be close to the metro and popular attractions yet outside a tourist zone. The apartment is very comfortable, with a great bed and a great shower,plenty of light, and a pleasantly funky decor. I suspect that it can get quite hot during summer, as there is no air conditioning. There was no comment book available to give tips about the neighborhood shops, restaurants, and other useful bits of information. The property manager said that it had been misplaced during some recent work at the apartment. It would have been helpful!
---
Mar 28, 2016: Stephanie G. - Kew, VIC Australia for 3 nights
Interaction with VacationInParis.com:
Comments:
---
Sep 03, 2015: Joanne "alys" B. - San Jose, CA for 14 nights
Interaction with VacationInParis.com:
Comments:This apartment has the most natural light of any of the several Vacation In Paris apartments I have stayed in, which is a big plus. And, I found the open layout gave the apartment a spacious feeling, which to me is more important than whether the furnishings have charm. I did find the furnishings utilitarian, but very, very functional. The shower is great! I would happily stay here again.
---
Jun 20, 2015: Dominic H. - Montreal, QUEBEC Canada for 9 nights
Interaction with VacationInParis.com:
Comments:The kitchen was actually fine and I only put a very good only because it was doubtless designed with space restrictions in mind. Actually one of the best countertops/sinks for this size apartment. Wonderful neighbourhood, very quiet setting. The music I heard some evenings was from the f
---
May 27, 2015: Robert & Lynn L. - Ny, NY for 5 nights
Interaction with VacationInParis.com:
Comments:We want to reconfirm the phone conversation we had before we left the U.S. that we will be mailing the keys to the apartment on our return to the U.S. on June 24. Also, we think it would be wise to let prospective renters know that there is no air conditioning for hot summer months.
---
May 03, 2015: Greg L. - Long Island City, NY for 5 nights
Interaction with VacationInParis.com:
Comments:Wonderful apartment!
---
Jun 22, 2014: Kathy M. - Higashinada-ku, Japan for 5 nights
Interaction with VacationInParis.com:
Comments:I really enjoyed staying in this apartment. It met all my needs, was comfortable, and felt safe and secure. The location is good for both metro and bus transportation, and it's easy walking to the Marais, the Bastille and surrounding areas. The apartment book has really useful suggestions and recommendations for bus routes, dining out, handy supermarkets, and sightseeing. There are excellent bakeries in close proximity, cafes, and a traiteur that sells prepared food. I did very little cooking as I used the traiteur but the apartment is well equipped for stove top cooking. It has a microwave/oven combo but I only used it to reheat food. The wifi was excellent - fast and reliable. Although it didn't matter to me, it might be worth noting that there is no washing machine. - the apartment book gives directions to a nearby laundromat. A friend came to stay with me for part of the time; the couch makes a comfortable spare bed and the apartment worked easily for the two of us. During the day the windows let in plenty of light and a much appreciated breeze, and it was good to hear the sounds of people in the surrounding apartments. At night with the windows shut the apartment was very quiet. I was pleased with this bedsit, which I would recommend for a couple, singles, or two friends.
---
Jun 15, 2014: Paul S. - Ottawa, ON Canada for 4 nights
Interaction with VacationInParis.com:
Comments:
---
Jun 11, 2014: Michael K. - Ann Arbor, MI for 4 nights
Interaction with VacationInParis.com:
Comments:The apartment was just as advertised -- clean, bright and spacious; in an interesting neighborhood not far from several major attractions and yet away from the crowds. Really wonderful. Guest book was very helpful. Please let guests know that soap/shampoo is not provided.
---
Jun 07, 2014: Kristel S. - Cambridge, MA for 4 nights
Interaction with VacationInParis.com:
Comments:
---
May 27, 2014: Joan M. - Cincinnati, OH for 11 nights
Interaction with VacationInParis.com:
Comments:suggestion: supply coffee mugs (American). there was 1ea. tea cup, a demi tasse & expresso cup. Review available hanging for wet towels after shower. necessary: reading light by couch. the apt. is very light & pleasant during the day, but at night there is "mood lighting" not reading ligthting available. I understand that this has been previously addressed. Otherwise, the apt. was most comfortable. Apt. was very convenient to metro, laundry, & super mkt. We enjoyed the Bastille Market twice during our stay. The Bastille Opera house is right there!
---
May 11, 2014: Carla W. - Wantage, NJ for 5 nights
Interaction with VacationInParis.com:
Comments:
---
Apr 09, 2014: Raedynn B. - Vancouver, BC Canada for 7 nights
Interaction with VacationInParis.com:
Comments:
---
Mar 05, 2014: John W. - New York, NY for 11 nights
Interaction with VacationInParis.com:
Comments:This is a very charming studio apartment in a great neighborhood. It is ideal for two and can sleep three as it has a sofa that doubles as a bed. An iron gate leads to a cobblestone walkway that takes you to the apartment. There is a cafe right outside the gate that I recommend (a notebook of local restaurant recommendations will also be waiting for you in the apartment). The apartment was meticulously clean. It has its own dedicated water heater. The free wifi worked perfectly. It is steps away from some of the best nightlife in Paris and within walking distance of at least two metro lines that can get you anywhere in the city in no time (I traveled all over the city easily). If you are looking for an experience where you will feel like you're living the life of a true Parisian, I highly recommend this apartment.
---
Nov 01, 2013: Felicity T. - Sydney, NSW Australia for 15 nights
Interaction with VacationInParis.com:
Comments:The bed was the most comfortable bed I've ever slept on. Need better instructions for the microwave, couldn't find the English language version but 'got it' eventually. The sound prof windows work really well. Would like a thick 'Door Snake' at the front door to cut down on draft & any drifting noise from stair well. Couldn't really work out the TV but did get some French Channels. Didn't mention this to Marvin because we really weren't there to watch TV! Broke a wine glass 1st day there, found its twin replacement in a Home wears shop...(after looking everywhere,) on the Bd Beaumarchais, North from the Laundromat suggested in Visitors book. ?Cour du Coq? is a delightful Parisian gated cobble stoned courtyard, just off Boulevard Beaumarchais, within an easy walk to the Bastille. A delightful Paris apartment, in a safe, quiet spot in the middle of everything. Close to Marais area and the beautiful ?Places des Voges?. Marais has little boutiques open when others are closed, on little cobbled streets often closed off to cars. Nearby to the apartment, on the corner is a delish pastry shop ?Artisan Boulanger?(closed on weekends), where you can buy your morning ?petit dejeuner? from 7am ready to plan your day out. The Wi-Fi works well for your research! The bed is very comfortable & a lovely sofa. The wall mounted heater is very good and the bathroom is modern & bigger than I expected & shower works well. Also heated towel rails included. We found the ?Carrefour? grocery shop, up Rue Amelot (nearest corner Rue Sebastien) very good. Lots of ?Monoprix? around, we liked the new one up Rue Sebastien. The Laundromat on Bd Beaumarchais is also good, instructions in French. My daughter and I enjoyed this experience very much, lots of shops open till 7pm. The apartment is very close to Metro line 5 & line 8. On the bus route for many, our favourite is ?Bus 69?. The 69 Bus Stop is on Rue Chemin-Vert, close to Rue Beaumarchais, what a fabulous tour of Paris, this is for only 1.33 euro! (Always keep your ticket, especially the RER, you will need it to exit as well as enter). Bd Beaumarchais has 20 Bus route which goes to Opera & Galeries LaFayette, take your discount card, get it validated at info desk. (ours was out of date, but no problem if validated 1st) We also ?Velib?-ed our way around and had a ball with heart in mouth, biking around the cobbled stone streets of Paris & stopping at a pastry shop or two for a quick top up!! What a blast! There are Velib Stations near by the apartment, get a local map in a small booklet size to fit in your coat pocket, these will have the ?V? stations noted on it. Don?t look too much like a tourist if you can! Talk softly & dress well with style ? yes even on a bicycle?. & watch out for the Gypsies they can spot a soft target a mile away and they have NO scruples? so many scams, quickly steer yourself away & you?ll be fine, just be savvy & very street smart. The French are kind and helpful and delightful and very very polite. We highly recommend this apartment. We would gladly rent this apartment again, it was perfect for two people, three at a squeeze but possible if you?re all tidy! Bring a tiny pocket torch with you, we found this very useful. The apartment is up two flights of stairs & is a very easy walk up. The team at ?Vacation In Paris? have been helpful and have given accurate advise on all the apartments we looked at. We are so happy that we picked this one. It was exactly what we were looking for but most important we felt safe there, nice people around in the court yard, a lovely manager Madame looks after the bins at the gates. People come to work in some of the court yard apartments on the ground floor. Off now to get French lessons and save up for our next trip!
---
Sep 27, 2013: Gabrielle S. - Byron Bay, NSW Australia for 8 nights
Interaction with VacationInParis.com:
Comments:Lovely, easy to live in apartment. Cobbled lane way and stairs a bit of a challenge with suitcases packed for a three week adventure in different climates. Scrapbook good with hints on location of supermarket and restaurants. Location not far from Bastille and the river Seine, so lots of walking, and good walking shoes.
---
Sep 10, 2013: Ingrid T. - Moncton, NB Canada for 8 nights
Interaction with VacationInParis.com:
Comments:Great little studio apartment. Very quiet. Really enjoyed the location. Within in walking distance of quite a few interesting sites. Close to a great outdoor market on Richard Lenoir and lots of little shops around Rue de Bretagne. As we stayed a week, a couple of more towels would have been nice. The kitchen was well equipped, but we were a bit confused about how the microwave/convection oven worked. Clearer instructions would be useful. Had problems with the TV, as you know, couldn't access any channels at all, which was a disappointment, but the WIFI worked great. The hanging canvas closet organizer (shelves) was hanging by just a bit more than a thread, might need to be fixed before it all comes down. The lamps were wonderful, but a stronger reading light by the sofa would have been nice.
---
Jul 03, 2013: Daniel S. - Valley Village, CA for 6 nights
Interaction with VacationInParis.com:
Comments:
---