< BACK TO RENTAL INFO
GUEST COMMENTS - ID# 282
RATINGS:
5 = Excellent ; 4 = Very Good ; 3 = Good ;
2 = Acceptable ; 1 = Unacceptable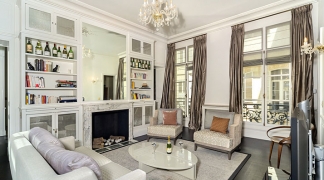 Jun 24, 2017: Barbara H. - Morton, PA for 4 nights
Interaction with VacationInParis.com:
Comments:There was a lot of noise from outside of the apartment because we had to keep the windows open all night. It was very hot when we were in Paris and there was no air conditioning, but we knew about this (no AC) in advance and the noise didn't bother us at all. It was lively (noise from the restaurant below) and just part of being in the city. The noise probably wouldn't be too loud if the windows were shut, but we had them open any time we were there. Our bed in the master bedroom wasn't very omfortable, but our daughters said their beds were comfortable. Living room furniture was very uncomfortable, in my opinion. My husband and daughters didn't mind as much. Kitchen floor was dirty and cleaning sponge was really gross, but kitchen was well stocked and apartment was otherwise clean.
---
May 10, 2016: Phyllis Y. - Los Altos, CA for 8 nights
Interaction with VacationInParis.com:
Comments:This apartment was the epitome of what you imagine a "Paris Apartment" will be -- absolutely beautiful. The windows and high ceilings and gorgeous moldings and chandeliers give it chic sophistication. Dishware and appliances were top-notch. The location was superb. Restaurants, shops, services all within walking distance and the noise and smells of the neighborhood gave you a real taste of Paris. Would highly recommend this apartment. It was Paris.
---
Mar 22, 2016: Andrew S. - , for 5 nights
Interaction with VacationInParis.com:
Comments:
---
Jun 18, 2015: Michael R. - Burbank, CA for 12 nights
Interaction with VacationInParis.com:
Comments:The apartment was EXACTLY as described. The host made us feel very welcome first in helping us to get our car service from CDG to the apartment. Upon arrival, we were met by Mr. Joseph's colleague and he went over a list of facts we should know regarding trash, the appliances, the neighborhood (1st/2nd Arr). He presented us with a welcome bottle of champagne and left us with the keys and a number to reach him. The apartment itself was very well appointed and in a beautiful location. A number of metro stops were close by including Opera and Pyramides. Louvre, Tuileries and the Opera House are incredibly close by and the street behind the apartment offers a host of restaurants, cafes, grocery...even a farmer's market (Sat and Wed). There is high speed internet and cable...fridge, excellent range/over, dishwasher, washer/dryer...very well appointed. Spent 12 nights and would gladly spend 12 more. Highly recommend it!
---
Jun 07, 2015: Carol M. - Newcastle, WA for 7 nights
Interaction with VacationInParis.com:
Comments:The master bedroom mattress had compressed pressure point areas so one sinks into it. Due to the large size of the mattress we alleviated the problem by sleeping perpendicular i.e. Lying the width of the bed. If you flip the mattress as well as rotate it, I think that may help. We read all the reviews so we were aware of the restaurant noise and wafting of cigarette smoke. Our apt orientation pointed out the double windows and are efficient in both insulation and noise reduction. It was warm on a few nights so we opened the inner courtyard windows. Once the restaurants closed we opened the outer windows for effective cross ventilation. This apartment made our first trip to Paris truly memorable. The apt was big and beautiful. The high ceilings, bottle of wine, use of stone in the bathroom, and kitchen were lovely. Conveniently located to multiple main attractions as well as the subway. Bank ATM, grocery store, and the boulangerie Eric Kayser allowed us to pack delicious picnics while on the go. I am so glad that we stayed at a VIP apt rather than a hotel.
---
Jul 02, 2014: Leon & Sally G. - Eastbourne, LOWER HUTT New Zealand for 5 nights
Interaction with VacationInParis.com:
Comments:The apartment is beautiful, a real Parisian jewel! We loved every minute and didn't want to leave. We have already passed the details onto friends and we would very much like to come back and stay again. The location is amazing, both for sightseeing and for restaurants in the evening. We were a little concerned when we first arrived about the noise from the restaurants downstairs. However, as soon as the windows were closed at night there was no sound to be heard - fantastic. The phone in the apartment was an amazing surprise. My mother recently passed away and the phone allowed me to contact my father to see if he was Ok. I was not expecting to be able to do that. Thank you
---
Oct 12, 2013: Mary K. - Kaysville, UT for 3 nights
Interaction with VacationInParis.com:
Comments:It was fun to stay on the right bank for a change and lucky to get this beautiful apartment at such short notice, after we decided to extend our stay in Paris. VIP is super efficient. This was the tenth apartment we have rented from VIP and we've loved them all. ID 282 is a high-end renovation with white marble kitchen, long silk drapes, ornate mouldings and lights and large granite bathroom. Even two extra lux towels each. Wow, we really felt pampered... until we went to bed. This is the only deal-breaker: I know that the master bed is a family hierloom, but the mattress is just awful. It's like two screechy canoes, with a mountain in the middle. My husband had to take a sleeping pill and sleep with his Bose noise-cancelling headphones on all night. Sounds funny, but it was no joke. What a shame in a trully wonderful apartment. Also, the sofas were so hard that there was no way to relax or even visit without sitting straight up. The only other chairs were solid wood. The sofas had giant tarps/bedspreads covering them, which was fine, but they were so hard you may as well be on a park bench and I'm sure they were expensive fine linen. What a sad choice. I finally took the back cushions, which were slightly softer, and laid them on the bottom rock cushions. I kept them under the tarps and as long as I didn't move a muscle I could be comfortable reclining for a short time. This is no way to enjoy the room. What a shame. The stairway up to the apartment is wide and swapping out the sofas and mattress would not be hard to do. I hope the owners will consider doing this as they rent this unit out most of the year. BTW: Our contact manager was Joseph again. He is fabulous! Opps, I wrote too much in the 'property manager' window. Sorry, got carried away. Thanks again VIP!
---
Sep 27, 2013: Robert R. - Melbourne, VICTORIA Australia for 3 nights
Interaction with VacationInParis.com:
Comments:Whist the bed appeared to be new, it was the softest bed I have ever slept in, in my whole life. It acted like a hammock which caused me to sleep on the side or on the couch. Great apartment!
---
Jul 05, 2013: Mike J. - Lutherville, MD for 3 nights
Interaction with VacationInParis.com:
Comments:
---
Jun 27, 2013: Glenn A. - Apex, NC for 6 nights
Interaction with VacationInParis.com:
Comments:The location, the security of the property, size of the unit, the service, we received were all great. The master bed is not good and should be better for the price of the apartment. The living room furniture was OK but not what would be expected for such an overall nice apartment. Simply uncomfortable Your stsff was very helpful and responsive. The meet and greet in Paris was on time and very informative. Thank you
---
Apr 14, 2013: Dr Julie M. - Cape Neddick, ME for 6 nights
Interaction with VacationInParis.com:
Comments:We loved the apartment as well as the location. The only drawback to the location was the noise from the restaurants at the rear/below the apartment, which was really loud since the windows had to be open at night due to the extreme heat in the apartment
---
Oct 20, 2012: Matthew L. - Chevy Chase, MD for 4 nights
Interaction with VacationInParis.com:
Comments:issue with the bathroom drain was taken care of very quickly. there was a problem, in which I was locked out for more than an hour on the day of departure due to a change in the door code which was a real pain. the bed in the main room was two twins pushed together (not a king), with a wooden frame between them. it was just me in the room, but if I had a sleeping companion it would have been unpleasant (not clear in the room description). Apartment was huge and great location.
---