< BACK TO RENTAL INFO
GUEST COMMENTS - ID# 267
RATINGS:
5 = Excellent ; 4 = Very Good ; 3 = Good ;
2 = Acceptable ; 1 = Unacceptable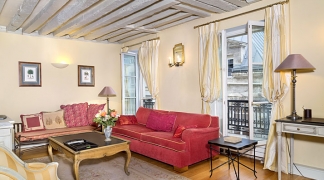 Dec 27, 2019: Ann W. - Boulder, CO for 5 nights
Interaction with VacationInParis.com:
Comments: We LOVED the location of this property. In the heart of the Marais and easy walking anywhere. We were there during a transportation strike so spent alot of time walking instead of on the Metro. It was still easy to get where we wanted to be. Of the f
---
Aug 31, 2016: Chas Geiger & Tom C. - Harleysville, PA for 30 nights
Interaction with VacationInParis.com:
Comments:Everything was great, the spacious apartment more than lived up to its description and photos on the website. It was clean and everything was ready for our arrival. Anyone renting it will be very happy there. VacationInParis makes renting an apartment in Paris easier than renting an apartment in the United States and any time we had a question, you guys would find out the answer. You guys are incredibly helpful. Chas and I can't thank you enough for your work.
---
Jun 26, 2016: Sarah M. - , VIC Australia for 5 nights
Interaction with VacationInParis.com:
Comments:A fantastic and roomy apartment for our family of 4, right in the heart of the Marais. Shopping of any kind literally right on your doorstep in a quiet end of the street. Both bedrooms have ensuites, although only one central toilet, and kitchen is well stocked and washer/dryer very handy. There is no dishwasher, but a large sink for hand washing. Easy walk to Notre dame in 10 minutes, the louvre is 25-30 minutes walk. Eiffel Tower and all other main attractions easily accessed by nearby train stations within 15 minutes. Highly recommended!
---
Jun 09, 2016: Nisim H. - Orlando, FL for 5 nights
Interaction with VacationInParis.com:
Comments:The apartment is beautiful and the location could not be better, the finishes are so nice and made us feel like Parisians. The Checkin process was efficient but could have been more personable. We got late checkout as requested, our flight was leaving late. I can recommend this apartment to anyone visiting Paris. Overall a 5 star experience.
---