< BACK TO RENTAL INFO
GUEST COMMENTS - ID# 215
RATINGS:
5 = Excellent ; 4 = Very Good ; 3 = Good ;
2 = Acceptable ; 1 = Unacceptable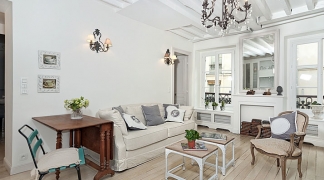 Jun 19, 2019: Bryan G. - Charlotte, NC for 5 nights
Interaction with VacationInParis.com:
Comments:One of the two AC units did not work and was just blowing warm air. Luckily the weather was nice and it was fine. We never called and reported it so that was on us. We loved the place and would highly recommend it.
---
May 30, 2019: Jessica B. - Milton, GA for 5 nights
Interaction with VacationInParis.com:
Comments:This was a beautiful property. We loved the location. It was in a bustling neighborhood, particularly in the evening. We loved that, so the noise didn't bother us at all. The master bath shower was tricky - it was hard to close the door, and if the water pressure was on all the way the shower pan would overflow. It took us a few days to figure out the proper method that didn't cause flooding in the bathroom. It was pretty hot a few of the days we were there (upper 90's F). The air conditioners in the living room and spare bedroom moved air but didn't really cool the rooms down. Glad we weren't there during the REALLY hot weather in July. All in all this was a great unit and we would love to stay there again!
---
May 14, 2019: Bente K. - St. Augustine, FL for 5 nights
Interaction with VacationInParis.com:
Comments: I hesitate on the noise outside of this place.... itís a very busy area, very popular for the dining....Yes, you could hear comings & goings....and thatís what earplugs are for!! We loved this place!! Everything was perfect!
---
Mar 02, 2019: Bob S. - Kingston, ON Canada for 5 nights
Interaction with VacationInParis.com:
Comments:While there was street noise on the weekend we do understand that this is a big city. One could hear footsteps and voices upstairs and while generally not bad one night it went on until after 2am. However, the location is excellent so we are not unhappy. I am only writing this review as the rental company, Vacation in Paris, sent me the link. I approached them after 3 tries of contacting HomeAway and essentially getting nowhere. HomeAway's documentation says that an email with a link for a review is sent out after every rental. Not true. Their documentation also says there is a review link on the rental page. Also not true. Pretty frustrating client service from HomeAway.
---
Aug 20, 2018: Laura C. - , for 5 nights
Interaction with VacationInParis.com:
Comments:We absolutely loved the apartment!! It is beautifully decorated. The beds were super comfortable plus it has air conditioners!!!! The Italian restaurant next door is great and so very welcoming to Americans!! The location is amazing!!! Cafe's, grocery stores, restaurants and shops are steps away!! We will definitely try to book this spot for our next visit to Paris!! Oh!!! The absolute best part was David the property manager was super nice and helpful. He was so welcoming and accommodating!!!
---
Jan 05, 2018: Marilue C. - Goldsboro, NC for 7 nights
Interaction with VacationInParis.com:
Comments:you guys are always fabulous...thank you so much for all your help all these years... i hesitated about writing a review but thought in the end i should, i really don't sweat the small stuff but my companion has a critical eye....the towels were pretty think and frayed....in the bedroom past the living room was quite a lot of noise from the other flat...not only on the w/e but during the week, he wears ear plugs when he travels and said that it was still loud....the bedroom where i was located was fine...outside noise was at times loud and we did not have the windows open...but it is a lively street...i think in the other seasons when the windows would be open it may be more of an issue, i would recommend the property once giving the above information....the apartment itself was lovely and it was a super location. thanks again!! until next year ;-D or maybe with a luck later this year?????????? marilue
---
Jan 01, 2018: Peggy H. - , for 3 nights
Interaction with VacationInParis.com:
Comments:Firstly, we really appreciate that VIP and the property manager allowed us to move from another unacceptably noisy apartment situation to this lovely, bright and well-decorated apartment on JANUARY 1st--typically a holiday for folks. The kitchen was quite modern in function and aesthetic--the whole apartment seemed recently refurbished and decorated. The place was beautifully cleaned on Jan 1st after the prior guests had left that very morning. There were plenty of linens and we appreciated the bottle of wine waiting for us, but we didn't drink it. The apartment handled our family of 5 - all adults--with one of us on the sleeper sofa which is in the main living/kitchen area. (No complaints about the sleeper sofa mattress!) The rest of the beds were great. The bathrooms, although very small, were clean and functional. The laundry machines worked well. The windows are double-paned with functional shutters should the street noise bother you, but we didn't see any reason to use them. The street noise was minimal. The apartment's location in St. Germaine is exquisite with good restaurants (fare and price!) and interesting boutiques as well as really interesting historical churches you may not otherwise have on your radar: 1 block away is Saint Sulpice and not far is Saint-Germain-des-Pr
---
Aug 22, 2017: Maureen K. - , for 7 nights
Interaction with VacationInParis.com:
Comments:We loved the location. There are lots of shops and restaurants near by. I went to the bakery Secco every morning for outstanding croissants and baguettes. Easy walk to the Seine and Luxembourg Garden. St Suplice church is minutes away and the square there there was inviting with an awesome fountain. It helped during the hot spell we had that there were two air conditioning units in the apartment. There were comfortable beds and a creative kitchen along one wall
---
Jun 25, 2017: John T. - , for 5 nights
Interaction with VacationInParis.com:
Comments:We stay here the last week of June. The best feature is the central location and wonderful St. Germain neighborhood. Wonderful restaurants, patisseries and boutiques right outside. Easy access to 3 Metro stations. Everything is very cramped but that is part of the charm of living like a Parisian. It is true that the drunken revelers can be quite loud late at night but the windows can be shut if they bother too much. The portable AC units do work but not like central A/C. Nice to have a washer and dryer for clothes but it is a combined washer/dryer in a single unit and the drying can take a while.
---
Mar 25, 2016: Natalie M. - Novato, CA for 7 nights
Interaction with VacationInParis.com:
Comments:The streetlights and noise from the bar across the street was pretty loud all night long.
---
Oct 24, 2015: Amber K. - Rocky River, OH for 5 nights
Interaction with VacationInParis.com:
Comments:It was a wonderful way to end our visit to Europe, with a 5 day stay in Paris!. It was a great apartment, especially the location, and we could have stayed longer. We appreciated our "home base" had free and reliable wifi.
---
Jul 16, 2015: Alexandra R. - , for 8 nights
Interaction with VacationInParis.com:
Comments:This was a very cute apartment in St. Germain, one of the best neighborhoods in Paris! It felt very Parisian with Shabby Chic decor. The living room has 2 windows that look out onto the street - perfect for people watching and feeling like you truly live in Paris. The kitchen was well equipped. The apartment felt very safe and secure - secluded behind a big gate and a double door entry. The bathrooms were quite small, but that's probably the norm in older Paris apartments. One of the showers didn't really drain properly, which was quiet annoying, especially in a tight space. The apt. was equipped with 2 fans and an AC (though a weird one) as promised, which was necessary in the dead of Summer. My only complaint is the dryer did not work. We had been traveling for about a week before arriving in Paris, so we were counting on doing some laundry. We were also only given 1 towel each for our 8 day stay, so we wanted to wash our towels as well. We told the host that our dryer did not work, and he was unresponsive at first which was frustrating. However, then he finally came and fixed it and washed our towels, which was very nice and much appreciated! All in all, we really enjoyed our stay and truly felt like we lived in Paris! Though it had some minor flaws, the apartment was very charming and had a very homey feel - We would go back!!
---
Jun 18, 2014: Gail J. - Gloucester, MA for 5 nights
Interaction with VacationInParis.com:
Comments:The apartment was very nice. The street noise was loud but I just kept the windows shut at night.
---
Jul 21, 2013: James M. - Marietta, GA for 6 nights
Interaction with VacationInParis.com:
Comments:We found the Saint-Germain-des-Pr
---
Apr 22, 2013: Ann T. - Gingin, WA Australia for 12 nights
Interaction with VacationInParis.com:
Comments:
---
Apr 08, 2013: Stephen H. - Lambertville, NJ for 5 nights
Interaction with VacationInParis.com:
Comments:We were very happy with this apartment. The manager was excellent, and happily helped us solve a slight snafu with our driver from CDG. The apartment had been acceptably cleaned, but it was not spotless. The kitchen was immaculate but not equipped for serious cooking. The bathrooms were lovely, but in the ensuite bath, the shower did not drain quickly and consequently overflowed. The only reason we might not stay here again is that we like variety, and could decide on a different neighborhood. We really enjoyed our stay at this apartment and would recommend it to anyone seeking an ideal Left Bank location.
---
Oct 15, 2012: Margie B. - Block Island, RI for 7 nights
Interaction with VacationInParis.com:
Comments:Overall, this property was fine, but there was a situation with the washing machine which did not work properly. We followed the instructions for it carefully and could not get it to open up and give us back our clothes. We waited 30 hours for it to open and it did not. There was also an issue with the hot water, which I think was on some sort of monitor. aHard to get it in the evening. Also, this apartment is noisy until about 3 am at the end of the week and the weekend -- lots of bars nearby. We would like you to know we had a wonderful time and will use your services again. But, we are annoyed that we were charged to fix a washing machine that clearly had problems before we ever arrived. We did not receive our deposit back because we were told we broke the door to the washing machine! Crazy! The machine in question had problems before we walked in the door! Get our deposit back and we will be happy to be a reference for you.
---
Sep 17, 2012: Kerri A. - Seattle, WA for 7 nights
Interaction with VacationInParis.com:
Comments:I regret to say the staff that we met was rushed and seemed bothered by having to meet us. Albiet we arrived in town earlier than expected by a few hours. We met him a few hours after I contacted him so it wasn't as if he was expected to drop everything You can certainly use my name for a reference on the apt for people considering renting it. My comments about the staff I would like to be confidential because I don't want to taint your service, only improve it. That is why I am honestly giving you my p
---