< BACK TO RENTAL INFO
GUEST COMMENTS - ID# 137
RATINGS:
5 = Excellent ; 4 = Very Good ; 3 = Good ;
2 = Acceptable ; 1 = Unacceptable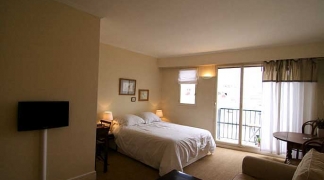 May 17, 2014: Stanley W. - Clarksville, TN for 17 nights
Interaction with VacationInParis.com:
Comments:The biggest problem was the odor from I believe was the glue in the new rug. The rug still has strings coming out of it. II would have been a better choice maybe to have put in a bamboo floor and not carpet. I also could not properly clean the carpet as the vaccum was not good. You need to purchase a better one that has more power. I hope you will have the odor taken care of before anyone that I recommended stay there. I tried air refreshers, but to no avail. The "paper" lamp shade had a tear in it before we arrived. I would never have had such a fragile shade on anything.. We enjoyed the area and the view. I left a more detailed list in the apt on the black instruction book. This is the 6th time I have filled out one of these. Thanks for sending it to me in another format.
---
Nov 04, 2013: Jim & Joanne H. - Minneapolis, MN for 10 nights
Interaction with VacationInParis.com:
Comments:The neighborhood and amazing view of the Eiffel Tower made our trip. We ate up and down the streets (including Rue Cler). Hope to use the apartment again.
---
Sep 28, 2013: Stewart D. - Edmonton, AB Canada for 10 nights
Interaction with VacationInParis.com:
Comments:As there was no A/C, windows had to be left open, the windows opened onto the street and even thought we were 6 stories high, in Europe, the buildings will ensure the noise reaches those levels. (Garbage is picked up very early). If the windows were closed, the inside became stifling and stagnant. We loved the location on the left bank and could see the Eiffel Tower from the balcony. Rue St. Dominique, wonderful to be close to great restaurants, shops
---
Jul 15, 2013: Sharon M. - Morristown, NJ for 16 nights
Interaction with VacationInParis.com:
Comments:Wonderful apartment---I will try to stay there again! However, it would be a plus to have English instructions for the French washing machine and French Microwave/Oven (perhaps, a booklet for guests with all of the instructions necessary for your stay) Also, an electric coffee maker would be great! All in all----a GREAT apartment in a GREAT location with a FABULOUS view. Price was also very good. I would definitely stay there again--it is one of my favorites.
---
Jun 21, 2013: Melanie D. - Hazelbrook, NSW Australia for 14 nights
Interaction with VacationInParis.com:
Comments:The towels were a bit stained/discoloured on arrival but I actually cleaned them in the washing machine with a bit of bleach, and they came up good. The washing machine was excellent--we used it a number of times in our two-week stay. The quilt cover is getting a bit thin and might need to be replaced soon. Although the sissal floor was a bit hard at first, it was great because my husband is allergic to dustmite, and he had no reaction to the natural sissal (we have floorboards, no carpet at all, in our own home). The property would benefit from having a toaster. Overall, we are very happy with the professionalism of Vacations in Paris. Our security deposit was refunded exactly when stated. The free map and explanation was booklet was very helpful in initially orientating us. We loved our time in Paris. We felt that the apartment wasn't in the midst of the busiest areas, so was actually a bit of a sanctuary. The electronic shutters were vital as they shut out noise, heat and light (accidentally slept in til midday one day, they were so effective! Whoops!) There's more I could say about the apartment, so I'm happy to answer any specific questions you may have.
---
Jun 06, 2013: Christine & Bob C. - Saint Augustine, FL for 12 nights
Interaction with VacationInParis.com:
Comments:The apartment location was great...but alot of outside noise--deliveries for the stores across the street in the early am (5:30-6am) and Vespa noise from the pizza deliveries in the pm (11-midnight-ish). It probably would not have been so noticeable if it were cooler and the windows were closed but with most days in the hi 70s to low 80s and no AC we had to keep the windows open as much as possible. Loved the neighborhood....we truly felt like a couple of locals. There were lots of places to eat and a grocery store just steps from the apt. The kitchen size was perfect and the washer was a godsend...no dryer but there was a great wire rack in the apt from which to hang clothes to dry. The only two things that would keep us from renting this property again would be the lack of AC and the type of flooring. I've never been to Europe so I never thought to question whether the apt had AC until after we had already paid the deposit for this apt. Since it faces west and sunsets in June are not until 10:30-11:00pm, the apt was quite warm in the evenings...there was a very small 12 inch oscillating fan that helped circulate the warm air...my mistake for not asking, but I do think this information should be on the website fact sheet. The flooring was an outdoor, bamboo-type that was very hard to walk on. The owner specifically asked us NOT to walk on it with black-soled shoes as they would leave marks...since those were the only types of shoes we had, we walked on it barefoot. It was hard and uncomfortable from the very beginning of our stay and got worse as our feet began to hurt from all of the walking during the day--- then to come back to this very uncomfortable flooring at night. I think this issue could be easily remedied though: there is a very nice soft rug between the bed and table; a suggestion might be to have another rug of this type (a runner maybe) that goes from the length of the TV past the kitchen to the bathroom. If I were renting this apt in the winter, I would rent it again, but not June-Sept. If the friend did not care about having AC, then I would recommend the apt to them. Suggest "Maybe" buttons here as these really aren't yes or no questions.
---
May 26, 2013: Mary Ann M. - San Francisco, CA for 10 nights
Interaction with VacationInParis.com:
Comments:We loved the neighborhood. The only thing we wish we would have known that our greater was in Italy and his replacement didn'T know how the tv worked so we didn't has tv for a few days. But he responded as soon as we called and got someone over to fix it. It is much nicer than the pic. They have new bedding and comforter. Everything was wonderful a laundry right around the corner and walking distance to everything. We stayed almost two weeks and would really like to return soon. Went to the French Open. It was on my bucket list. The US office was great to work with and our full deposit was returned to us. We left it in perfect shape. Thanks very much VIP They really should take new pictures . The new bedding is beautiful. The view is so wonderful. We just loved it there. Hope to return soon. Thank you again. Mary Ann and Al
---
Nov 18, 2012: Maura N. - Clive, IA for 7 nights
Interaction with VacationInParis.com:
Comments:During our meet and greet, Philippe had brought in a new rug as well as a new bedspread, so I think he just forgot the bottle of wine. This was definitely NOT a problem for us. Don't even mention it to him. Everything else was absolutely perfect. I have told many people about VIP and what an excellent company you are. We have had such positive experiences with the apartments, the managers, and your staff. We look forward to renting more apartments with you, and now as we have more opportunities
---
Nov 01, 2012: Rebecca H. - Sault Ste Marie, ONT Canada for 14 nights
Interaction with VacationInParis.com:
Comments:Overall, the apartment was excellent!One issue was the extreme odor of gasoline/vehicles from the underground parking garage. This very strong odor was present in the hallways and elevator. The odor also was present in our bathroom, which was the first r The location is excellent. To see the Eiffel Tower just outside our window was SPECTACULAR !! We would love to come back to this apartment, but I don't think we would stay here in warmer months due to no heat control in apartment, and no air conditioni
---
Jun 15, 2012: Susana P. - Miami, FL for 7 nights
Interaction with VacationInParis.com:
Comments:The only negative is the meet-up to get into the apartment. It would have been convenient to receive the key prior to leaving the US. Our train from London was delayed & so we arrived late through no fault of our own. The contact person appeared annoyed because he had the housekeeper waiting at an earlier time. He did not answer his phone when called from the train station. Thank God he answered when the taxi driver kindly let me use his cel phone. I would hate to think if he hadn't answered. Overall, the stress involved was a negative way to start our vacation. Thank you. I will definitely recommend your company to my friends.
---
Nov 18, 2011: Jasmine Y. - Los Angeles, CA for 8 nights
Interaction with VacationInParis.com:
Comments:The view of the Eiffel Tower was priceless! What a joy to open the shades to see the lights twinkling on the Eiffel. The washing machine in the apartment was a pleasant surprise. We could not ask for a better location. The Rue Cler market was a short walk and the aromas from the bakery and chacuterrie is forever embedded in my memory bank. We recommend the apartment highly. That we would do this again!
---
Oct 17, 2011: James H. - Vancouver, WA for 7 nights
Interaction with VacationInParis.com:
Comments:The apartment was as advertised, in a great location and a nice neighborhood convenient to everything. The kitchen was marginally equipped with dishes and utensils; if you're planning on cooking while in Paris there's not a lot to work with. We also found the apartment lighting barely adequate, especially for dining at the small table in the living area. The street is noisy at night with trucks delivering goods to the neighborhood shops. Overall, we were satisfied with both the representation of the apartment in the advertisement and the apartment itself.
---
Sep 05, 2011: Diana Lambrecht & Walter H. - Millburn, NJ for 38 nights
Interaction with VacationInParis.com:
Comments:
---
Jul 02, 2011: Adrienne G. - East Lansing, MI for 7 nights
Interaction with VacationInParis.com:
Comments:We really enjoyed staying in the apartment - it was the perfect size, was in a great location, and was in perfect condition when we arrived. Thanks for a great stay! You might need an extra set of keys for the apartment. We needed two sets because my husband was a conference for much of the time and we were going to be separated and each needed our own access to the apt. The apt manager originally asked us if we could use just one set, but that was not possible for our stay.
---
May 13, 2011: Nancy L. - Colorado Springs, CO for 7 nights
Interaction with VacationInParis.com:
Comments:We were disappointed to find no welcoming bottle of wine! Our manager Philippe had recently had his appendix removed, and we wondered if that prevented him from doing an apt. check before we arrived (although I called him the day before we moved in). Also missing was a bar of soap, which we bought at the market down the street (along with wine!). The apt. was spacious for a studio, and the light was amazing. Sitting on the balcony looking at the Eiffel Tower was unforgettable. The decor is perhaps a bit bland rather than French, but that is a minor observation. We loved it and felt very much at home. Again, my husband and I really liked staying in two different neighborhoods (Marais and Eiffel Tower). We both have and will highly recommended Vacation in Paris. You were professional and friendly to work with, and all paperwork/directions made our excursions clear and smooth. Merci!
---
Apr 22, 2011: Carol B. - Carlsbad, CA for 7 nights
Interaction with VacationInParis.com:
Comments:
---
Dec 24, 2010: Jay A. - Houston, TX for 10 nights
Interaction with VacationInParis.com:
Comments:The apartment was amazing. It far exceeded our expectations. The location could not have been better, the apartment was cozy and the bed so comfortable. And the view is everything you would imagine. It was a wonderful experience. This was one of the best rental experiences I have ever had. Your staff was courteous and helpful, we recieved all of the information we needed before hand and afterwards got our deposit back in a timely manner. I have already recommended your rental agency to friends traveling to Paris. I wish evey european city had such a wondrful agency!
---
Oct 04, 2010: Mary Ellen M. - Norwood, MA for 8 nights
Interaction with VacationInParis.com:
Comments:For a first-time visitor, it was a perfect place to stay. I knew it was fairly centrally located, but I found I could walk to even more sites than I expected. I enjoyed living in a neighborhood and visiting the local shops. I think it is a perfect place for a solo traveler. Thank you!
---
Sep 14, 2010: Lea-anne & Craig W. - Tallai, QLD Australia for 9 nights
Interaction with VacationInParis.com:
Comments:I was very pleased with the apartment. It was exactly as discribed including the view! We went with the intention of cooking meals (we cooked a few times) but found the surrounding area reasonably priced with a good variety. The street noise is always difficult for us as we live in the bush where there is no traffic, but the doors, windows and blinds blocked out enough to sleep. The unit was sparse but more than adaquate for the 2 of us. Look forward to our next stay at # 13 Jean Nicot! We actually found Vacation in Paris on TripAdvisor. We were having great amounts of difficulty with a few french based companies and was thrilled to get our booking completed with ease. You provided comprehensive information for the english speaking client with no hidden extras (unlike the french companies). Was more than happy to pass on your name to many fellow travellers whilst on our holiday!
---