< BACK TO RENTAL INFO
GUEST COMMENTS - ID# 131
RATINGS:
5 = Excellent ; 4 = Very Good ; 3 = Good ;
2 = Acceptable ; 1 = Unacceptable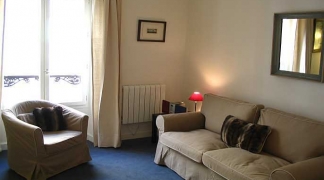 Aug 02, 2014: Lorrie H. - Savannah, GA for 14 nights
Interaction with VacationInParis.com:
Comments:The fold out bed need to have better support at the foot. Also, there is late night partying noise on the streets particularly on the weekends. If it is not hot and you can close the windows those block it out. The washer is not advertised but one is there but doesnot work and should be fixed or taken out of the bathroomto make more room. We do love the location. Wandering arrondissement 8 is so much fun with the parks, restaurants, monuments. Love your service and apartment choises. Thanks!
---
Jun 05, 2014: Amanda S. - Silver Springs, MD for 14 nights
Interaction with VacationInParis.com:
Comments:There were a couple of things that could be improved upon. There was only one roll of toilet paper and we did not have contact with the cleaning person to get more. There were no instructions on how to operate the phone or the washing machine. A friend tried to call me and they could not get through on the phone, it never rang and if any messages were left we could not retrieve them. The TV could be raised up higher to make it easier for more than one to see if laying in bed. There was only one trash bag that we could find, we had to get our own trash bags. Otherwise the area was fantastic and we had a wonderful time. Would love to go again. One more thing, there shoud be better instructions on where the dumpster trash cans are for the building.
---
Sep 04, 2013: Janet S. - Gansevoort, NY for 10 nights
Interaction with VacationInParis.com:
Comments:Location was perfect, great access to the metro. The apt. was clean, but the furnishings good use some updating. Was pleasantly surprised to find a washing machine. Overall a good experience for us. We have given your name out to other people looking for places to stay in Paris.
---
Jul 21, 2012: Nancy G. - Tehachapi, CA for 22 nights
Interaction with VacationInParis.com:
Comments:This apartment was great for my needs! The location is terrific and it has everything that one could want to feel as if he or she is a resident of the city--kitchen with refrigerator, stove-top, microwave, and full-bath--even a washing machine. Residents should know that the property manager must let the meter reader for the electric company in to the apartment to read the meter. This happened in the first week I was there.
---
Jun 16, 2012: Lorrie H. - Savannah, GA for 7 nights
Interaction with VacationInParis.com:
Comments:Although this apartment has no AC the weather was cool that week in Paris and the open window and fan were enough. We thought there was no washer for our clothes and were delighted to find one there. Location is wondercul. Champs Elysee is upscale so dining out was abit pricey but ate at tbe Subway sandwich shp 2X. The double code door locks made me feel secure. Wifi was great. Loved it all.
---
May 25, 2012: Larry & Helen M. - Brampton, ONT Canada for 13 nights
Interaction with VacationInParis.com:
Comments:The only noise issue was the traffic on Saturday nights - whether from accidents or trafic tie ups the horns were blowing until 2 or 3 am - otherwise everything else was satisfactory and within normal limits. Location was ideal for what we wanted to see and where we wanted to be, it felt safe, and the neighbourhood was friendly - good restaurants, local department store and fruit market within blocks. Being from Canada and a little older would probably go for a 1 bedroom next time but all the same this met our needs perfectly and would do it again No, this was our first attempt at a vacation rental and we were quite pleased with the service from Vacation in Paris, the property served our needs, was clean and safe You have to get used to the no air conditioning in Paris but it is Paris. Also we used the recommended taxi/ shuttle service and they were excellant on time, good drivers and very couteous. Many thanks . We will explore your service on future trips to Europe and elsewhere where your services are provided.
---
May 21, 2011: Norma F. - , for 7 nights
Interaction with VacationInParis.com:
Comments:There were only 2 large towels and 2 small hand towels for the weeks use. We feel that there could at least be 4 large ones. If that were still the case in the future I would reccomend that renters try to carry a spare. The kitchen was very small and compact. I wish there had been an american type coffee maker. Not a huge amount of dishes and or silverware for eating and cooking in the kitchen. The new sofa bed was quite comfy and very large. Great choice. We found and electric fan in the closet which was very useful as it did get warm while we were there in late May. We were quite pleased with the apartment. There were 2 metro stops within easy walking distance and pastry shops galore! Furthermore we are very happy with the service and attention of the Vacation in Paris staff. Whether it was the phone or emails the response was right away. Thank you, Norma
---
May 09, 2011: Amiko C. - Aurora, ON Canada for 7 nights
Interaction with VacationInParis.com:
Comments:I was very happy with the whole experience and with dealing with VIP. Your service was prompt and reliable. Thanks to your arrangement, we spent a wonderful week in Paris. The only problem was the noise from the street. People talked loudly at any hour of the night and even went into a shouting match once. I wonder when they sleep. But I can say it was a part of our interesting experience in Paris. The direction you gave us to get to the apartment from the airport says to get off the RER at Chatelet and to take Metro line 1, direction Neuilly and that the Franklin Roosevelt station is 2 stops away. It is better to tell your future clients to follow the signs "La Defense", the west terminal of the line 1. Neuilly is the right direction, but you have to look at the map and find out the name of the terminal before you know which direction to go. Also, Franklin Roosevelt is the sixth station from Chatelet.
---
Sep 22, 2010: Melissa M C. - Porter Ranch, CA for 8 nights
Interaction with VacationInParis.com:
Comments:The location of the apt. is great, very close to line 1 which runs through the heart of the city and has great connections to every other line. I was pleasantly surprised by how spotless the apartment was from the bathroom, to the kitchen and living area. I lived in Paris for a bit, and for someone who's familiar with the city, this was a fantastic choice! Great customer service too!
---