< BACK TO RENTAL INFO
GUEST COMMENTS - ID# 113
RATINGS:
5 = Excellent ; 4 = Very Good ; 3 = Good ;
2 = Acceptable ; 1 = Unacceptable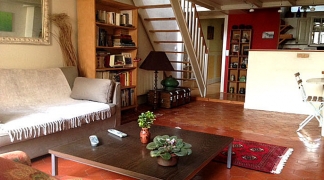 Sep 08, 2012: Fred & Amanda M. - Red Hill, BRISBANE Australia for 3 nights
Interaction with VacationInParis.com:
Comments:Kitchen kettle has broken spout and needs replacing. Very dangerous coming up or down the last few floors at night as the stair well lights did not work. This needs attention from the building owner. A few light bulbs in the flat need replacing. Front Great location but the nearest Metro is actually Reaumur Sebastopol not Strasbourg St Denis. Hire velo right in front stand at the front door and a great little wonton restaurant directly opposite.
---
Jun 10, 2012: Helen K. - Toronto, NSW Australia for 6 nights
Interaction with VacationInParis.com:
Comments:While the property is in a fantastic location and is very quiet, it is up a challenging 5/5 flights of stairs. One has to walk through some rather seedy-looking outdoor 'alleys' within the very old complex to get to the building, and while this is not too disconcerting, it does mean that one is completely 'locked away' from the outside world of Paris. It depends on what one is looking for, but we felt slightly isolated and one did think twice about just 'ducking down' to the bakery. Even though we are in our 50s, we are fairly fit, but thought of the stairs, locks and keys gave pause. The 'courtyard' is at the top of the apartment, above the main bedroom (up some ladder-like stairs), thus has limited accessibility and little attraction as the view is over sterile rooftops. We did not use it. The solarium windows did let some lovely light through. The shower set-up in the bathroom is awkward. The round screen is useless and if water is not to go everywhere, it is easier to squat in the bathtub. Washing one's hair was a bit of a trial. All in all, we were comfortable once we adapted our expectations, but the apartment is not at all 'luxurious'. The decoration is lovely and the furnishings comfortable. The kitchen dishcloths etc need replacing. They were rather old.
---
Apr 03, 2010: Alistair G. - Wormley, Godalming, SURREY Uk for 5 nights
Interaction with VacationInParis.com:
Comments:When we booked the neighbourhood was described as a little colourful, with one or two girls on the streets. In practice that part of Rue St Denis is wall to wall sex shops including S&M - ie it was downright seedy, not colourful. The apartment is tiny and no way really sleeps six - we struggled with 5. Having said that the central location was great, it was only a couple of blocks to get out of the area into more pleasant surroundings. The apartment was quirky but clean, and really was fairly priced - so no complaints, just comments. We had a wonderful holiday, but next time I'd spend more for less colour! We would certinaly use your company again.
---