PARIS RENTAL
Island Twin I, Luxury Two Bedroom - ID# 190
Sleeps up to 6 -~Ile St. Louis Designer Homes~

These are two separate apartments, each having two bedrooms, which can be rented separately or combined to accommodate up to 10 people. They are truly just beautiful and in such a perfect location!

Nightly Rates
7 nights or more
6 nights or less
Apr 1 - Oct 31
Dec 20 - Jan 3
$359
$399
Jan 4 - Mar 31
Nov 1 - Dec 19
$319
$359
There is an additional $15 per person per night charge for the 5th and 6th person. 5 night minimum stay. Prices are in US$.
LOCATION MAP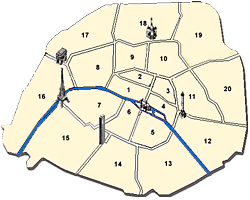 PRICES INCLUDE
Accommodation for
up to 6 persons
All utilities
Welcome bottle of wine
Local phone usage
Fresh linens and towels
Cable TV
10% Department store
discount coupon
Local contact number
Metro map, neighborhood map
Amenities as listed
The owner of these flats love Paris and it shows! They have taken much care to provide some lucky guests with beautifully designed spaces with all the amenities you could desire. And in such a desirable quality area of central Paris....
The high-end Ile St. Louis area is right behind Notre Dame Cathedral and is ideally central and best positioned to provide you easy and instant access to so many attractions and conveniences. Easy to locate on any map, Ile St. Louis is one of the two small islands right in the heart of Paris. Several bridges connect you to either the right or left banks of the Seine, so that you are just a few minutes stroll to such famed places like St. Michel, Hotel de Ville and Chatelet, St. Germain and the Latin Quarter and of course, the other island itself- Il de la Cite, where you will find Notre Dame Cathedral, St. Chapelle Church, etc. Just outside your door are many small cafes. Crepe stands and restaurants to choose from, plus specialty shopping and all food provisions like bakeries, cheese shops and "fresh grocers", if you care to avail yourself of the apartments' splendid kitchen, and of course the most famous ice cream shops in France, maybe in Europe, The Berthillon stores.
Both of these homes have beautiful decorations as the photographs here will confirm, and are located on a small quiet side street just off of the Seine River itself. As so much of this island's traffic is mostly pedestrian, you can be assured of a relaxing and tranquil stay in this quiet setting. It also has a great advantage of having lots of sunlight flood into the apartments, as the street is not so narrow as most others in this area.
The two flats are identical in size, each of 50 m2 (about 530 ft2 each). They are located on the 1st and 2nd European floors (2nd and 3rd US) - directly above and below each other but they are not interconnected. Access to each apartment is via the common stairwell of the building, no elevator. The building itself is very handsome and dates back to the 19th century, as this is amongst the oldest areas of Paris. The city was actually founded on these islands which offered protection from any invading tribes due to the surrounding river. There is excellent security for the building; although most of Paris is very safe.
The property owner has spent several years personally overseeing the renovations of these prime properties, returning several years in a row as the two were reconstructed in succession. Highlighted with designer touches throughout, she carefully included many modern amenities as well, to ensure first class comfort and style.
The apartments share many of the same features:
Each has a queen size bed in master bedroom
Each second bedroom (which separates from the rest of the apartment by a sliding door) has a wooden trundle type bed that makes two twin sized beds. In this trundle unit, one twin is stored underneath the other and can be rolled out from the higher one and then placed anywhere in the room. The roll out is lower to the ground than the higher one.
Each has a full kitchen - see amenities for details
Each has a full bathroom with separate WC for easy access by all
Each has a dining table next to the open kitchen
Some differences:
ID #190: First floor sleeps two more people as it has a pullout sofa bed in living room.
ID #191: Second floor, 1˝ bathrooms: Has a WC in the main bathroom and another WC and sink in a separate room.
More complete description of facilities and amenities common to each of the apartments:
BEDROOMS:
Each flat has a queen size bed in the master bedroom, which sleeps two adults. In the second bedroom, which during the day is open to the living room for more space, there is also a trundle unit composed of 2 individual twin size beds (one stored under the other during the day), which can easily be pulled out and may be rolled around with ease. These can be pushed close together, but do not actually form a single bed as one is lower than the other. The master bedroom has a closet, including room for hanging clothes.
KITCHENS:
Each kitchen has a full oven and stove and separate microwave, along with a dishwasher. There is plenty of counter space with built-in appliances and color coordinated designs throughout. The kitchens are well stocked with plenty of cookware and crockery/utensils for the stated amount of guests and include as well: coffee maker, clothes washer & dryer, large refrigerator/freezer, all dishes, cutlery, toaster and dining table.
BATHROOMS:
The bathroom is of ample size, with a large shower and has a small window. The WC is located in a separate room for easy convenience for all (ID #191 on the second floor also has a second WC included in the bathroom as noted above). There is also a small sink with hot/cold water located in the small room housing the WC. Each apartment also offers you: hair dryer, fresh towels (bath, hand, and small wash towels), towel warmer, and plenty of hot water with a 'never-out' systems.
ALSO INCLUDED:
Each apartment offers a flat screen TV with some English language channels, Wi-Fi access for high speed connections, local calls free of charge, as well as free calls to North America, iron and ironing board, washer and a separate dryer, entertainment unit with DVD/CD/FM-AM.
No children less than 6 years of age - infants less than 1 year old are permitted.
This apartment requires a "Meet and Greet" - guests will be met at the apartment and given keys at that time.
Rental Amenities:
NON-Smoking apartment!
Property keys are given upon arrival at the apartment by the local manager
1st European floor walk up (2nd US) No elevator
50 m2 (about 530 ft2)
Located on Ile St. Louis
Sleeping accommodations:
Queen bed in first bed in bedroom
Trundle bed in second bedroom that makes 2 twins
Double sofa bed in living room
Well equipped kitchen which includes:
Stove top with full oven
Microwave
Dishwasher
Coffee maker
Clothes washer/dryer
Refrigerator/freezer
All dishes, cutlery & glasses
Dining area seating up to 5
FREE local telephone calls
FREE calls to North America
FREE high speed Internet access; Wi-Fi or Ethernet
Flat screen TV with some English language channels
Entertainment unit with DVD/CD/AM-FM
Bathroom which includes:
Large shower
Sink
"Never-out" hot water system
Hair dryer
Separate WC for easy access for all
Fresh towels & linens
Iron/board
Extra cleaning service available for additional fee (the apartment is clean on arrival)