La Maison Blanche - ID# 299
Sleeps up to 8 - All White 19th Century Home With Pool In Village Center

This magnificent house is so amazing it's hard to know where to begin! The effect of the property comes from a combination of many aspects; its original structure dating from 1887, the white washed wooden beams, stone walls, the white lacquered cement floors, the play of light throughout the space, and then the heated pool, the exercise room, and top quality appliances and comforts, all make this property a rare jewel.
Nightly Rates
| | Up to 6 Persons |
| --- | --- |
| June 1 - June 30 | $1125 |
| July 1 - Aug 31 | $1250 |
| Sept 1 - Sept 30 | $1125 |
| Oct 1 - Dec 19 | $1000 |
Rate for more than 6 guests to be determine by owner. Saturday to Saturday stays. 7 night minimum. Prices are in US$
LOCATION MAP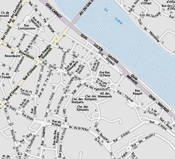 PRICES INCLUDE
Accommodation for
up to 8 persons
All utilities
Welcome bottle of wine
Local phone usage
Fresh linens and towels
Cable TV
Local contact number
Amenities as listed
This amazing home is located in one of the least touristy areas of the Loire Valley, in the center of wine and chateau country. The region offers many festivities and gastronomical events as well as outdoor performances and activities such as the annual biking and wine tasting, or the yearly feast in front of the town hall. In the center of the town of Saumur, you are in walking distance from all of the essential shopping and restaurants.
You would never guess what is behind the white gates marked "La Maison Blanche". This house is the absolute perfect place for a special occasion – a birthday, a wedding or family reunion, or just an escape and to discover this rich area of France. Absolutely everything on this property is white – the furniture, the walls, the staircases, the piano, as well as the paintings and even most of the books. The light shining throughout the space amidst the pure white gives the house a unique appeal. As the gate opens from the street, you have a hint at the breathtaking property you are about to witness. Into the gate and following along the walkway, you come to the pool area and house. Snuggled between the village houses, this house boasts 500 m2 (about 5350 ft2)with a garden/pool area of 700 m2 (about 7490 ft2). In one corner you even have a separate apartment composed of kitchenette, bathroom, and mezzanine sleeping area with queen bed.
The garden and pool area are what you notice first as you enter this breathtaking property. The pool is 5' X 8' and heated to 30°C (about 85°F) . Around the pool you have several comfortable lounging chairs. Take your choice of relaxing on one of the wicker rocking chairs, a chaise longue, or a day bed, with the modern glass waterfall or fountain in the background. Or try out the barbeque grill for some outdoor cooking. There are two 60" round tables each with seating for 6; a perfect way to spend time together over a poolside dinner. Note that one of the outer walls is a mirror which reflects the landscape of the courtyard and can be seen from the kitchen and dining areas inside, creating a trompe-l'oeil effect – one of the many details that make this a delightfully charming property.
One enters into the house between the breakfast wing and the kitchen. The breakfast wing on the left as you enter has a long rectangular table which can seat 8. To the right is one of the most magical kitchens you will find anywhere. The island in the middle of the kitchen has 2 lava stone counters each with 2 tall stools for those who want to watch the cooking. The Lacanche stove top is one of the best, composed of 6 gas burners, 1 gas oven, 1 electric oven, 1 grill, 1 slow cooker, and 1 warmer. Overhead is the only existing Lacanche extractor hood of its kind, as it covers the entire island. This kitchen is supplied with every single appliance you can imagine, all imported from America from an ice-cream maker, waffle maker, blenders and mixers, juicers, whipped cream maker, to coffee grinders, even a torch for crème brulée, and more. You name it, it's here. There are also 2 huge sinks, a refrigerator and freezer, as well as a Bio fresh refrigerator. And to top it all off, you are supplied with 2 clothes washers, 2 dryers, and 2 dishwashers all of excellent quality.
On the far side of the kitchen is the dining area with two 60" round tables for seating up to 6. This area opens up onto the terrace, where you can use the two outer tables as well for that special occasion.
Up the stairs between the kitchen and the breakfast area one comes to the living room on the 1st European floor (2nd US). You have a total of 4 big fluffy white couches in arrangements of two, a white grand piano, an MP3 stereo system as well as ceiling fans. Part of the floor is made of square transparent bricks which let the light float up from the ground floor, making a wonderful luminous effect.
Beyond this room is the master bedroom which features a king size bed, air-conditioning and ceiling fans, a small wall TV, incoming phone, closets with shelves and hanging space, and a couch at the end of the bed. Just beyond, is an open bath area with a vanity table and chair on your right, and a beautiful old-fashioned bathtub with claw feet. The owner has provided Martin de Candre bath products, the best on the market, for your use. To the left and separated by big glass bricks, is a very spacious walk-in rain shower, as well as towel heater. The WC is in a separate room adjacent to the shower and bathtub.
Between the bath area and the bed area there are stairs which take you up to the children's room on the 2nd European floor (3rd US). This is perfect for up to 4 or 5 children. With a slanting ceiling under the rooftops you have a king size bed, two sofas, one of which opens up to a double bed, and one into a single, as well as a baby crib! There is also a TV, IPod, CD and DVD players, a desk, computer, air conditioning, ceiling fans and an incoming phone. There are enough drawers and hanging space for the children's needs. The adjoining bathroom has a shower, sink, and WC.
Back down these stairs and to the other staircase which is located in the living room on the 1stEuropean floor, you go up to the 2nd floor to find two more bedrooms as well as an exercise room. To the right is a bedroom with king bed, wardrobe, desk, with computer, and small TV. To the left, another bedroom with king bed, wardrobe and large armchair. Between these two bedrooms is a bathroom with rain shower, WC, sink and towel warmer. To top it all off, beyond the bedroom on your left is a gym room with treadmill, step machine, and more! To make the work-out easier and more enjoyable, there's a hanging TV, CD player and even a wall-to-wall mirror to watch yourself.
Beyond this remarkable house, which you may never want to leave, are a myriad of things to discover including markets, castles, wine-tasting, equestrian performances, outdoor sports, and some of the best products and dining in all of France. We hope you enjoy it!
This home requires a "Meet and Greet" - guests will be met at the house and given keys at that time.
The owner requests no children under the age of 4 - infants under 1yr of age upon discretion of owner.
Rental Amenities:
NON-Smoking property!
Property keys are given upon arrival at the house by the local manager
Main house: 500 m2 (about 5,382 ft2)
Separate apartment: 50 m2 (about 535 ft2)
Air-conditioning in 4 bedrooms as well as in separate guest house
13 Ceiling fans
2 fireplaces in salon on 1st floor (decorative only)
Heated swimming pool (heated to 30°c) measuring 5' X 8' - open from June 1-Sept 30
Gym room with exercise machines, TV, CD player
Massage table
Erard 1900 Baby Grand piano
Sleeping accommodations:
King bed in master bedroom on 2nd level with ensuite bathroom
King bed, 2 sofa beds & crib in children's' room on 3rd level, back wing, with
adjoining bathroom
King bed on 3rd level, front wing - shared bathroom with 4th bedroom
King bed on 3rd level, front wing - shared bathroom with 3rd bedroom
Well-equipped, high quality kitchen includes:
Island with lava stone counter & 4 stools
2 sinks
Top quality Lacanche stove top, with 6 gas burners
Luxury oven includes 1 electric oven, 1 gas, 1 warmer, 1 grill, 1 slow cooker
2 top quality dishwashers
Microwave
2 refrigerators/freezer
Toaster, blender & juicer
Blender, coffee maker & coffee grinder
Panini, ice cream & waffle maker
Kitchen Aid food processor
Whipped cream maker…and many more appliances and utensils!
Huge supply of dishes, cutlery & glasses
2 top quality washing machines
2 top quality dryers
Breakfast table for up to 8 people
4 round 60" dining tables, two outside, two inside, each seating 8 people
6 phones for incoming calls
2 phones for outgoing calls
3 computers
4 TV's
High speed internet
Bathrooms: 3.5
WC on first level for easy access by all
Master bathroom on 2nd level
Bathtub
Walk-in shower
Sink
Separate WC
Hair dryer
Second bathroom on 3rd level:
Shower
Sink
WC
Third bathroom on 3rd level:
Shower
Sink
WC
Iron/board
Pool area:
Outdoor barbeque
2 rocking chairs
2 day beds
3 chaise-lounges
2 round tables with seating for up to 8 people
Chef available upon request
Tour guide available upon request
Masseuse upon request
Cleaning service 5 times per week/2 hours per day included
AVAILABILITY CALENDAR
Every effort has been made to ensure the most up to date information. However, some apartments
need to be reconfirmed by the owner. Availability subject to change without notice.
WHITE: Available RED: Not Available